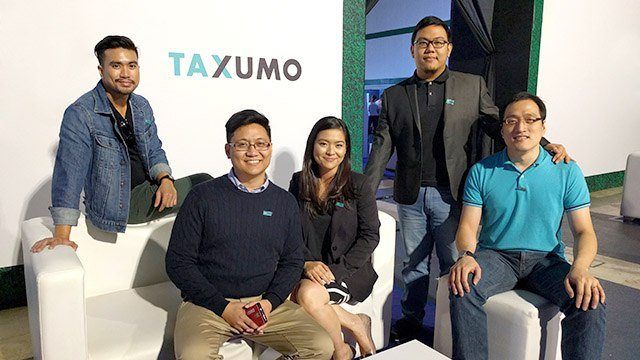 The Taxumo team (from left) Evan Tan (Chief Marketing Officer), EJ Arboleda (Chief Executive Officer), Ginger Arboleda (Chief Operating Officer), Atty. Nelson Kevin Baldonado (Chief Legal Counsel), Mark Ong (Chief Finance Officer)
As any registered business owner or self-employed person knows, paying taxes not only costs money but, perhaps more annoyingly, also takes a lot of time.
ADVERTISEMENT - CONTINUE READING BELOW
In a study, international audit firm PricewaterhouseCoopers found that Philippine businesses take an average of 193 hours to process, file and pay up to 36 different kinds of taxes throughout the year.
"Many are willing but few actually go and pay their taxes, mostly because of the cumbersome processes involved," says Mon Abrea, a former Bureau of Internal Revenue (BIR) revenue officer who set up a tax consultancy firm. 
One way to take the hassle out of figuring how much taxes you owe each month or quarter, which is how frequently businesses and self-employed individuals pay taxes to the BIR, is to hire a certified public accountant (CPA).
"The accountant should be able to consolidate all your income and expenses, reconcile it with your previously filed quarterly income tax returns and verify existence or correctness of supporting documents," Abrea explains.
Of course, hiring an accountant costs money. Abrea says the fees for CPAs start at a minimum of Php5,000 but could go up to several tens or even hundreds of thousands of pesos depending on the size of the business.
ADVERTISEMENT - CONTINUE READING BELOW
For businesses of a certain scale, hiring either an in-house or external accountant is a must. "Ignorance is very costly! If you think it is expensive to hire an accountant, then you might have to reconsider as it is costlier to pay the penalties and compromises," Abrea warns.
For example, a Php1,000 fine is imposed for each piece of missing or mistaken information in tax returns while late filers are automatically subject to a penalty equivalent to a fourth of the tax due.
Enter Taxumo
For those whose level of business does not yet justify engaging the services of a CPA, there's Taxumo, a local startup that has developed an online tax filing and payment app. It hopes to aid small entrepreneurs, professionals and freelancers alike in computing, filing and even paying their taxes.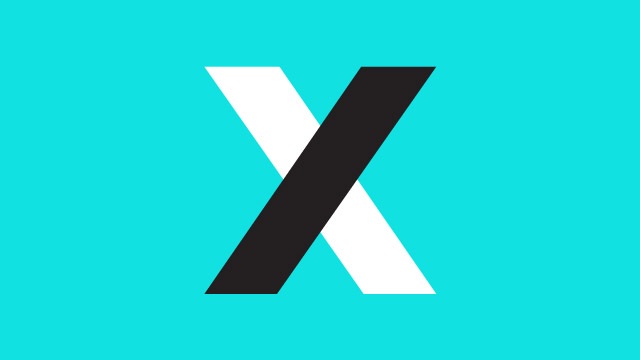 ADVERTISEMENT - CONTINUE READING BELOW
Taxumo is a startup that even accountants can use on behalf of their clients
The web-based application computes a user's income and expenses real time, all the while tracking the amount of taxes due. It's like an online bookkeeper and tax assistant rolled into one.
Related story: Filing Taxes? There's an App for That
Still, Taxumo doesn't advise foregoing the services of accountants. "Accountants can do so much more than just filing your taxes: they can advise you on scheduling purchases, inform you of your business' general financial health based on key indicators and help you decide how and when to best use your funds," it says.
Accountants can even use Taxumo on behalf of their clients, who can also use the app to check the status of each month or quarter's tax filings and payments. "Each submission and payment made in Taxumo is guaranteed to reach the BIR, so if the status shows that the form has been filed, the client can be sure that it has been filed," guarantees Taxumo.
ADVERTISEMENT - CONTINUE READING BELOW
For those who can't afford an accountant yet, Taxumo seems heaven-sent.
Podcast producer and freelancer Marv De Leon turned to the online app so he could process his revenues and expenses, and calculate his tax due on his own. After he received a client's payment, De Leon was at a loss how he would handle the tax aspect of the transaction.
"It was the last day to pay my tax and I didn't have the time and patience to travel to the nearest remittance bank," De Leon says. "Good thing I remembered Taxumo. I didn't even figure out how to do it manually, I just signed up to the platform immediately." 
Meanwhile, for marketing consultant and professional speaker Genesis Reonico, Taxumo's online tax payment option was a big winner as it freed him from the hassle of visiting the bank monthly. Taxumo currently processes the tax payment to BIR through online payment platform Paypal.
ADVERTISEMENT - CONTINUE READING BELOW
"With the way my business and ventures work, hiring an accountant on a retainer basis is not cost-effective for me," Reonico says. "So I find it very convenient to simply log-in to their [Taxumo's] website and do everything there. It kind of gives me control on what is happening [with my financials]." 
However, Taxumo still cannot process annual tax returns as of April 2017 since the system requires a user to fill in a whole year's worth of tax information. The service only started operating in November. "If they will be able to integrate the annual ITR (income tax return) processing then I can say Taxumo's service is perfect," Reonico added.
User's Guide
Unlike printed tax forms, Taxumo's online forms are much easier to use and fill up. After signing up, users are asked to provide basic information such as the business name, tax identification number (TIN), nature of business and tax type, and the taxpayer's assigned revenue district office. The system will also ask the user to upload a soft copy of the certificate of business registration.
ADVERTISEMENT - CONTINUE READING BELOW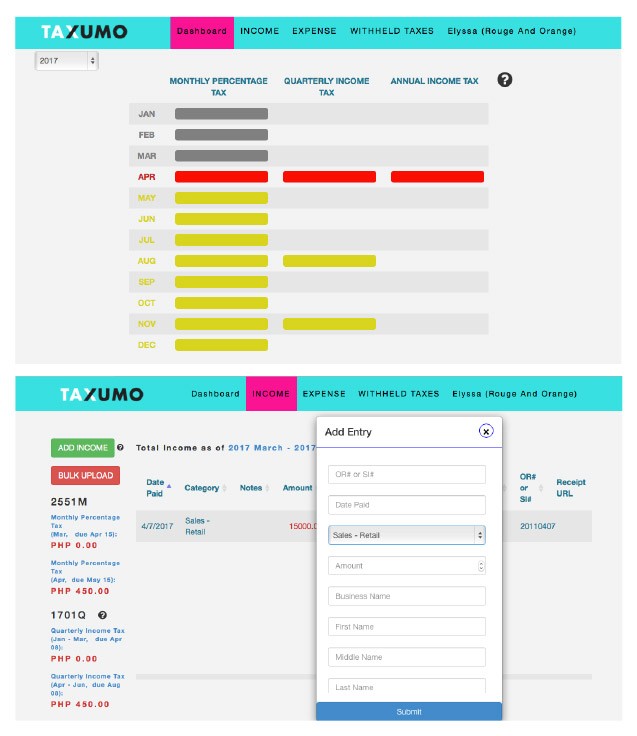 A screenshot of the Taxumo app that helps simplify the computation of tax payments
The beauty of the app is that the taxpayer's basic information will then be automatically used in all the tax forms such as Form 2551M for the monthly filing, 1701Q for the quarterly payments and even the annual tax return. There's no need to supply the information repeatedly for these various forms.
ADVERTISEMENT - CONTINUE READING BELOW
At the heart of the app—and the main reason why it makes tax calculations a breeze—is an online bookkeeping system where users record their income, expenses and taxes withheld. So far, the various types of incomes accepted by the system include income from sales, income from services, proceeds from partnerships and others. The range of expenses that can be encoded is rather wide—from electricity bills to entertainment expenses. 
Apart from recording income and expenses, Taxumo also lets users upload official receipts or transaction documents. This helps the platform come up with a more accurate tax estimate but also allows users to keep track of documentation behind major income and expense items.
"The process is as simple as looking at your receipts and putting in the details of your income and expenses as they happen," says Evan Tan, Taxumo's chief marketing officer.
By this time, many taxpayers may have already prepared and even filed their 2016 income tax returns ahead of the deadline on April 17. But monthly or quarterly taxes must be paid immediately after that. There's no way of avoiding the hassles that come with periodically paying taxes, but anything that could help people with it, like Taxumo, is a big relief.
ADVERTISEMENT - CONTINUE READING BELOW
*****
Elyssa Christine Lopez is a staff writer of Entrepreneur PH. Follow her on Twitter @elyssalopz