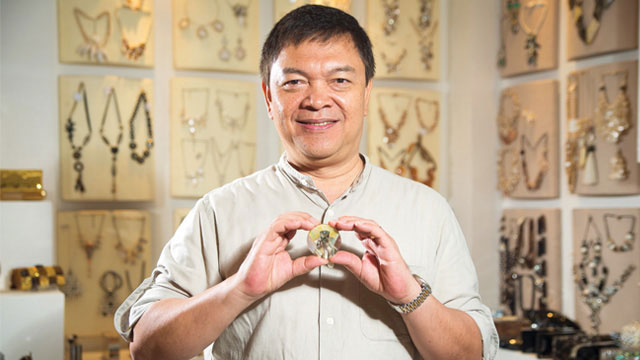 Never underestimate the power of small things. In the case of BON-ACE, it all started with buttons. In 1993, Ramir and Gina Bonghanoy started producing buttons for export to Italy in a small nipa hut. With persistence and perseverance, the Bonghanoys eventually went into fashion accessories, making necklaces and bangles alongside their buttons. Five years later, the company had garnered enough capacities and capabilities to participate in international trade fairs. BON-ACE's fashion accessories proved to be quite a hit, allowing the company to expand its market to Europe and the United States.

Not one to rest on their laurels, the Bonghanoys continued to break new grounds. By forging a partnership with Italian businessman Mauro Gaspari, BON-ACE became Bon-Ace Fashion Tools, Inc., and started producing and exporting home interior accessories, from pots and vases to lamps and mirror frames. There was a constant drive for them, says Ramir, "to get new products in the market that is unique, not-yet-seen, and world-class."


Unstoppable growth
Bon-Ace Fashion Tools, Inc. marked a major milestone when it moved to a bigger facility around 2006. Ramir says, "It was also during this time that we are able to do accent furniture pieces like coffee tables, cabinets, chairs etc. still together with our fashion accessories."

Because the Bonghanoys considered furnishings as big pieces of jewelry, it wasn't surprising that they caught the attention of buyers from New York and Japan to Italy and Russia as their designs were exciting and their craftsmanship, exquisite.

Today, the company continues to expand its product line, focusing on high-end pieces for hotels, resorts, and specialty projects. "The same goes for the fashion accessories, we are continuing to expand more our clients whose brands are seen all over the world. Even with the cautious slowdown of the world market, we remain positive with our growth through our innovative approach in design and production processes," says Ramir.


Finding necessary financing 
Throughout its journey, Bon-Ace Fashion Tools, Inc. had one important partner: Landbank. He explains, "Landbank has always been and will continue to be very big for our company. We met when we needed funding to construct our current administration building and the production area. The entire team of Landbank that is handling our account has always been really accommodating since the beginning. Moving forward, as we continue to expand our business operations, we know that there is always a helping hand from Landbank ready to listen to us and together will help find solutions and ways in order for our company to have a smooth glide as we battle the ever changing global market needs."

For entrepreneurs who have big dreams for their small enterprises, Ramir encourages them to keep moving forward. Don't dwell on your comfort zone. Seek out new adventures always. More importantly, he says, "We must not compare ourselves to others. We must compare ourselves to the person we were yesterday, continually outdoing ourselves every day and doing things extraordinarily well."

Cultivate your own agribusiness with the help of LANDBANK's loan programs. For inquiries, call LANDBANK's Customer Care Center at (02) 405-7000 / Domestic Toll-Free Hotline: 1-800-10-405-7000 or visit a LANDBANK Lending Center near you. You can also send an email tocustomercare@mail.landbank.com.