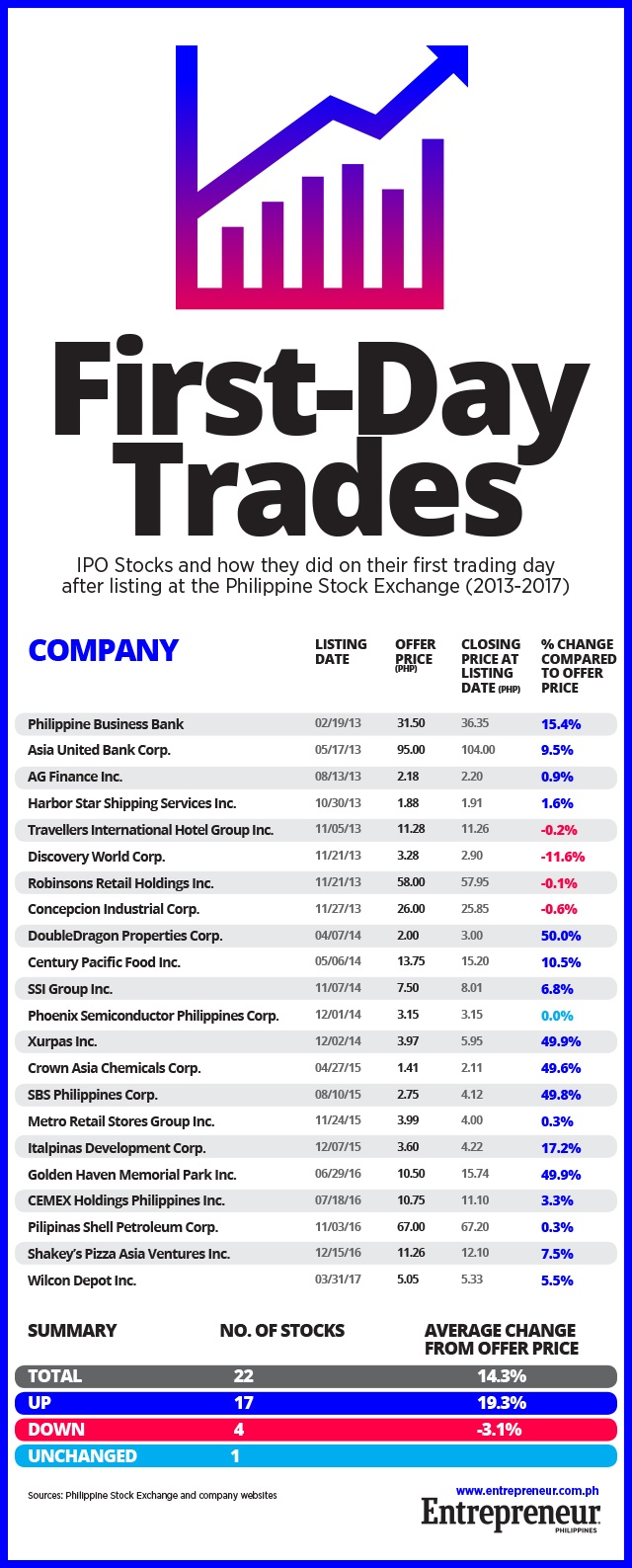 For those keen to buy stocks that are going through an initial public offering (IPO), a question that often crops up is whether it is better to buy the shares before or after they are listed.
Some stocks fall on the day they're listed. If that's the case, you'd be better off buying the shares afterwards rather than before. On the other hand, some stocks climb shortly after listing, which suggests it's better to buy them during the offer period.
ADVERTISEMENT - CONTINUE READING BELOW
Related story: Buying New IPOs? Check Out How New Listings in 2016 are Doing 
To shed some light on the record of newly listed stocks at the Philippine Stock Exchange, we looked at the 22 IPOs in the last five years and compared how the stocks did on the first trading day with the offer price.
What we found is that an overwhelming majority of the IPOs went up on the first trading day after listing: 17 of the last 22 IPOs saw their stock price increase compared to the offer price. On average, the 17 IPOs experienced a 19.3-percent increase from their offer prices to their first-day closing prices. Five of the 17 IPOs even climbed 50 percent, which meant a significant return on investment for those who bought shares during the offer period.
Four of the five remaining IPOs experienced a decline from their offer price, averaging at 3.1 percent. Interestingly, all four of these IPOs listed on November 2013, the month when Super Typhoon Yolanda (or Typhoon Haiyan as it is known internationally) ravaged the country. The last remaining IPO closed its listing date with its shares valued the same as its offer price.
ADVERTISEMENT - CONTINUE READING BELOW
Of course, past performance is no guarantee the trend will continue in the future. Would-be investors in IPOs should still look at each and every stock on its own merit and decide whether the potential returns outweigh the corresponding risks.
Related story: 5 Things to Know Before Investing in IPO Stocks 
*****
Lorenzo Kyle Subido is a staff writer of Entrepreneur PH