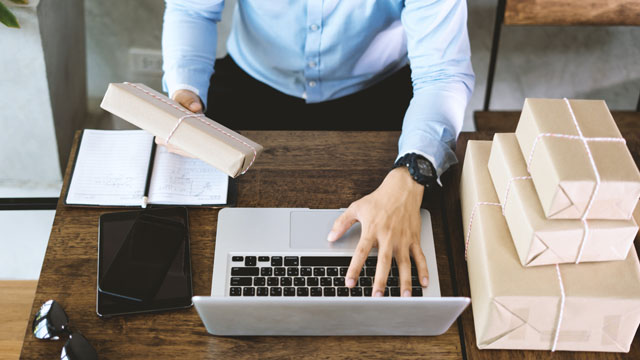 September is the widely accepted start of the Christmas season in the Philippines. With the population scrambling to buy gifts and ingredients for Noche Buena, there are plenty of opportunities to sell all sorts of products.

E-commerce changed the shopping habits of Filipinos in the early 2000s. Products that until then were only available overseas found their way to our shores with the click of a mouse button. Online shopping has evolved since then, and local sellers have followed suit—taking advantage of the online marketplace. 
Digital technology has leveled the playing field for entrepreneurs.
With Filipinos leading more mobile lifestyles, M-commerce ("M" for "mobile" or buyers completing transactions via smartphones), is steadily on the rise. A study shows that during the holiday season, people in the Philippines use their commute time to shop on their mobile phones. It also helps that on the average, Filipinos spend more than nine hours a day online.

Whether you're new to M-commerce or already have an established online presence that allows you to easily reach customers, the Christmas season will throw a number of challenges your way. These include testing your ability to address a sudden surge in demand, sourcing materials, arranging for logistics, and delivering your goods on time. If you aren't as quick as a tweet in providing solutions, that chance to grow your business can pass you by faster than the bubble tea or cronut craze.

Enabling your business to take on e-commerce—M-commerce especially—is within your power through seamless, trusted, MSME-friendly platforms like the UnionBank GlobalLinker. UnionBank GlobalLinker is a free service that offers a one-stop shop for MSMEs to jumpstart, grow, reap revenue, and expand their business.

Here's how you can assess your MSME's online readiness with the help of UnionBank GlobalLinker:
Sales and marketing
These days, it is important to make sure your business can reach any potential customer with an Internet connection; even better if your platform is mobile-friendly. To help consumers with their purchases, everything should be easily viewed and accessible on mobile phones: images of the products should be optimized, product descriptions should be up to date, promos and special deals are reflected, and the online payment system must be robust.
Having a good product is one thing, but in an online marketplace, you have to work harder at showcasing and promoting your products since your customers can't touch or see the actual items.

Platforms like UnionBank GlobalLinker provide the Linker.store, which allows you to easily set up your online store for free. The service allows entrepreneurs to customize their own themes and product display, as well as connect to a network of other businesses.
Supply chain management
You need to make sure that you have enough products to meet the demand of the Christmas rush. That also means ensuring that your suppliers and partners are equipped to answer to the demands of your business. GlobalLinker's growing network will let you connect to prospective suppliers and partners in the Philippines, and from other parts of the globe.

In cyberspace, there's always room for collaboration. Whenever there's collaboration, there's the opportunity to help cut costs with pre-negotiated deals and offers that can work to everyone's mutual advantage. With the network that Linker.store and UnionBank GlobalLinker provides, you can easily connect to the people who can help your business grow.
Logistics
To ensure that their products reach customers, MSMEs can already work with a logistics service provider so that shipping is easier. With Linker.store's partnership with Xend, a trusted logistics service provider, you won't need to worry about not delivering on time.
Promotions and social media
Social media can help you push your products, but only if your campaign across all social media platforms is consistent. You may also want to explore other platforms outside of social media.

A one-stop shop like UnionBank GlobalLinker contains a curated and moderated BizForum, where practical articles are posted and new ideas are discussed within a vibrant community of entrepreneurs.

UnionBank understands well the power of digital technology to accord Filipino MSMEs the tools to go global. Experience the UnionBank GlobalLinker service by logging on to its website or downloading the app on the App Store or on the Google Play Store.

Visit UnionBank's Facebook and Twitter pages to learn more.