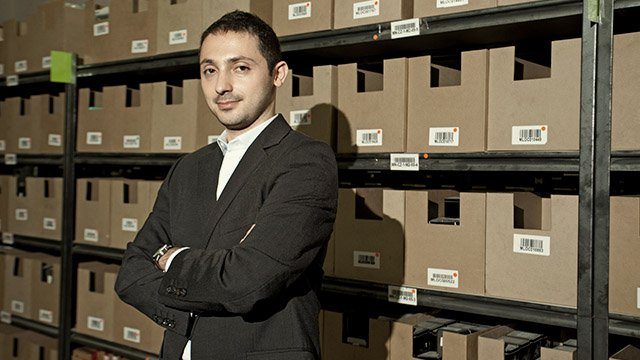 31-year-old Inanc Balci is the CEO of Lazada Philippines
Five years since it was founded, Lazada Philippines is already the top ecommerce platform in the country, but talk to its country manager and you get the sense that they're only getting started.
The local operations of the regional online shopping network reported revenues in excess of Php1.07 billion in 2014, but also posted a net loss of just under Php1 billion. It has yet to disclose its revenue figures for 2015 and 2016, but CEO and president Inanc Balci remains upbeat that the company will soon turn a profit.
ADVERTISEMENT - CONTINUE READING BELOW
"The ecommerce penetration rates in the Philippines continues to grow, and Lazada continues to have a majority market share," Balci tells Entrepreneur Philippines. "There is great momentum in the market. More and more people are becoming ecommerce users, but on top of that, the ecommerce users are buying more frequently, which translates into very high growth in the market."
Balci mirrors industry projections about the local ecommerce space. According to statistics portal Statista, total revenue from businesses selling online in the Philippines is expected to climb to $1.2 billion (Php59.7 billion) this year, up from Php1 billion last year.
Related story: PH E-commerce Revenue to Hit $1.2 B in 2017
"There are 47 million active Facebook users in the Philippines," says the 31-year-old Turkish CEO. "But when you look at ecommerce customers, it's less than 10 million." That's about ten percent of the total population and one percent of retail sales penetration. Compare that with Taiwan, which Balci says is the highest in the region at around 18 percent.
ADVERTISEMENT - CONTINUE READING BELOW
"So there is a huge growth potential here," he says.
Chinese ecommerce giant Alibaba no doubt realized this potential when it invested $1 billion in Lazada last year, effectively giving it a controlling stake in the company. Besides the Philippines, Lazada also has operations in Malaysia, Indonesia, Singapore, Thailand and Vietnam.
Balci says Alibaba's move can only mean good things for Lazada.
"We were extremely happy with the fact that Alibaba is becoming a major shareholder in Lazada," he says. "Alibaba has been doing this since 1999, so they have been in this sector for almost 18 years now. They have a great knowledge base about ecommerce. They have tried almost all of the things that we are planning to try.
"Since this transaction happened, we have been learning a great deal about Alibaba on different aspects of ecommerce," Balci adds. "They help us define our strategy. And we are able to pinpoint certain parts of ecommerce that we need to focus more and certain areas when we should focus less."
ADVERTISEMENT - CONTINUE READING BELOW
One thing that Lazada can learn from Alibaba is the concept of Taobao villages, or a cluster of rural online retailers (often using Alibaba's marketplace platform Taobao) concentrated around a specific area. Balci says the concept already exists locally, although the set-up isn't exactly like the one in China.
"If you look at our merchant base, we have a lot of micro entrepreneurs," he says. "The majority of our merchants in the Philippines are MSMEs (micro, small and medium enterprises). We have the smallest micro entrepreneurs to the largest conglomerate in the Philippines as our merchant." Balci is referring to SM, which forged a partnership with Lazada last year to sell its merchandise online.
ADVERTISEMENT - CONTINUE READING BELOW
Balci says Lazada is taking proactive and retroactive measures to combat the sale of fake goods in the online platform
Micro enterprises have assets of up to Php3 million and employ no more than nine workers. Small businesses are those with assets of between Php3 million and Php10 million and employ from 10 to 99 workers. Medium enterprises' assets range from Php10 million to Php100 million and employ 100 to 199 workers.
"It's the first time in the Philippines where you see all of these different businesses using the same type of opportunity," Balci adds. "It's the same platform, because we offer everyone the same rates, and it's the same service. So for the first time in the country, everyone can compete on a level playing field."
Balci believes the set-up is so revolutionary he calls it "the biggest entrepreneurial opportunity in the Philippines of this decade."
"When you think about it, you don't need capital," he adds. "We only charge our merchants after there is a successful sale to the customer. You don't need capital to open different stores. You don't need capital to open a warehouse; we can put it in our warehouse. You only need a mobile phone. Not even a laptop. You log into our mobile app, and you can start selling. And you have the same fee structure as the other players in the market. I don't think that's available in any other type or form in the country."
ADVERTISEMENT - CONTINUE READING BELOW
Related Story: This CEO Plans to Make the PH a Top Country for Ecommerce
But just like Alibaba, one serious issue that Lazada needs to contend with is the proliferation of substandard or fake goods in the marketplace. According to the International Anti-Counterfeiting Coalition, the estimated value of cross-border trade in fake goods reached a staggering $1.7 trillion worldwide in 2015.
Balci acknowledges the gravity of the issue, saying that it's something that any open ecommerce platform in the world has to deal with. With about 10,000 merchants and over 10 million products, he says it's virtually impossible to monitor every item or transaction. However, the company is taking both proactive and retroactive steps to curb the blight of fake goods sold on their platform.
"All of the merchants in Lazada are BIR and SEC-registered companies," he says, referring to the Bureau of Internal Revenue, the tax agency, and the Securities and Exchange Commission, the corporate regulator. "If there are health and beauty products, we get their FDA (Food and Drugs Administration) permit. And if they put in any branded products, we get their assurance that this is from proper distributors.
ADVERTISEMENT - CONTINUE READING BELOW
"As for retroactive steps, if any customer buys an inauthentic product, we make sure we refund the customer to the full extent, no questions asked. We make sure the customers are not disadvantaged by using ecommerce." Balci adds they have instituted a zero tolerance policy concerning fake goods and immediately kick out any seller found to be guilty.
Of its three business models, Lazada derives a majority of its gross merchandise volume (GMV) from third-party marketplace transactions. Although Balci refused to divulge specifics, ecommerceIQ, a market research portal focused on online retail, estimates it at around 70 percent.
"A large minority of the business is retail direct from Lazada," Balci adds. "And a small minority of the business is cross-border trade (where merchants are from other countries), which is growing."
Balci, who left an investment banking job in London to come to Manila, says he can't predict when exactly the penetration rate for ecommerce in the Philippines will become as big as in other countries, but he believes we're beginning to see significant strides now.
ADVERTISEMENT - CONTINUE READING BELOW
"It's not going to happen in one day," he says. "It will happen in several years and it's happening at this very moment. So we need to zoom out a little bit. Look at the macro view. Ten years from today, when you look at these years, we will see that it was actually these years it is starting to tip off."
*****
Paul John Caña is the managing editor of Entrepreneur PH