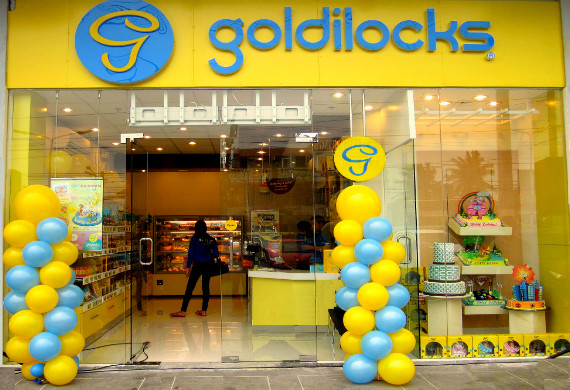 This is the last part on our series on iconic brands. Check parts 1, 2, 3, 4 to learn more about these icons.
When Goldilocks first opened in 1966, there was very little competition. Its founders—sisters Milagros and Clarita Leelin, and their sister-in-law Doris Leelin—envisioned a place to have coffee and snacks while you wait for that fantastic birthday cake for your child. "People would go out of their way—it became a status symbol," said Pinky T. Yee, marketing manager of Goldilocks.
ADVERTISEMENT - CONTINUE READING BELOW
Generations of Filipinos have at one time or another either had a Goldilocks cake, or partaken of pasalubong (a take home) in the classic mamon, caramel popcorn, and polvoron offerings. It has become a cultural product, even appearing in a book of Filipino idiosyncrasies titled You know you're Filipino if… It says there, 'You know you're Filipino if…Goldilocks means more to you than just a character from a fairy tale," shared Yee.
Goldilocks opened eight branches in its first decade. Relatives who migrated abroad took the brand with them, opening in Los Angeles in 1976, in San Francisco in 1979, and in Vancouver in 1984. The Philippine bakeshop hit its stride after the EDSA Revolution in 1986: when the local malls opened, they were right there. As of 2015, they had more than 400 stores nationwide, 286 of which are franchised.
In 2010, the Philippine franchisor also licensed a Goldilocks bakeshop in Thailand, alongside distribution outlets in Hong Kong, Japan, and other parts of Asia, Australia, the Middle East and Europe. This does not include affiliates in North America. The USDA-certified facility in San Diego serves, not just supermarkets like Costco, but also the US Military and the US Navy.
ADVERTISEMENT - CONTINUE READING BELOW
"Soldiers in Afghanistan enjoy Goldilocks lumpiang shanghai," said Yee. "This is how you become iconic: when the customers themselves equate your products to being Filipino. Say you go abroad—what [other] food brand can you bring and export to another country that is uniquely Filipino?"
Grab the opportunity
But apart from building a strong following and nurturing a customer relationship, iconic brand-makers have the ability to keep discovering a new opportunity where none thought to look.
Marketing research analyst Eduardo Roberto calls this entrepreneurial trait as "insighting" and credits Nobel Prize laureate Albert Szent-Gyorgyi with its definition: Seeing what everybody has seen, but thinking what nobody has thought.
Insight is also useful when sustaining—or reviving—market leadership: Harley-Davidson's comeback after bankruptcy, for example, meant catering not only to "devil's riders" but also the heretofore ignored fanbase of clean-cut office hounds who had a yen for weekend daredevil rides. "They were able to revive the product, and it stayed as an iconic brand, with another segment," Roberto said.
ADVERTISEMENT - CONTINUE READING BELOW
Even iconic brands are not invincible. Eastman Kodak was the global name in film—and gave the world the core technology for digital cameras—but declared bankruptcy in 2012. The company is currently focused on digital printing, commercial imaging, and packaging.
"Brands once strongly established become very hard to topple except when a significant innovation comes in. But, once discredited, they become almost impossible to recover," said Ernesto Gatchalian, former president of J. Walter Thompson and Campaigns & Grey, and now managing director of J. Romero & Associates.
"Look at the big brands today that have become dominant, but also very quickly, have been toppled—Nokia, BlackBerry.... It's not just a matter of keeping up with the innovation. That's the story today for our entrepreneurs: Lead the innovation."  - – with a report from Victoria Vizcarra    
*****
This article was originally published in the June 2014 issue of Entrepreneur Philippines magazine.   
Source: "The New Rules of Brand Leadership" by Jez Frampton, Best Global Brands 2013

ADVERTISEMENT - CONTINUE READING BELOW