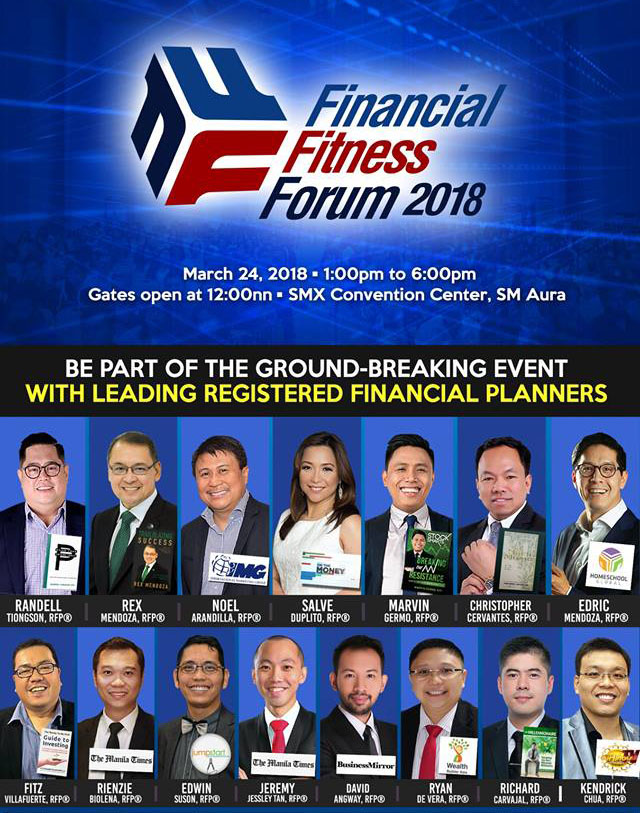 Eight registered financial planners (RFPs) shared their ideas and experiences with hundreds of enthusiastic participants who attended the sixth Financial Fitness Forum held last March 24 at the SMX Aura Convention Center. The event was organized by the Financial Planner Philippines, an organization of the country's registered financial planners.
The speakers talked about their own strategies on financial planning and investing, with the aim to educate and motivate the audience to become financially fit. These RFPs are Randell Tiongson, Rex Mendoza, Christopher Cervantes, Salve Duplito, Noel Arandilla, Edwin Suson, Marvin Germo and Edric Mendoza.
ADVERTISEMENT - CONTINUE READING BELOW
Spanning topics from crafting practical wealth strategies and investing to managing family income, the event answered some of the frequently asked questions about money, savings and investments and helped guide the participants to learn the basics of financial management.
Here are three key takeaways from the event:
1. Break the conventional savings mindset in the Philippines
Randell Tiongson, author of Build Your Future Today, pointed out that one of the biggest problems in the Philippines when it comes to money matters is the inability of the Filipinos to understand the importance of saving and investing. "You know ang problem sa Pilipinas? Kailangan pang pakiusapan ang tao na mag-ipon at mag-invest. Kailangan pang i-motivate. (You know what the problem in the Philippines is? You have to ask for people to save up and to invest. You still need to motivate them)," he said.
Because of this, many people are still unbanked, the insurance penetration rate is low, and only a few people are financially prepared for retirement. Rex Mendoza, author of Trailblazing Success, provided a framework for understanding and possibly solving the problem: "[There are] three stages of financial life: man at work, man and money at work, money at work. Many Filipinos never graduate to money at work because the man and money at work is not handled well. They don't set aside enough money to earn exponentially."
ADVERTISEMENT - CONTINUE READING BELOW
2. Build values before skills
Many people who aspire to get rich spend a lot of time studying and crafting their personal strategies in financial planning. As co-founder of International Marketing Group Noel Arandilla said, "Number one reason why people fall into financial difficulties is because of lack of information. And financial difficulty is not because of lack of money. It's because of mismanaged money. It's not about lack of time; it's mismanaged time."
However, one thing that two other speakers emphasized is that building values before skills is also an important first step to financial freedom.
"Build values before skills. This is so important. Some of the most successful people in the area of finance have crumbled their whole empire because of bad values," said Edric Mendoza, president of Homeschool Global and former host of a local morning TV show.
Tiongson further added: "Kung mali 'yung ginagawa mo kahit anong galing mo sa stock market—hindi ka naman marunong mag-ipon, wala kang goals, hindi mo inaayos, hindi ka properly covered—balewala 'yan. (No matter how good you are in the stock market, if you're not doing it properly, you don't know how to save, you have no goals and you're not properly covered, it's all worthless.)"
ADVERTISEMENT - CONTINUE READING BELOW
3. Find the financial strategy that's right for you
In wealth building, there are so many strategies to choose from—be it investing in real estate, speculating on stocks or trying a technical approach to stock market investing. These are all called techniques.
Whatever your chosen strategy is, it's important to have a clear, strategic plan. Salve Duplito, anchor and host of ANC On The Money, affirms this. "I start with a financial plan. Wherever you invest, kahit na anong laki ng kikitain niyo doon (no matter how big you're going to earn from it), if it doesn't begin with a well-crafted financial plan, it's flawed with risk. You need to know what your goal is, kailan mo gustong 'yung goal na 'yan mangyari (when you want to achieve that goal), and where you are now already and where you need to go," she said.
It's also important to arm yourself with the necessary education in order to prosper. "Without financial information, without financial education, even a higher income won't solve your problem," Duplito added.
ADVERTISEMENT - CONTINUE READING BELOW
Once you choose the technique that's right for you, Mendoza added that the important thing to remember afterwards is to make sure you earn both types of income: active (salaries, incomes) and passive (money made from investing). "The key is to make sure that your crossover point [between active and passive income] happens. Remember, you active income will always be linear. However, your passive income is always going to be exponential," he said.
*****
Pauline Macaraeg is Entrepreneur PH's data journalist. Follow her on Twitter @paulinemacaraeg