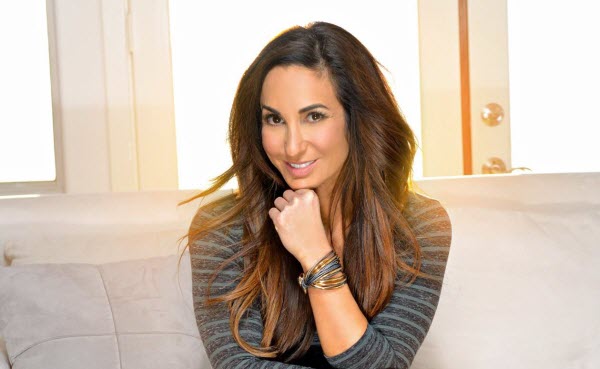 Natalie Jill is a licensed master sports nutritionist, functional fitness trainer, popular online personality and most recently became a USA Today bestselling author. She has helped millions of people worldwide get in shape with her health programs and in the process created an online business that has generated over seven figures in revenue.
ADVERTISEMENT - CONTINUE READING BELOW
Though fitness had always been a passion of hers, Natalie Jill did not turn that passion into a business after getting her health degree. Instead she entered the corporate world, earning a nice salary, getting married, getting the big house, living what most would call the American dream.
But years later, at 40, her dream came crashing down, and her entrepreneurial journey started where so many find themselves— rock bottom. Recently divorced, in debt, overweight and with a new baby, Jill felt like she could not control any aspect of her life. She could, however, control her health.
"I can't control anything else, but I can control my body. If I can just move every day, if I could just start eating better foods, I can control that—and everything else has to start getting better." Get better it did. Her passion for fitness and knack for social media eventually turned into a multi-million dollar business.
ADVERTISEMENT - CONTINUE READING BELOW
Here are five lessons beginners can learn from her about getting started as an entrepreneur.
1. Create a clear vision.
When she was at rock bottom, unsure of what to do next, she decided to make a vision of where she wanted to end up. She did not know all the steps to get there, but she needed an end point to strive toward.
"I just started tearing out from magazines, and I made a vision board of what my dream life would be. I made this vision board and thought to myself, If I could just stare at this vision board a few times, maybe I can start to believe that this is who I can be and work toward it."
Say what you will about vision boards, but long-term vision is a powerful tool. Instead of a board, you could write your dream life out on paper, or talk it out with your spouse. Somehow, create a clear picture of a destination for yourself. Once you have a vision, you can take intentional steps each day in the direction of that goal.
ADVERTISEMENT - CONTINUE READING BELOW
2. Create a community.
A huge key to Natalie Jill's success is that she made her story about other people, focusing on the success of her followers.
"They would send me a Facebook message, and it would say, "Oh my gosh! I did your 7-Day Jump-Start, I lost five pounds, I feel so good!" And I was so happy for them that I would screenshot the testimonial and I would say, 'Can I share this?' So I would start sharing, Hey, look at Kelsey! She did 7-Day Jump-Start and she lost five pounds. She looks so good! Who's next?"
It is tempting in the beginning to want to spend a lot of time and energy qualifying yourself but Jill's strategy—which happened organically because her program produced results—was much more powerful. As soon as you have customers and clients with glowing results and testimonials, make your story about them instead of you.
ADVERTISEMENT - CONTINUE READING BELOW
3. Cultivate your strengths.
When building her business, Natalie Jill, like most successful people I interview, honed in on her strengths. Communicating about health, coming up with recipes and creating step-by-step programs came naturally to her. Her work was already producing results before she even started selling packaged programs. So follow your strengths, what is already working, when trying to come up with your first product idea or a new product idea.  
Like many creative business owners, her strength is not in the details. She recommends that you delegate what you can, but only after you fully understand what you are delegating. She learned that lesson the hard way, hiring a Pinterest consultant, only to eventually get banned as spam on the platform.
"What I really know for sure is that there's things that we as entrepreneurs do well, your strength, and that's the thing you should never delegate. If it's your talent, you should never delegate it. Never, ever, ever delegate out and hire someone to do something you don't understand yourself."
ADVERTISEMENT - CONTINUE READING BELOW
4. Create boundaries.
Jill and her now-husband worked on building the business without any employees for two years. If there is one thing the pair learned from that time, it is to trust those you work with, whether partners, employees or spouses—and let them do what they do best.
"We had to separate what rules we have in the business. We both know what our strengths are, and we have to stay out of each other's way. That's the only way we can do it."
5. Keep learning.
Natalie Jill's entire life changed when she started researching how to be healthy after her divorce. She found so much conflicting information on the web that she decided to go and get certified for herself, which later led to the creation of her business.
Her number on piece of advice for rookie entrepreneurs? Start learning and keep learning. She explained that many entrepreneurs like herself have created plenty of content for you to study for free, or as a purchased product, in order to learn how they built their businesses.
ADVERTISEMENT - CONTINUE READING BELOW
"Every entrepreneur out there—we leave trails of stuff. You can see what we did. We have products. We have blogs. We have videos. We leave all that information out there. Be a student!"
***** 
Copyright © 2016 Entrepreneur Media, Inc. All rights reserved.
This article originally appeared on Entrepreneur.com. Minor edits have been done by the Entrepreneur.com.ph editors.
Photo from jsha.com