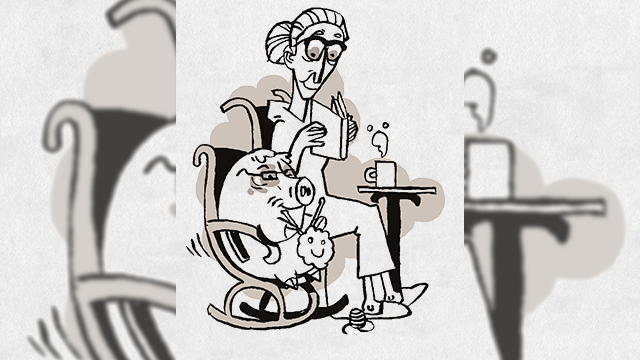 For starters, my first teachers were an academic and an entrepreneur. My father was a tenured professor in the Asian Institute of Management; and my mother, the manager of our home and our own brokerage firm, Regina Capital Development Corporation (RCDC).
Early on, I was exposed to the rudiments of business management, and this gave me the understanding and appreciation that helped me gravitate toward a career in the stock brokerage business. Given this, I hope readers can value why I believe people should invest as early as possible.
ADVERTISEMENT - CONTINUE READING BELOW
When investing in stocks and bonds, I would give the same advice to overseas Filipino Workers (OFWs) that I would give to any other investor, with some minor differences. Let us start with general advice. The short answer is, it is always a good time to invest (especially stocks), and once you get started, you will never be content to sell.
What do you want? 
The step-by-step process is simple. Whenever I sit down with first-time investors, I ask them three questions, and this serves to "know thyself" in terms of expectations. It helps gauge what their investment personality is and helps them align with more realistic expectations.
First: What is your investment objective? Are you looking to maximize return, preserve capital or to rely on passive income? This is important because stocks, depending on the nature of their business, behave differently, so too the manner by which they reward shareholders.
ADVERTISEMENT - CONTINUE READING BELOW
Second: What is the risk tolerance you are willing to take? For example, 2015 has not been favorable to stocks as others, so it may take some time to weather out the storm. If you are not willing to ride out the volatility, then it is best to invest in companies that are less prone to speculation and the cyclicality of business shocks. If you want to become much more conservative, then perhaps leave it in stocks.
Last: What is the time horizon you need to work with? Are you looking to make a small return after a year to pay for your children's education or is this part of a long-term plan of accumulation leading to retirement?
Reward versus risk
Investing in stock is often risky, though many people only see the huge gains and losses of some investors. But if you manage the risks, you can take advantage of the stock market to secure your financial position and earn money. So what exactly are the benefits that clearly outweigh the risks?
ADVERTISEMENT - CONTINUE READING BELOW
Investment gains: One of the primary benefits of investing in the stock market is the chance to grow your money. Over time, the stock market tends to rise in value, though the prices of individual stocks rise and fall daily. Investments in stable companies that are able to grow tend to make profits for investors. Likewise, investing in many different stocks will help build your wealth by leveraging growth in different sectors of the economy, resulting in profit, even if some of your individual stocks lose value.
When I was young, I came across a chart that showed that over time, the longer you hold stocks, then chances of loss are further minimized. In fact after 10 years, if you had invested at what would seem like the worst possible time, then you would at the very least break even. More importantly, after 20 years on average, you should have been making 7% to 8% a year on a compounded basis.
ADVERTISEMENT - CONTINUE READING BELOW
Liquidity: Liquidity is the ease with which something can be traded or converted into cash. With stocks, there is a regulated market for people to buy or sell shares during trading hours. If you are satisfied with the price at which you are going to purchase or sell your shares, then you can have this done automatically.
This is not the case for others. For example, if you find yourself trying to dispose of a painting, it is much more informal, and you will need to exert much effort to find a potential buyer. Furthermore, it will be a back-and-forth negotiation for a price, which you are unsure that both of you will reach an agreement.
Dividends: Some stocks provide income in the form of a dividend. While not all stocks offer dividends, those that do deliver annual payments to investors. These payments arrive even if the stock has lost value and represent income on top of any profits that come from eventually selling the stock.
ADVERTISEMENT - CONTINUE READING BELOW
Dividend income can help fund a retirement or pay for even more investing as you grow your investment portfolio over time. In the case of our local market, there are quite a handful of companies that pay >3% a year, which is much better than what you are getting through your bank account.
Tax savings: Real estate, businesses, and other valuables impose a huge tax upon their disposal. They can hover at 10%, 15%, even 20%. Upon selling stocks, you will only be charged 0.5% of the value at which you sold them.
OFWs need to take note of the fluctuations with regard to foreign exchange. For our hardworking relatives, 2015 has been much more favorable as the peso has depreciated with respect to other currencies.
In this regard, I believe they can be more aggressive in remitting funds and investing in the stock market. In terms of forecasting, it is best to observe the latest inflation reports, because generally, our central bank raises and lowers rates in order to fight risks from hyperinflation or deflation.
ADVERTISEMENT - CONTINUE READING BELOW
The most important advice for newbies that I cannot stress enough is to be patient. I would like to use an example—Charlie Munger, Warren Buffet's right-hand man and the vice chairman of Buffett's company: Patience is an underappreciated but critical component of investing success.
Related articles on this series:
 
OFW Advice (Part 1): Track the money
OFW Advice (Part 2): Get out of debt
*****
Luis Gerard Limlingan is the head of sales at Regina Capital Development Corporation (reginacapital.com; email luis.limlingan[a]reginacapital.com)
This article was originally published in the December 2015-January 2016 issue of Entrepreneur Philippines magazine. Minor edits have been done by the Entrepreneur.com.ph editors. 
Illustration by FABO