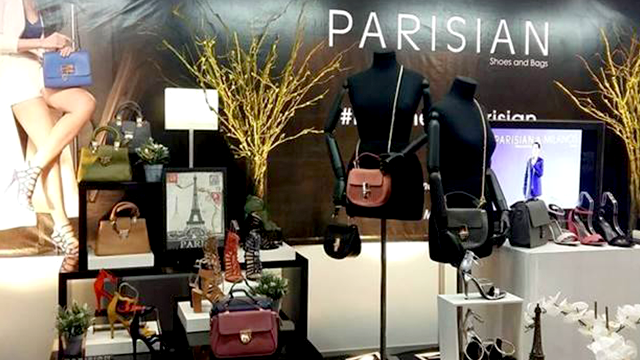 Despite being one of the oldest in-house brands of the SM Store, Parisian, a line of shoes and bags for women, remains to be in fashion, thanks mostly to the multi-pronged measures undertaken by the retail giant in the last nine years.
This was revealed by Eugene Saw, the head of SM Store's shoes and bags department, when he spoke during the first day of the recently concluded National Retail Conference. In his speech, "Transforming a Brand: Parisian's Cinderella Story in the Digital Age," Saw said that the decades old Parisian line—despite intense local and foreign competition—continues to net billions of pesos in annual sales. Saw credits this on-going success to SM Store's recent attempts to strengthen the line's merchandising team, grow its marketing team, rationalize its brand identity and expand its inventory to introduce new design concepts and attract various clients.
ADVERTISEMENT - CONTINUE READING BELOW
"It has not only survived," Saw said.  "It is now widely considered a brand that the millennials look up to."
Best foot forward
In a video Saw presented during the plenary, it was stated that the Parisian line is one of the pioneer in-house brands of the SM Store which, during its earlier days, was known as the Shoemart Department Store. The first SM store was launched by local business magnate Henry Sy, Sr. during 1958 and Parisian soon became one of its primary brands, an accessory to SM's intergenerational expansions from one store in Quiapo, Manila, to the over-200-outlet juggernaut that it is today.
To sustain the brand's longevity, however, Saw said that it was necessary for SM Store to take huge steps in marketing Parisian. These steps, he said, began about nine years ago starting with changes inside the organization.
An example of these is the incorporation of specialist personnel selling Parisian shoes. Calling these personnel "the most effective Parisian brand ambassadors" who are "armed with the latest product trends," Saw said that the inclusion of these personnel at the frontlines allowed SM Store branches to effectively discuss their products to shoppers. Complementing these adjustments were the renovations made inside their stores to ensure that the brand is well represented.
ADVERTISEMENT - CONTINUE READING BELOW
"This made sure that customers will have a complete shopping experience whenever they look for the right pair of shoes for different occasions," Saw said.
Changes have also been made on the merchandising front. Saw said that back end updates included the incorporation of people who can relate to Parisian customers. "Whereas before we have a roster full of experienced veterans with an average age of 50, with tenures of not less than 25 years with the company, we now have a more balanced mix of employees with a good understanding of what the latest fashion trend is all about," he said.
Changes to the Parisian line's merchandising also included the simplification of the brand. Expounding on this, Saw retold the story of Parisian Jr., a now-defunct subset of the Parisian brand that once catered to younger customers. Saw said that the subset has "outlived" its purpose and was therefore incorporated into the main brand.
ADVERTISEMENT - CONTINUE READING BELOW
"That decision benefited us in a lot of ways," he said.  "For marketing, it allowed us to focus our budget in pushing a sole Parisian brand; for merchandising, it eliminated a lot of style duplication. And for selling operations, it allowed us to have better use of the selling space with more efficiency."
Reaching for the stars
As it stepped into the digital age, the Parisian line experienced an aggressive marketing push from SM Store. Earlier efforts on this front included the brand's tandem with famed fashion designer Rajo Laurel. The pairing, initiated in 2011, saw Laurel designing shoes for the brand, a creative marriage that lasted all the way to 2012.
As a follow up to this campaign, The SM Store sought to increase the Parisian line's reach by tapping celebrity endorsers. This started with singer and actress KC Concepcion who started fronting the brand in 2013. This year, the Parisian-line and its male counterpart, Milanos, are fronted by the reel-to-real love team of Nadine Lustre and James Reid, respectively. Promotions involving Lustre included the "Inside My Parisian Bag" campaign which helped the brand earn 150,000 new fans on Facebook. Meanwhile, the promotion's attendant hashtag, #nadinelustreforparisian, trended number 3 on Twitter with more than 25,000 tweets.
ADVERTISEMENT - CONTINUE READING BELOW
This is the second outing of the "Inside My Parisian Bag" campaign. The first one, according to Saw, "made a huge clamor online" allowing the brand to trend number 1 on Twitter with over 30,000 related tweets.
Recognizing the importance of its online presence, managers of the Parisian line also sought to increase the brand's prominence by tapping major bloggers and style influencers. This began when the company mounted the Parisian Blogger's party in 2012, a whole day event that saw notable online correspondents styling themselves using the line's featured collections.
Such efforts complemented by its celebrity-backed promotions allowed the brand to garner a significant following online. As of this writing, the Parisian line has about 76.1 thousand followers in Instagram, 15.6 thousand followers on Twitter, and about a million likes on Facebook.
"We are proud to say that we are the first local footwear brand to reach that number of followers, with 4.5 million monthly average profile reach and 450 thousand average monthly fan engagement," Saw said.
ADVERTISEMENT - CONTINUE READING BELOW
Moving forward
During his talk, Saw said that Parisian is currently positioned as one of the leading fashion brands in the Philippines. Shoes, according to him, contribute a major portion to SM Store's overall revenues and sales of Parisian shoes have in turn significantly added to sales.
"Our in-house shoe brands... [have] made great headways in their own respective segments," he said. "Still, the Parisian brand towers above the rest."
Meanwhile, the line continues to receive favorable publicity both online and print. Saw point out to a common sight these days: "Fashion's who's who, the influencers, the celebrities and even the elite with Parisian branded shoes."
Currently, Saw remains upbeat regarding the future of Parisian shoes. The line, after all, will be included in the inventory of Simply Shoes, SM's budding stand-alone store concept. It was launched to allow SM to reach areas where the company's presence is lacking. Saw expects that the company will have a hundred of these stores operating in less than five years.
ADVERTISEMENT - CONTINUE READING BELOW
"In this digital age, location still matters," he said. "As SM continues to expand nationwide, we do not cease in making the brand more reachable to our regional customers."
During the earlier days of his career, SM's founder Henry Sy, Sr. thought that "if [he] sold a pair of shoes to every Filipino, [he] would be a successful man." There is no available data proving if his brainchild has managed that since its launch in the late 1950s. But considering the current stature of Parisian, it can be said that this shoes and bags line, at the very least, has arrived at a well-earned destination.