In the Philippines, taxpayers are classified as either corporate or individuals. If you are registered as an individual taxpayer, you are either employed (or a compensation income earner, which includes minimum wage earners) or self-employed. As self-employed, you can register as a single proprietor or entrepreneur (other than marginal income earners or those earning less than Php 100,000 annual gross revenues), or as professionals. 
Professionals, classified as self-employed, refer to an individual or a group, practicing his/her or their profession or calling, with or without license under a regulatory board or body. These exclude those who are earning purely from compensation income (purely employees). 

Professionals with license under a regulatory board include doctors, lawyers, certified public accountants, architects, engineers, and the like. Although freelancers may not have professional licenses under a regulatory body, as in the case of bloggers, web developers, graphic designers, writers and other people who provide specialized services, they are also considered professionals.
ADVERTISEMENT - CONTINUE READING BELOW
Bookkeeping and invoicing requirements
Professionals like self-employed individuals are required to maintain books of accounts using any acceptable method of accounting (accrual or cash basis) in a consistent manner. The same shall be preserved within the prescriptive period (three years from the close of taxable year) for post-audit examination. 
Also, the following should be considered upon invoicing:
Receipts or sales invoices shall be serially numbered;
Among other things, the name, business style, the TIN and business address of the Professional shall be shown;
Receipts or invoices shall be issued by the professional for every payment received;
The original of each receipt or invoice shall be issued to the client at the time the transaction is effected and the duplicate shall be preserved in the place of business for a period of three (3) years from the close of the taxable year.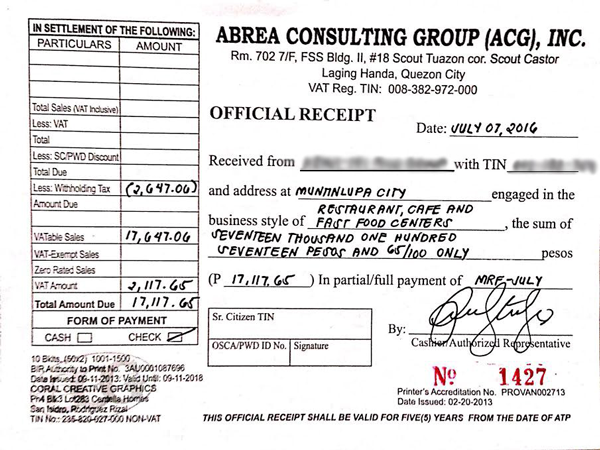 Know your taxes and BIR compliance
Upon registration with the Bureau of Internal Revenue (BIR), you will receive a Certificate of Registration (BIR Form 2303) with the taxes you are required to file and pay. It is important to take note of the BIR forms you need to use for every tax type and the corresponding deadlines to avoid penalties:
The Income Tax Return (BIR Form 1701) is due within 60 days after the end of each quarter while annual return is due every April 15.
A taxpayer engaged in business or in the practice of profession may choose optional standard deduction (OSD) or itemized deduction in determining his/her allowable deduction.
ADVERTISEMENT - CONTINUE READING BELOW
In OSD, an individual taxpayer shall only be allowed a maximum of 40 percent of gross sales or gross receipts as deduction. But anyone who opts to avail of this deduction need not submit financial statements.
Thus, if you don't have significant expenses to claim or sufficient evidence to support your itemized deductions, you may avail of OSD. Unlike itemized deductions, it does not require official receipts or invoices to support the standard deduction.
Generally, itemized deductions allowed are the ordinary and necessary expenses paid or incurred during the taxable year in carrying on, or which are attributable to the development, management, operation and conduct of the trade, business or exercise of profession, including a reasonable allowance for salaries, travel, rental and entertainment expense.
It should also be noted that these deductions should be supported by sufficient evidence such as official receipts (OR), cash/sales invoice, payroll, vouchers, bank statements and/or debit/credit memo.
In addition, an individual taxpayer is entitled to deduct the basic personal exemption (Php 50,000) and additional exemption (Php 25,000 per qualified dependent) with maximum of four dependents.
Gross Receipt

Less: Allowable deductions*

          Personal Exemptions

          Additional Exemptions (Php 25,000.00 x 4 children)

TAXABLE INCOME

 

TAX DUE (based on tax table in BIR Form 1701)

Less: Creditable Withholding Tax (Php 300,000.00 x 15%)

Income Tax Payable

 

Php 1,000,000.00

(600,000.00)

(50,000.00)

        (100,000.00)

Php    250,000.00

 

Php      50,000.00

       (   45,000.00)

Php        5,000.00
* A taxpayer engaged in business or in the practice of profession shall choose either optional or itemized deduction. Assuming all allowable deductions are purchases subject to VAT, it should be noted that the amount claimed as itemized deductions should be exclusive of VAT. 
Value Added Tax is due monthly on or before the 20th of day of the succeeding month and quarterly on or before the 25th day following the close of each taxable quarter. Or, the monthly percentage tax which should be paid not later than the 20th day following the end of each month.
ADVERTISEMENT - CONTINUE READING BELOW
All professional services are subject to VAT and consequently, required to register as VAT-taxpayers. Except those whose gross receipts for the preceding year (or expected gross receipts for the current year, for new taxpayers) do not exceed the threshold amount of Php1,919,500.00. In this case, he/she is liable to pay only 3 percent of the percentage tax, provided that he/she has not yet registered as VAT-taxpayer.
VAT Payable Computation:
Total Output Tax or Total Sales X 12%

Total Input Tax or Total Purchases X 12%

VAT Payable

Php xx

        xx

   Php xx
Example:
Output Tax:
Total Sales *               Php 1,000,000.00
VAT rate                                       12%                      Php 120,000.00
Input Tax:
Total Purchases*        Php    600,000.00
VAT rate                                       12%                          (   72,000.00)
VAT PAYABLE                                                        Php 48,000.00
*Note that the total amount reflected on the official receipt or invoice is VAT inclusive. To get the total sales of Php 1,000,000.00 (VAT exclusive), total sales inclusive of VAT (Php 1,120,000.00) should be divided by 112%.
Withholding Tax (Expanded/Compensation/Final) is due on or before the 10th day of the month following the month the withholding was made.
If you are paying for rental, professional services, and other income payment subject to Expanded/Creditable Withholding taxes, you are required to deduct and withhold taxes on those income payments and remit the same to the bureau.
If you have employees, you are required to deduct and withhold taxes on compensation paid to employees and remit to the bureau.
An Annual Registration Fee of Php 500.00 shall be paid on or before the last day of January every year after the initial registration.
Forget about everything but never forget to update your books of accounts and to issue an official receipt or invoice for every payment received. With or without transaction, make sure to file monthly tax returns or pay the compromise penalty from Php 1,000 to Php 50,000.
ADVERTISEMENT - CONTINUE READING BELOW
1) Payment form (individuals/corporation/partnerships)

0605

On or before the last day of January every after the initial registration

2) Income Tax – For individuals

1701Q

1Q: Jan-Mar

April 15

2Q: Apr-June

August 15

3Q: July-Sept

November 15

1701

Final: Jan-Dec

April 15 of the following year

3) Income Tax – Corporations or Partnerships

1702Q

60 days end of quarter

1702

April 15 of the following year

4) Value Added Tax

2550M

20th day of succeeding month

2550Q

25th day of the month following the end of a particular quarter

5) Percentage Tax

2551M

20th day after the end of each month
Tax awareness is key to avoid the unnecessary penalties and compromises.
*****
Mon Abrea of the Philippine Tax Academy is the president and chief strategy officer of Abrea Consulting Group, and dubbed as the Philippines' "Tax Whiz". He was recently nominated as one of the Ten Outstanding Young Persons of the World (TOYP). He may be reached at consult@acg.ph or called at (02) 622-7720.