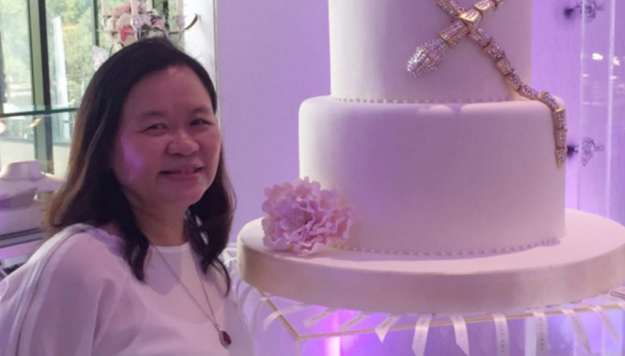 Penk Ching is known to be an innovative cake designer. Her first big break in the Philippines was when Fernando and Kitkat Zobel asked her to supply cake for them. Her biggest international break was the Olympic Bird's nest cake she designed for Coca-Cola China in 2008. Penk shares her thoughts about her inspirations and challenges in the cake business.
ADVERTISEMENT - CONTINUE READING BELOW
Q: What is the word you want your cakes to be known for and why?
A: Bespoke…because it's customized and personalized.
Q: How did you get your customers on your first year in 1985?
A: Most were referrals of friends and officemates—they were the ones who started it because they were so happy and excited for me.
Q: What was your first big break in cake supply?
A: There were clients to start with, who built up the roster, like celebrities, daughters of scion or socialites, etc. My first big break was working for Fernando Zobel and KitkatSilverio.
Q: What other major challenges did you encounter when you were a new entrant and how did you overcome them?
A: We were a few cake makers then, no bridal magazine, etc. so social media was rare. Reaching out was difficult, but having the word of mouth was free and my clients talk and recommend my cakes to their friends, family, and relatives.
ADVERTISEMENT - CONTINUE READING BELOW
Q: You have been successful in the super premium cakes category. What have you been doing right all these years to create a niche leadership in the cake industry?
ADVERTISEMENT - CONTINUE READING BELOW
A: Wow! Doing it right? It's the first time I heard this phrase over the last three decades….To start with, it was a slow and sure step process that I enjoy over the years. I didn't feel the pressure initially as I took it as a hobby.
I was half-hearted during the first few years because I was in the corporate world for more than a decade. So I told myself, if I'm doing a shift of career, I should work on the premise that "my work should consider me (physically) standing in front of the guests, with all eyes on me."
Q: What is your process of coming up with a cake design? How long does it usually take?
A: I meet the client and ask for their dream cake. Then I check their invitation, gown design (if I can get inspiration from them), and start working. The time table would always be considered a major factor. If it is still months away, I will tell them that we can do our communication via email, if not, we finalize in a week's time.
ADVERTISEMENT - CONTINUE READING BELOW
Q: Where do you get the inspiration?
A: Everywhere I go—like museums, textile, architecture, books, and of course, I search the Internet.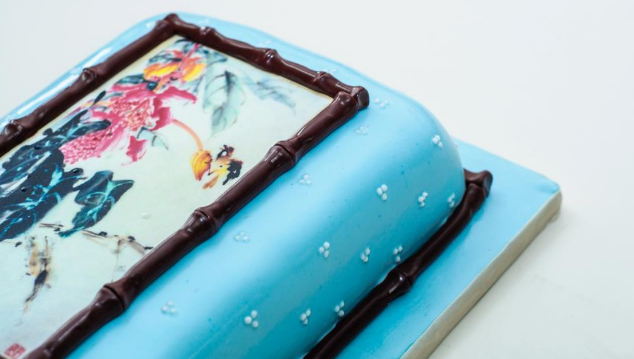 Q: You also do Chinese painting and calligraphy. How does that help you in customizing cake designs?
A: Yes, I also do a lot of watercolor, it gives me the advantage of doing paintings on cake. I blend the colors with ease using food colors and my painting brush.
ADVERTISEMENT - CONTINUE READING BELOW
Q: Which of the many cakes you've done you're proudest of? Which is the most innovative and why?
A: My Beijing Olympic Bird's nest cake—to be part of a global event such as the Olympics is one step up, the feeling of being chosen as one of the suppliers made me feel elated, and I can face then tell my dad (if I see him in heaven) that I did something for the name of the family. Every cake I make is a part and parcel of sweat and hard work, but I still consider this Olympic Bird's nest cake as one of my most innovative and logistically challenging (it has its own story to tell).
Q: What type of customer profiles do you attract and why? Who else do you want to attract?
A: I know I attract all kinds of profiles…but specifically, it is always the details and my creative side that gives me an edge over the rest of the suppliers. I also want to attract global clients.
ADVERTISEMENT - CONTINUE READING BELOW
For complete transcript as well as interviews with other thought leaders, please log on to www.josiahgo.com.
*****
JOSIAH GO is the chairman of Day 8 Business Academy for SMEs and Waters Philippines. 
Photos from Penk Ching's FB account