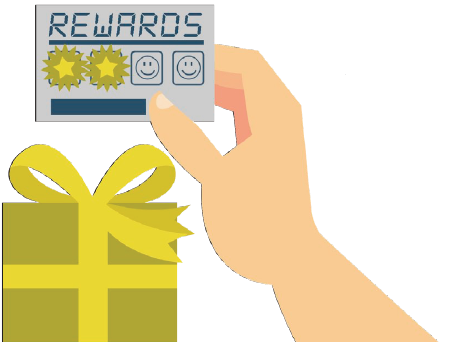 Q: I've been in the laundry business for close to a year now but I'm still finding it difficult to get customers to come back regularly. Any ideas on how I could convince them to become regulars?

A: Everyone loves a good reward. Whether it's getting a free planner with your cup of coffee, or free dinner by using your credit card, rewarding customer loyalty is good for both business owner and customer. All it takes is a stamp, sticker, swipe, or in some cases, scanning a barcode with your smartphone.

"Statistics say that, on the average, if you give a loyalty card to a customer, there's an 80-percent chance that he'll come back to try to complete it," says Rio Palabrica-Ilao, corporate relations manager of Mobile Optima, the company behind Perxclub—the first and only mobile app loyalty rewards program in the Philippines. "Having a loyalty card system builds repeat purchases and frequency, which is very important for any business to survive." And while eight out of 10 customers will return in hopes of receiving the freebie that comes with the card, "only 10 percent of them will be able to actually complete the card. Financially, it's a more profitable model than discounting."

Discounts vs. rewards

It's easy for a business to simply offer discounts to attract customers. If you're trying to get rid of a surplus in your inventory or want to avoid spoilage, discounts may work. But Ilao says, loyalty cards are better used to bring customers back. "If you offer too many discounts, customers will learn only to buy from you when you have a sale.

"This is why loyalty cards work. "Instead of discounts, I encourage merchants to give free products," says Ilao. "For example, on the first visit you get a welcome drink. On the third you get something else. Then on the 10th you get a free main course. It's a progressive rewards system. And the assumption is that customers need to purchase your product or service at its regular price, not at a discounted price."

The danger with discounts is that they "create a surge of demand that you may not be ready to handle. If you're a home-based cupcake operation, and all of a sudden you get a thousand orders, you might compromise on quality just to serve the demand, or you may not even have the capacity to serve the demand in the first place." The lesson for business owners, says Ilao, is that "if your customers are loyal, be generous to them. We feel that it's a more sustainable model."

Best practices

A loyalty reward system works best with retail businesses, with a physical product that customers can receive. But for those in the service industry such as spas, facial centers, laundry centers, and the like, "what they should instead do is give out vouchers." Give one, for example, worth P500 that they can use for a treatment or procedure on the next visit.

And whether you start with home-printed loyalty cards with stickers or stamps, or choose to join a cardless loyalty scheme like Perxclub, Ilao says, "It's perfectly fine. The intent is that you want to build and reward loyalty with your current customers."

Ilao says the only thing businesses need to watch out for when implementing a loyalty card system is "to make your reward system attractive. Don't give them something that's very hard to complete. For instance, if you ask them to complete a set of stamps on a rewards card, give them something on the very first stamp. Just get them to start the card. Once they start on the card, they are likely to complete it.

ADVERTISEMENT - CONTINUE READING BELOW

Illustration: Sonny Ramirez

This article was originally published in the March 2013 issue of Entrepreneur magazine.