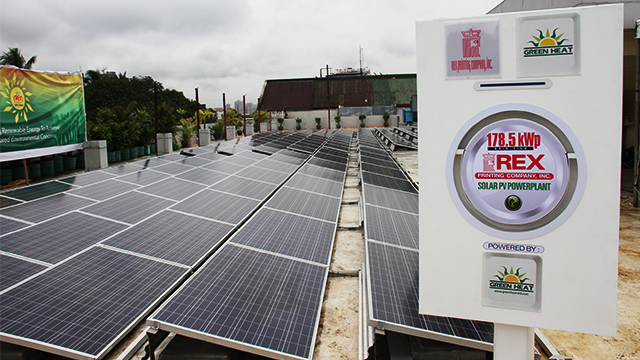 You know you have truly been a Filipino student if during your long years of study, you have encountered at least one textbook that carried the crown and letter logo of a Rex book.
Rex Book Store Inc., the flagship company of the Rex Group of Companies, has been around producing books for more than 60 years, and as the company keeps its hold on the printing market, it has also been tapping digital production through an e-books-producing digital arm. One could say it's about time that this bookmaker embraces digital book production, to prepare itself for the supposed last days of print, but also to be part of a global shift that sees digital production as the more environment-friendly way of producing books and educational materials.
ADVERTISEMENT - CONTINUE READING BELOW
On transitioning towards a full-on digital future, it is yet to be known if Rex and similar big-house book producers can cope. But as for finally addressing the urgent need to be more environment-conscious in its printing operations, Rex has at least (and at last!) given in.

Figuratively raising the roof
Key officials of the Rex group led by Rex Group of Companies chairman Atty. Dominador Buhain and chief operating officer Don Timothy Buhain, along with officials from solar power energy provider Greenheat Corporation, green-lighted last week a 178.5-kilowatt peak (kWp) solar rooftop at the company's offices in Quezon City. This makes Rex Printing the first printing company to utilize solar energy for its operations.

 
Greenheat Corporation, an ISO-certified solar solutions provider, installed the grid-tiered solar photovoltaic power plant, which is expected to provide a maximum of 20 percent of Rex's energy needs. This will reduce the company's carbon footprint to 108 metric tons, or the equivalent of 1,080 adult trees every year.  Aside from Rex Group, Greenheat has also installed the solar rooftops of the Asian Development Bank, Asia Brewery Inc. and that of educational institutions like St. Scholastica's College, Manila and Manuel L. Quezon University.
ADVERTISEMENT - CONTINUE READING BELOW

 
"We cannot reduce the impact of climate change without transforming global energy systems, but today, we have the unique opportunity to transform not only our company but society as well," Buhain remarked during the switch-on event.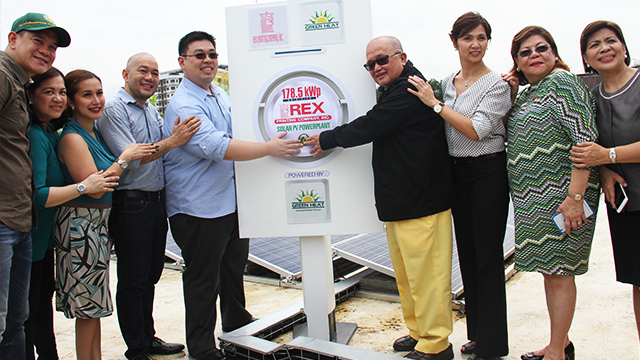 ADVERTISEMENT - CONTINUE READING BELOW
Green initiatives geared toward "Whole Child" mission
Buhain explains that the rationale behind the project hinges on two things – to actually tap on economic benefits and, at the same time, to commit to becoming an environmentally responsible company. 

 
"Part of our responsibility as an educational company is to educate children on our core values of integrity and discipline. After all, the child is the center of all our endeavors," he said while explaining Rex's Whole Child Advocacy with the campaign 'Para sa Bata'. 

 
"This is aligned with our 'Whole Child' advocacy. We felt that in everything that we do, while we sell educational materials, we think of the child. That we aim to be part of the village that nurtures the 'Whole Child'." Buhain explained. "By doing that, with the solar project, it points toward a better environment for the child. Whatever initiatives that it would bring, it would benefit the child, [and] would give him or her a better life – for him or her to be healthy, safe, engaged, challenged and supported."
ADVERTISEMENT - CONTINUE READING BELOW

 
Rex Book Store intends to double its efforts on environmentally sound activities. Aside from the newly installed solar power plant, the company has taken other steps in greening the company.

 
"We are a printing company, and the paper that we use comes from [mother] nature. That alone, we already owe it to her," Buhain said. The company has enforced the use of only recycled paper in almost all of its printing jobs. Lighting fixtures have also been replaced, from fluorescent to LED bulbs.  He also shared that the Rex Knowledge Center, the company's in-house think tank, is installing a green roof with a garden-lawn, to be completed soon.
"Helping Mother Earth, conserving [resources] – it need not be big. In our own little way and in our own spaces, we can find ways of doing it," Buhain said. "The publishing industry is an industry with a responsibility. Hopefully we can serve as a catalyst in making that contribution."
ADVERTISEMENT - CONTINUE READING BELOW