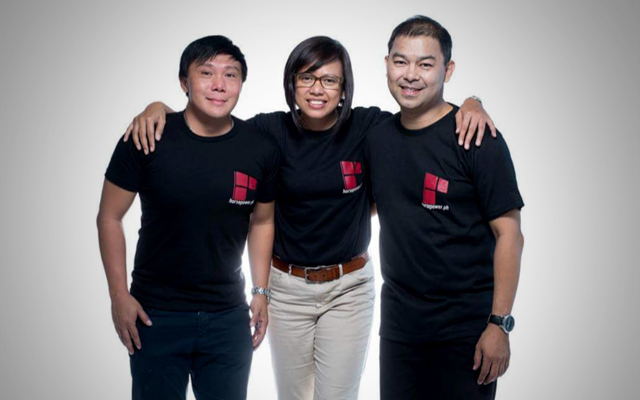 Horsepower.ph founders Jojy Azurin, Hannah Crisostomo and Diego Jose Ramos
Today's always-on and wired lifestyle has changed the game for entrepreneurs. The lowered cost of data plans and the prevalence of Wi-Fi hotspots in the metro have allowed professionals to work remotely. The popularity of websites such as Freelancer.com that offer jobs to anyone who has the skills and strong internet connection has also encouraged people to be full-time freelancers instead of working in offices with daily shifts. New technologies have also given rise to the startup culture, with a lot of young people joining the bandwagon.
ADVERTISEMENT - CONTINUE READING BELOW
In the Philippines, there are an estimated 15 million self-employed workers, entrepreneurs and consultants. That's a lot of people who potentially rely on themselves to apply for their own health card and insurance, pay their business taxes and so on. Many of these people may not even bother to get their own benefits due to the hassles of applying for one. After all, unlike corporations that have administrative divisions, freelancers likely do not have a dedicated staff to fix and manage this part of their business.
It's possible this is the reason some people hesitate leaving their office jobs to become a freelancer or start their own business. But a new startup promises to ease this burden to encourage more people to live the full-time freelancer life.
Horsepower.ph is a website and mobile app that manages and simplifies human resource benefits. Run by Horsepower.ph Services Inc., it bills itself as a one-stop human resources and administrative assistance platform.
ADVERTISEMENT - CONTINUE READING BELOW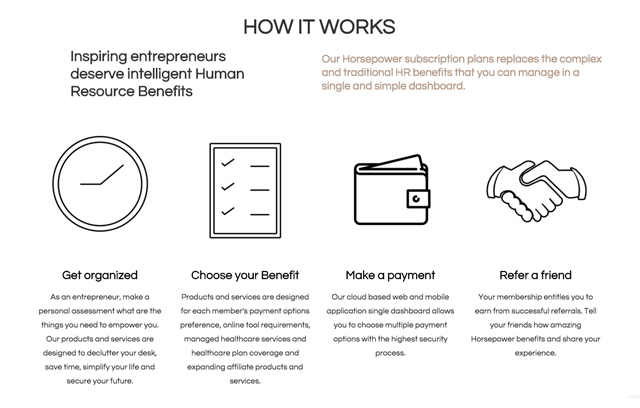 Horsepower.ph makes it easy for self-employed businessmen and freelancers to acquire insurance and other benefits
Horsepower.ph made news when they were declared champions during the Tech In Asia Jakarta 2016 pitch battle. Besides bragging rights, the startup won $5,000 cash.
So what made Horsepower.ph stand out from its competitors? It may be that they have intently studied the needs of their target market. Founder Jorge "Jojy" Azurin was the regional director for Continental Asia, also known as Freelancer.com, the world's biggest online outsourcing platform. The site has 13 million members, six million of which are in Asia. His team is also composed of Diego Ramos, who has experience in HR, healthcare, insurance and the pharmaceutical industry, and Anna Hizon, an expert in sales and e-commerce. Azurin and his team have been working with freelancers and startups for the past ten years.
ADVERTISEMENT - CONTINUE READING BELOW
According to Azurin, some common problems of startups and SMEs include the lack of proper healthcare plans and an HR department to process benefits. They also don't have proper access to financial resources and affordable loans, no purchasing power to buy equipment and no backend administrative support. Everything was done in a do-it-yourself basis.
The World Health Organization estimates that the ASEAN Region spends about $680 billion on healthcare alone. This was all the more reason why the Horsepower.ph team wanted to focus on healthcare.
The website offers a 3-in-1 hybrid healthcare and benefits support for self-employed workers and startups. This includes healthcare/HMO, life insurance and accident insurance, which are offered by third-party providers that Horsepower.ph has tapped as partners. Maxicare, PhilamLife, AsianLife and 1stLife are just a few of these providers.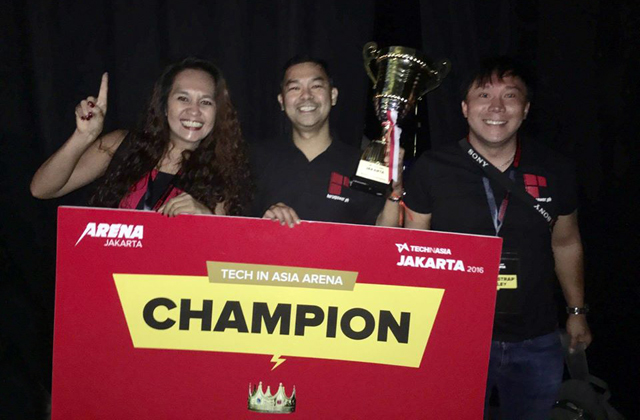 ADVERTISEMENT - CONTINUE READING BELOW
The Horsepower team won in Tech In Asia's Bootstrap Alley event in Indonesia last November
Knowing the other needs of this specific group, the startup has also decided to offer various benefits and services such as legal support, co-working space, online payroll system, tax and accounting support, bills payment and online government postings. This means members can simply pay their bills and contributions like Social Security System, Home Development Mutual Fund (Pag-IBIG), and Philippine Health Insurance (PhilHealth). Horsepower.ph will even treat those who sign up to an initial set of business cards.
"We also have third-party partners who can provide you business loans. If you have questions on taxes or legal issues, we will answer them," Azurin said.
Freelancers and SME owners are used to relying on themselves, which is why the website is easy to use and can be managed on their own. 
There are four payment tiers for self-employed members or solo entrepreneurs. The first one is Lite, which comes for free. It is an entry-level membership with full privileges in online bills payment and government postings, general tax and legal support and referral incentives.
ADVERTISEMENT - CONTINUE READING BELOW
The Silver, Gold and Platinum programs cost Php18.90/day, Php29.86/day, and Php40.82/day respectively. These packages are inclusive of healthcare and insurance and other programs. The price differs with the amount of contribution for the healthcare and insurance plan.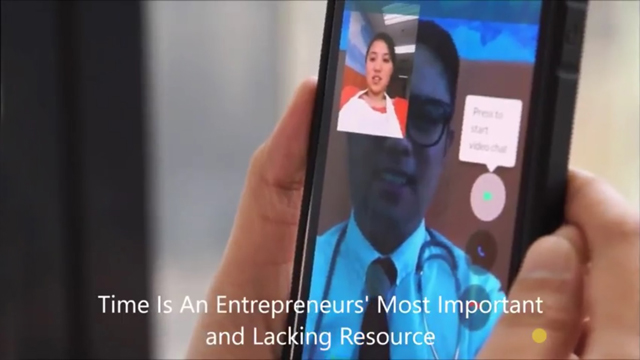 ADVERTISEMENT - CONTINUE READING BELOW
The Telemedicine Platform in Horsepower enables users to consult with doctors without leaving their office or home 
On the other hand, SMEs and startups can create their own healthcare plan. They can customize their plan based on how many employees they have, their dependents and the Maximum Benefit Limit (MBL) per illness for each employee type. Members can also choose to pay monthly, quarterly or yearly.
"Our rates are lower or the same as corporate rates. You can get rates as if you are a big company and, not only that, we can cover your pre-existing conditions, congenital conditions, and your life insurance is five times the MBL," Azurin said.
Members can also save time by using the startup's Telemedicine Platform, which is already functional. Through this platform, doctor consultations can be done via video conferencing.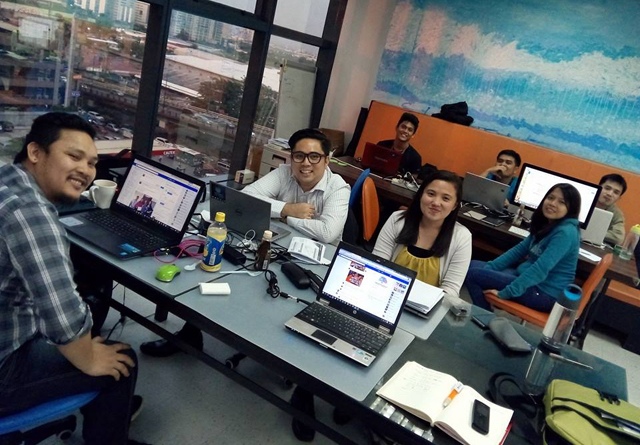 ADVERTISEMENT - CONTINUE READING BELOW
The Horsepower team intends to bring down the cost using technology, provide more admin and back office services for entrepreneurs
Horsepower.ph currently has over 2,000 customers. Azurin and his team expect this number to grow as they improve their services.
"We will continue to provide innovative underwriting, digitize the healthcare experience, bring down the cost using technology, provide more admin and back office services for entrepreneurs, and introduce more exciting product for 2017," Azurin said.
A startup founder himself, Azurin's advice to his fellow technopreneurs is to consider failure as a fine-tuning process.
"In the technology startups, it is part of the process. Embrace it, learn the lessons quickly and start again."
 *****
Nicai de Guzman is the marketing head of Rising Tide, a technology solutions company. She is also the Manila bureau manager of Probe Media Foundation's Mulat Pinoy-Kabataan News Network and a regular contributor for SPOT.ph. Follow her on Twitter, @nicaideguzman, and LinkedIn, https://www.linkedin.com/in/nicaideguzman
ADVERTISEMENT - CONTINUE READING BELOW