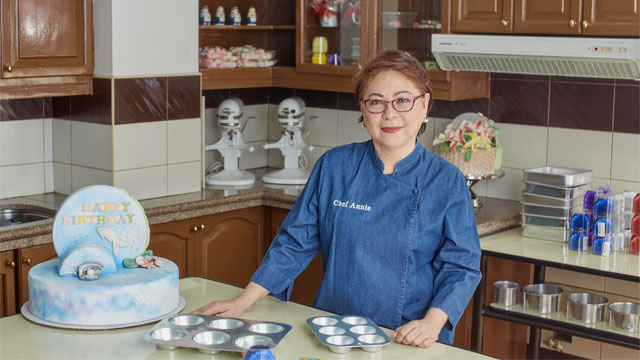 Chef Annie Lim radiates positivity. Though just three years shy of 60, there are hardly any lines or wrinkles on her bright, smiling face. She never seems to run out of funny stories and every so often, breaks out into an infectious laugh. That she has succeeded in her business is not surprising as she is so obviously in love with it.

The woman behind Chocolate Lover Inc. and Castle of Baking and Confectionery Arts, Annie has been selling baking and confectionery supplies and teaching cooking classes for more than two decades. More importantly, she is mother to two accomplished daughters, Kimberly and Karen.

A fine arts graduate from the University of Santo Tomas, Annie took baking lessons as a hobby. When she started selling baked goods at work, she realized that she actually earned more from her baking. She recalls, "I work from 8AM to 5PM, then I bake from 6PM to 10PM. My salary was P1,500 a month. My total deliveries in the canteen was around P5,000 a month."

She soon quit her day job and started selling hard-to-find baking supplies too. While there were many bakeries selling bread and cookies, Annie says there were only a handful of stores offering bakery supplies.

By the time Annie had Kimberly, she was already a seasoned entrepreneur. She knew that raising a child would present a different set of challenges, so she was grateful to have a very hands-on husband and a super supportive mother-in-law. Without their help, says Annie, she wouldn't have had the strength and confidence to pursue her entrepreneurial dreams.

Because Annie worked from home, her daughters got a peek at their mother's artistry and work ethics. And when they grew up, they pursued career paths which were virtual nods to Annie's passion and interest: Kimberly would take up culinary courses and Karen, animation.

When Kimberly made her first fondant cake at the Wilton Cake Decorating School in Illinois, her classmates could hardly believe their eyes. It was almost perfect. Annie says, "She has the gift."

Indeed, the apple did not fall very far from the tree.

These days, the Lims like eating and traveling their way around the world. They would go to out-of-the-way locales, says Annie, just to taste a particular dish or a specific pastry. Japan is their hands down favorite as it never ceases to amaze their palate.

At 57, Annie is still a firecracker. She teaches classes, thinks of marketing ideas, and recently opened a new store, BOXiNation, specializing in food packaging. Annie could want nothing more, it seems, except for maybe the pitter patter of tiny feet.