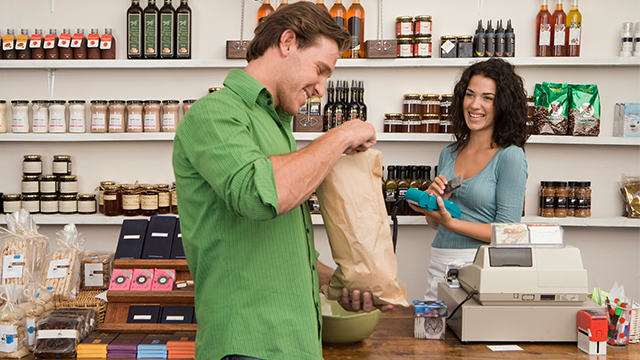 Packaging is an important consumer touchpoint. Whether or not a customer notices, is attracted to, identifies with, and buys your product depends a good deal on presentation. "It has been proven in case study after case study, in product categories from computers to soda, that great design sells," asserts brand designer Steve DuPuis in Package Design Workbook: The Art & Science of Successful Packaging.
ADVERTISEMENT - CONTINUE READING BELOW
"[M]ore companies are looking to a product's package to deliver the brand message to consumers directly. After all, every package is seen by 100 percent of a brand's consumers," adds DuPuis.
One example of how packaging changes the perception—and, ultimately, enhances the experience—of a product was given by psychologist Paul Bloom in 2011, in his TedTalk about "The Origins of Pleasure": wine, he says, is more enjoyable when poured from an expensive bottle. "If you believe you're drinking the expensive stuff, it tastes better to you," asserts Bloom, speaking of how an MRI scanner showed that the pleasure and reward centers in the brain activated in subjects who sipped what they were led to believe was luxury wine.
"You're not [in the shop] to push a product—it has to stand out, and to speak for itself. You can't hire a promo girl there, 24/7," says Andrew L. Koteh, managing director of Bestpak Manufacturing Enterprises Inc., which designs bottles for cosmetics, pharmaceutical and food companies. "If you package it wrong, you might be spending millions on developing a product, advertising it, and one month on the shelf and it goes kaboom—you throw away your investment."
ADVERTISEMENT - CONTINUE READING BELOW
If money is indeed going into developing packaging, money is also being made from improved packaging. Russell Vergara, managing partner of Vgrafiks Design + Branding Agency, admits that while success hinges on product quality, good packaging design can make the product more marketable.
"Before, Php 3,000 lang ang product, but when we redesigned the packaging, they were able to sell it for P10,000, mas nagmukhang premium na." Given the importance of packaging and how it influences consumer behavior, it's best to ask yourself if you're doing it right—starting with these commandments from our expert consultants.
1. Allow your brand personality to show through
"Packaging should reflect the brand identity," says designer and illustrator Dan Matutina, co-founder of Plus 63 Design Studio. Starbucks or Coffee Bean & Tea Leaf will have the expected "finished" packaging that fits its corporate image, he points out, whereas small, homegrown coffee shops like Kape Maria, Yardstick and Craft Coffee Revolution may appropriately use more modest, locally available materials like burlap, canvas or brown paper, that signal "handmade, smaller batches, less corporate."           
ADVERTISEMENT - CONTINUE READING BELOW
Be careful of your messaging: if your choice of packaging doesn't fit your brand, "puwede siyang maging sablay," adds Matutina.
Vergara points out that you also need to be aware of your market—does your product look like it's "pang-masa" or does it look premium? A client once told him point-blank, "Medyo parang too clean, too premium yung look, masa yung tina-target namin."
2. Use a distinctive design element
"If you can manufacture the actual bottle, it's always best to do that, you can be very unique and distinct," says Matutina. "If you're an SME, you can always compete in terms of how you do the graphic design of your packaging, through [distinctive] illustration, picking your colors—you can think of other ways."
Bestpak's Koteh notes that very few Filipino companies can afford to make their own molds unless the selling price is high enough to justify, say, spending Php 4 million on tooling for a minimum of 50,000 units annually. Direct printing on glass is an additional expense, as is coloring plastic bottles, with a minimum order for each.
ADVERTISEMENT - CONTINUE READING BELOW
His advice for those who choose plastics: "Choose a color and make it your own," or use creative options that packaging manufacturers may be able to offer. "You can make it translucent, transparent, or metalized. There's spray-on, there's frosted—10 years ago these were not available. Now, we give you an opportunity to make it uniquely yours." You can also explore uniquely shaped caps or sticker labels. "It's like a blank canvas, and you're painting on your bottle to look totally different from the other guy."
3. Use the right material
"Choice of material is my priority," says Matutina. "It's a matter of balancing costs and practicality, and most importantly, availability."
PET (polyethylene terephthalate) plastics, Koteh says, can be cheaper to produce than glass bottles. It does not leach harmful chemicals (unlike polyvinyl chloride or PVC), and is transparent, lightweight, shatter-resistant and recyclable.
However, Koteh says "nobody here wants to spend Php 100 million on the equipment to produce the [heat-resistant PET] bottle."
ADVERTISEMENT - CONTINUE READING BELOW
Glass bottles are still preferred locally, despite more lightweight alternative packaging such as PET or laminated pouches that employ a leak-proof dispensing nozzle.
4. Tell your customers about your product
"You've got less than a second to get the shoppers' attention. The product must tell the consumer what are the benefits of using or of buying [it]," says Koteh, which is easier said than done, given that a lot of information must be included. "I tell my clients, 'It's a nice bottle, but how do you put your information on it?' There are too many grooves, too many ribs, how are you going to put the legal requirements on that?"
Vergara agrees that part of the challenge for the graphic artist is to balance brand imagery with regulatory requirements (e.g. using "fading" colors such as silver on white for government notices ensures the brand name isn't visually overpowered).
ADVERTISEMENT - CONTINUE READING BELOW
Happy Skin Cosmetics, for one, reinforces its brand promise with a "Happy Skin Says" portion in their packaging, explaining the skin-care ingredient infused in the product. The idea behind their names, says co-founder Jacqe Yuengtian-Gutierrez, is to be "witty but also intuitive—you know exactly what the benefit of our product is when you pick it up."
Manille Liqueur de Calamansi not only communicates its alcohol content on its label, but also helpfully advises: "Best taken after meals, or as a drink to cleanse the palate." A discreet little booklet provides the production history of the liqueur—how the calamansi is grown by Mindoro farmers and handpicked by the Mangyans, an indigenous community in Tugdaan. Restaurateurs and bartenders also get free recipes of food and cocktails to be made with the liqueur.
5. Give your customers a sneak peek
Glass and transparent plastic bottles are prized for showing that the product is free from impurities. "Show your product. If you've got it, flaunt it!" says Koteh.
ADVERTISEMENT - CONTINUE READING BELOW
The "window display flap" is used to display the freshness of meat products—sometimes it is even superimposed on a graphic illustration of the animal, to educate the consumer on what kind of animal and which part of it is contained within. "It looks as nice—or even better-colored—than the picture [on the package]," says Superfish Pacific Salmon brand manager Juan Paolo M. Araneta.
6. Make it easy for buyers to use your product
Help customers use your product, and you've got an advantage over your competitors. Some examples: the classic pull-tab on a can, zip/reseal or peel/reseal options for foil and airless dispensing systems for cosmetics, among others.
"Quality only comes about by continual focus on, and attention to, the people who matter: the customers," writes user-centered design advocate Don Norman in The Design of Everyday Things.
7. Make your product gift-worthy
You know you've done something right if your product is deemed good enough to be gifted. Luxury products particularly excel in creating packaging that literally makes the consumer go through layers, as though unwrapping a gift.
ADVERTISEMENT - CONTINUE READING BELOW
"Chocolates, the pricey ones, bibili ka lang for Valentine's or anniversaries or gifts for people, dapat sosyal," says Matutina.
The same principle applies to perfumes, he notes, and specialty items like tea from TWG Tea Company. "If you give it away na sobrang simple lang yun, ang mahal mahal, parang it doesn't translate yung brand as special."
8. Look for sustainable alternatives
Customers are now more aware of sustainable, "green" packaging options: material substitutes for plastic, reduced weight of packaging, refillable containers, and recyclables. "For me, the future is less material in packaging… as companies are trying to appease environmentalists," says Matutina. Now you'll see simpler packaging, designed with folding in mind rather than cutting.
Mass-market liquor brands may not have a choice but to recycle, says Limpe-Aw, as "they have to recycle to control the costs."
Choice of materials affects recyclability, adds industrial designer Mark Victor Bautista, president of Design Development Industries Inc.. For example, aluminum, which retains its properties after use, is almost always recycled, whereas tin tends to rust; unbroken glass bottles can be cleaned and used again, while recycled plastic is best for outer packaging.
ADVERTISEMENT - CONTINUE READING BELOW
Bautista indicates that regulating the use of plastic is fine, so long as the paper substitute is either recycled or sourced from farmed forests. However, paper bags tend to be not as hardy as plastic—unless the paper is strengthened with biodegradable plastic laminate, but he admits the costs may be prohibitive.
9. Be different
Sometimes doing the unexpected pays off.
Theo & Philo decided to stand out "by not following the normal chocolate design that you see in the supermarket aisle"—that is, avoiding the "usual, normal, everyday fonts" and "pictures and drawings of the ingredients" as the main focus. "There's nothing wrong with that, but I think if you're going to do that, it's better if you show the ingredients in a more interesting way rather than just a straight-up picture of it," says Philo Chua.
The brand has also managed to avoid too-literal or too-obvious "Philippine-made" styling, observes Matutina, opting for a modern look that is subtly Western, and yet brings in Filipino aspects to the design.
ADVERTISEMENT - CONTINUE READING BELOW
10. Hire professionals
With the influx of international brands, there's growing appreciation for good graphic design in the Philippines. Vergara of Vgrafiks Design + Branding Agency notes, "Local brands now see that they have to improve communications and [customer] experience."
He qualifies that the market is still growing, and the difference between local and international product packaging still delineated; but it is precisely because most Filipino companies cannot afford the technological advances in contemporary industrial design that graphic design becomes a competitive advantage. "You can't invest so much in terms of industrial design, structure, and the quality of material, so turn to graphic design instead. Our advantage is that we have many good illustrators and designers."
*****
This article originally appeared in the April 2014 issue of Entrepreneur Philippines magazine. Minor edits have been done by Entrepreneur.com.ph.