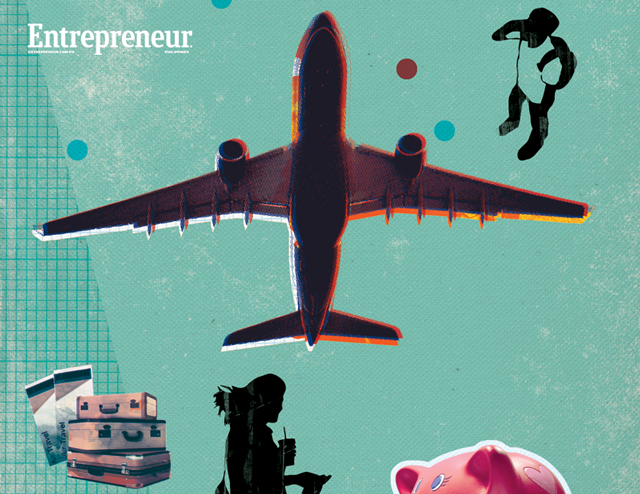 Back in the romantic heyday of commercial flights, the airport might as well have been the polo club. To go, one needed to dress well, and have money. In the 1950s—and on through the decades, as late as the 1990s—a long-haul flight to, say, New York, meant that the average Filipino would have to save for a year; domestic flights, if they were available, would be worth at least a month's salary.
ADVERTISEMENT - CONTINUE READING BELOW
Thanks to piso-fare promos heaped on top of already-cheap rates, we're able to pay prices that would've been unthinkable before: a flight to Malaysia, booked just last weekend, set me back roughly the same amount of money as the bus fare spent going to Baguio and back last month.
No wonder, then, that low-cost airlines have become the masters of the skies. Globally, low-cost carriers have been profitable over the past decade and a half, even as the major carriers have foundered in the red. Even more so at home, as Southeast Asia has become one of the world's fastest growth markets for budget airlines—60 percent of all traffic within the region came from low-cost carriers in 2014, reports the research organization Center for Asia-Pacific Aviation.
Economy is perfectly fine—not luxurious, but definitely serviceable. That said, is it ever worth paying more for airfare? Even with all that low-cost carriers and better Economy classes can offer, yes. Airfare is one of those things that you should spend extra money on, especially in these cases:
ADVERTISEMENT - CONTINUE READING BELOW
When it's a long-haul flight
The first thing that money buys on a flight is, of course, extra space—whether it's on the exit row, reserved for a few extra hundreds; or on a new fare class altogether. As an Asian woman, I can comfortably fit into the overhead compartment when folded up neatly enough, but even for me, the benefits of a few extra inches of leg- and elbow room multiplies exponentially over the course of a few hours.
The longest long-haul flights are 16-hour monsters, and on these flights, the extra room can transform a flight from being merely a tolerable means of transportation to an extension of my vacation time (or work hours, if flying for business); at the very least, think of it as room and board for half a day.
When the add-ons really add up
Low-cost carriers cut out "non-essential" services—luggage and inflight meals are considered extras on budget flights, and you will be charged accordingly. A regional flight might cost a couple of thousand pesos less on a low-cost carrier, but when you have to pay at least Php 600 for luggage and Php 1,000 for meals roundtrip, the extra costs can equal the fare difference. (And boo to the budget airline that prohibits their passengers from packing their own meals.)
ADVERTISEMENT - CONTINUE READING BELOW
When you don't get what you don't pay for
Economy class can't be too comfortable—it needs to maintain a certain level of discomfort, in fact, because airlines need to give you a reason to pay more. There's a trend in the industry where passengers are offered more options—more options to accept less, that is. Delta Airlines, for example, has a new Basic Economy class option, which costs a little less than regular Economy, but with far fewer benefits: one can't change flights, upgrade seats or receive refunds. Philippine Airlines likewise offers a Budget Economy option on certain flights—for a few hundred pesos less, passengers won't be able to get refunds, will have to pay rebooking fees, and will only be credited half the frequent-flier miles. These disadvantages are not usually worth the savings, unless you're really penny-pinching.
When you get what you pay for
ADVERTISEMENT - CONTINUE READING BELOW
Conversely, a few airlines offer the new "Premium Economy" class, with a few extras. Philippine Airlines offers this on a few select flights, too, though it only offers complete refunds and no rebooking fees as extras. Other international carriers, on the other hand, offer quite a bit more. A traveler's best friend in this matter is Seatguru.com, a website that offers a definitive way to compare seats on different airlines. According to Seatguru.com, premium economy "offers about 5 to 7 inches of extra legroom, as well as additional amenities, which can include 1 to 2 inches of extra seat width; 2 to 3 inches of additional seat recline; adjustable legrests, headrests, and lumbar support; larger personal TV screens; laptop power ports; [and] premium food service."
For these extras, however, the website notes that you may have to pay as much as 95 percent more, especially on transpacific flights. So when is Premium Economy good value? "When the extra cost is 10 to 15 percent more than standard Economy, we believe this represents good value for the comfort-conscious flier," reads the Seatguru guide. "If your employer's travel policy doesn't allow Business Class travel, Premium Economy can be a great choice. You'll have upgraded seats and an 'Economy' ticket on your expense report."
ADVERTISEMENT - CONTINUE READING BELOW
When the extras are innovative
Airlines are also finding ways to keep passengers happy—small ways, granted, but also for small price tags. Malaysian Airlines' MHGourmet program allows passengers to upgrade their meals to restaurant-quality food for about P850—not inexpensive, but a relative bargain, considering the options. Other airlines offer everything from early boarding to pay-per-view channels. If you're booking through an aggregator like Travelocity or Expedia, or through a travel agent (though who does that, these days?) these offers may not be visible, so it's always worth a quick visit to the airlines' website.
*****
This article originally appeared in the July 2015 issue of Entrepreneur Philippines magazine. Minor edits have been done by Entrepreneur.com.ph.