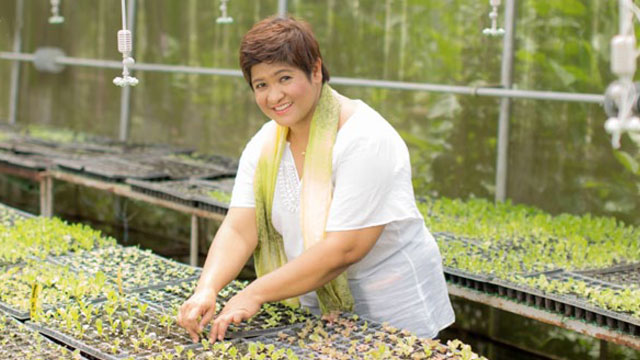 Ronald and Josie Costales of Costales Nature Farms are excellent examples of how unexpected changes in plan can turn out for the better. In 2003, the couple said goodbye to their stressful nine-to-five lives, packed up all their belongings, and decided to live in the foothills of Mount Banahaw. He was previously an engineer in a telecommunications company, and she managed a chain of Internet cafes.
In 2005, they acquired some 7,000 sqm of land in Majayjay, Laguna. Their plan, says Josie, was to lead a simple, bucolic life: breathe fresh air, grow vegetables, raise some livestock, and dream the days away.
They allotted 1,000 sqm of their property to practice their green thumbs, planting vegetables to make pinakbet, as Ronald was Ilocano. Unfortunately, their attempts came to naught when all their vegetables withered away. The couple decided that it would just not do, and proceeded to learn everything they needed to know about farming. They attended seminars facilitated by seed companies in Bulacan, Cavite, and Palawan. They even flew to Thailand to learn more about vermitechnology.
Going into commercial production
By 2009, they were actually growing their own food, complementing their favorite veggies with a selection of herbs and lettuces. One person who happened to visit the Costaleses' farm was a purchasing officer for the Italianni's chain of restaurants. He was so impressed with what he tasted that he placed an order for Italian dark green flat parsley. This single order paved the way for Costales Nature Farms to go into commercial food production.
The Costaleses soon shifted to high gear. They partnered with Dizon Farms and managed their greenhouse facilities. They hooked up with Healthy Options in the production of organic free-range chickens, eggs and pigs. They ventured with Bistro Holdings, which owns Italianni's and TGIFridays, among others, for the production of high value vegetables and culinary herbs.
Suffice it to say that retirement now seems far away from their minds, especially since the Costaleses still have many plans. One of those is to supply Rustan's with organic meats. Because of the supermarket chain's large volume requirement, the Costaleses needed additional capital. Fortunately, LANDBANK was there for them. Seeing their commitment to their agricultural venture, LANDBANK provided them with sufficient funds, allowing the couple to build additional facilities and acquire manpower for their newest project. Josie says, "We are very happy with LANDBANK, especially because they want to reach out to a lot of farmers to help them."
Disseminating knowledge about organic farming
For the Costaleses, however, food production is just the tip of the iceberg. Increasing awareness about the benefits of organic farming, both to farmer folks and urban dwellers, is the next step. They are also partnering with the Department of Education to provide assistance in their K to 12 program and with the Technical Education and Skills Development Authority to train out-of-school youth on organic agriculture.
Mrs. Costales took her knack for growing vegetables and successfully turned it into a full-scale, organic farm that's truly one of a kind. She continues to dream big, spreading the word about organic farming. She's an exemplary representation of how hard work, passion, and dedication can make even the grandest dreams come true.
Cultivate your own agribusiness with the help of LANDBANK's loan programs. For inquiries, call LANDBANK's Customer Care Center at (02) 405-7000 / Domestic Toll-Free Hotline: 1-800-10-405-7000 or visit a LANDBANK Lending Center near you. You can also send an email to customercare@mail.landbank.com.