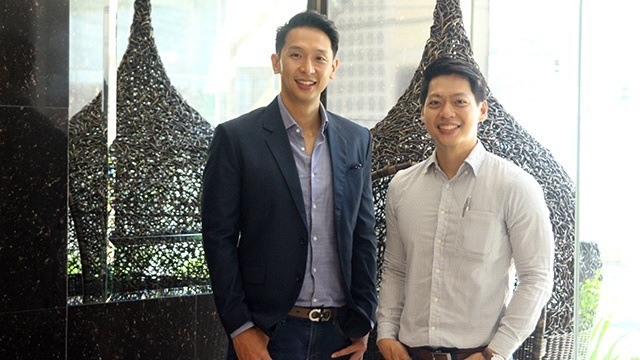 Dexter and Dennis Lee are brothers and managing directors of Luana Lifestyle and Leisure Hotel, which will open two new hotel properties in Palawan and Boracay this summer season
There's debate whether or not Boracay island, one of the country's top tourist destinations, is already nearing a saturation point due to the rapid growth in tourism facilities and visitor arrivals in recent years.
ADVERTISEMENT - CONTINUE READING BELOW
Brothers Dexter and Dennis Lee, whose company runs community malls in Cavite, obviously don't believe that Boracay is getting overcrowded. In June, the entrepreneurial siblings are opening a 126-room hotel in the island that has been named one of the Top Island Destinations of the World for 2015 by the prestigious Condé Nast Traveler magazine.
It's part of the brothers' big diversification move from malls in Cavite to hotels in tourism hotspots amid the resurgence in tourism in the last two years. Last year, visitor arrivals in the Philippines rose 11.3 percent to 5.97 million after rising by 10.9 percent in 2015. That marks a sharp recovery from 2014 when arrivals grew by just 3.2 percent.
Apart from Boracay, the Lees are also building a 122-room hotel in Puerto Princesa, Palawan.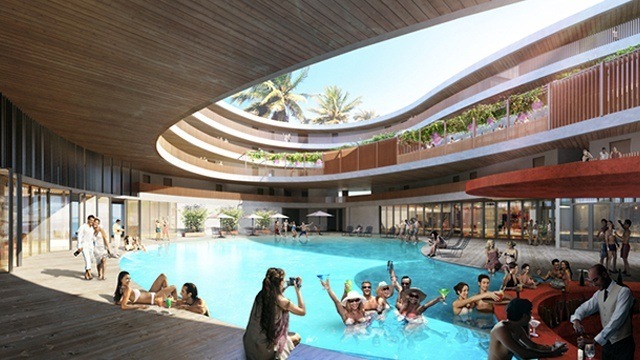 ADVERTISEMENT - CONTINUE READING BELOW
The Hue Hotel in Boracay will have 126 rooms and will have "two-to-three-star pricing"
Boracay, which was visited by 1.6 million local and foreign tourists in 2015, is the third most popular destination among Philippine towns and cities. Puerto Princesa, which drew 802,060 visitors, is ranked 12th.
The brothers are managing directors of property development firm Luana Lifestyle and Leisure Hotel Inc. The company primarily develops community malls in Cavite, including Lumina Point Mall in Imus, Portal Mall in General Mariano Alvarez and the soon-to-open Stadium Mall in Naic. The company reported net operating cash flows of Php45.3 million in 2015 and Php47.4 million in 2014, a sign of thriving business.
The decision to expand their real estate portfolio from retail to hospitality came easy after the company acquired the two new properties in Boracay and Palawan. The new hotels will carry the name Hue Hotels and Resorts and will be managed by Hospitality Innovators Inc. (HII)
ADVERTISEMENT - CONTINUE READING BELOW
"The location of the property itself dictated a hotel development," said Dexter Lee at the press launch of Hue Hotels last March 23. "We were just lucky enough to find those two properties. There was an opportunity presented to us and we just jumped right into it."
"There is a growing demand to visit Boracay and Puerto Princesa," said Luis Monserrat, founder and CEO of HII. "Both destinations keep attracting growing numbers of tourists yearly. The macroeconomics are good."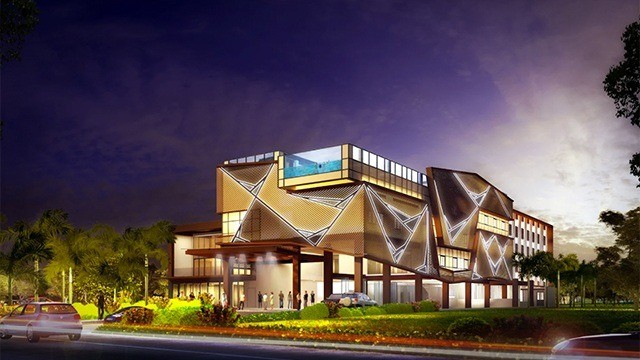 ADVERTISEMENT - CONTINUE READING BELOW
Artist's perspective of the Hue Hotel in Puerto Princesa, Palawan
Monserrat added that while Boracay gained a record high of tourist arrivals in 2016, Palawan is also expected to attract more travelers when the new Puerto Princesa International Airport opens later this year.
"And the first two Hue Hotels in these locations both offer appealing and unique experiences in their respective competitive environment," he said.
Hue Hotel Puerto Princesa is located just 15 minutes from the airport and will have 122 rooms when completed. The boutique-style hotel, scheduled to open on April 4, was designed to reflect the unspoiled natural wonders of Palawan. It will also offer tour packages to explore popular destinations in the province, including the Underground River and its many beaches.
Hue Hotel Boracay, meanwhile, has 126 rooms and is situated between Stations 2 and 3. Its soft opening is scheduled on June 15. The property will integrate a lifestyle concept called Station X, which will include food outlets and retail options.
ADVERTISEMENT - CONTINUE READING BELOW
"We have Boracay's first food hall there, with food stalls that offer different cuisines," said Dennis Lee. "We also have Local Color, which is a pasalubong center that offers products from different cities and provinces around the country."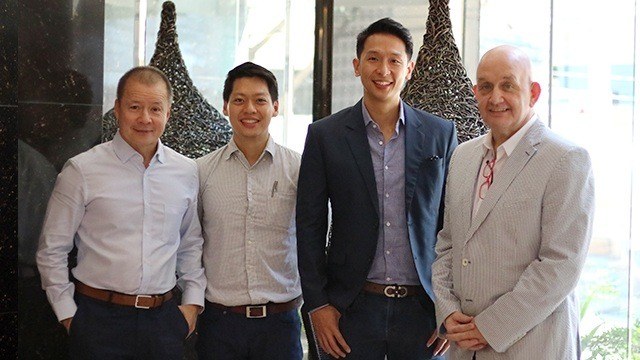 Dennis and Dexter Lee (middle) pose with HII's president and CEO Luis Monserrat and corporate group director Philippe Bartholomi 
ADVERTISEMENT - CONTINUE READING BELOW
The Lees said that although both hotels offer premium amenities, pricing remains competitive.
"We're definitely targeting two-to-three-star pricing, which is less than $150 (per night)," Dexter said. "We don't want to target just the Westerners or foreigners. We do want to target the local market, too."
While the brothers declined to reveal how much Luana invested on the hotels, Dexter said that they remain upbeat about the country's tourism industry and hope to recoup their investment soon.
"We're asking different hotel developers," he said. "Some are saying six years, some are saying eight years, and some are saying 12 or 15. So I think somewhere right smack in the middle, maybe eight to 10 years will be average."
But before then, the company is hoping to open more real estate projects, with a particular focus on the hospitality industry.
"Hopefully we can open more, especially if this brand flies," Dexter said. "Then yes, that's the next goal."
ADVERTISEMENT - CONTINUE READING BELOW
******
Paul John Caña is the managing editor of Entrepreneur PH. Additional research by Lorenzo Kyle Subido and Pauline Macaraeg