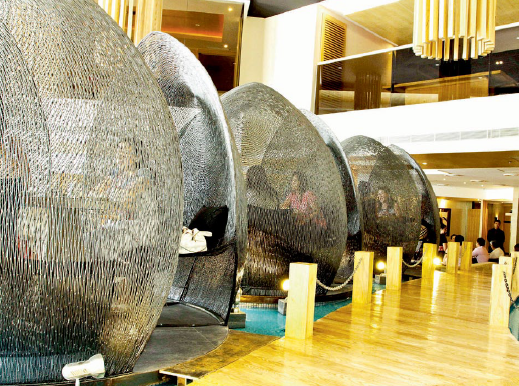 <>
Greenhills in San Juan City has long been the go-to place when you feel the need for some dim sum, Peking duck, or fresh seafood. But newbie Wafu is shaking things up by bringing some Japanese flair in a district known for its Chinese restaurants.
As with the growing number of restaurants in the metro which are chef-driven, so is Wafu. At the helm is executive chef Chris Oronce, whose more than 10 years of experience include stints at the famed Nobu in New York, and Shibuya and Mesa Grill in Las Vegas. Trained in French technique, with Filipino roots, and with traditional Japanese recipes in his pocket, Oronce has come up with a crisp menu with clean flavors, executed with precision. "We're traditional in style, but current with standards," explains marketing head Isabel Maniti-Oronce.
For its price point, ambiance, and service, Wafu is definitely upscale. Uptight? Perhaps, not. It's typical for diners to first look above and around before looking at the menu, as the interiors serve as an introduction to the meal. Wafu's interiors are modern, with clean lines and large floor-to-ceiling windows. With two floors, the first level holds the regular dining area, while the second floor features a teppanyaki section where groups can sit around a teppan grill and watch their food being cooked.
ADVERTISEMENT - CONTINUE READING BELOW
You can still choose to order Japanese fare standard gyudon, tempura, or sushi, but chef Oronce suggests diners look to the chef's specialties that include grilled lamb chops served with a sesame sauce and Japanese tzatziki, or angus tenderloin steak with shiitake mushrooms and a wasabi pepper sauce.
There is a quiet elegance to Wafu that is best experienced through the food. It's this newbie's attention to authenticity and detail that makes it worth a visit.
This article was originally published in the May 2013 issue of Entrepreneur magazine. Subscribe to the print or digital version here.        
Photo: Wafu