Founded in 1996, Holland Tulips carries over 30 varieties of flowers imported from the Netherlands and Australia. 
Alvin Justiniani, general manager at Holland Tulips, has a strong feeling this is going to be a good Valentine's season for the Philippines' biggest flower retailer. A customer has just swiped his credit card for Php100,000 worth of tulips, roses and other blooms.
ADVERTISEMENT - CONTINUE READING BELOW
"You'd be surprised by how much people spend for this occasion," says Justiniani when Entrepreneur Philippines interviewed him in Holland Tulips' warehouse in Sampaloc, Manila. "It's crazy."
Established in December 1996, Holland Tulips sells an average of about Php25 million worth of flowers in the week leading up to Valentine's Day in recent years, says Justiniani. It even reached a high of Php30 million in one particularly good year.
That's roughly equivalent to 60 percent of what the company makes in a year. "Valentine's Day is the Christmas season of the flower industry," explains Justiniani. "This compensates for how the rest of our year goes, which is mostly lean."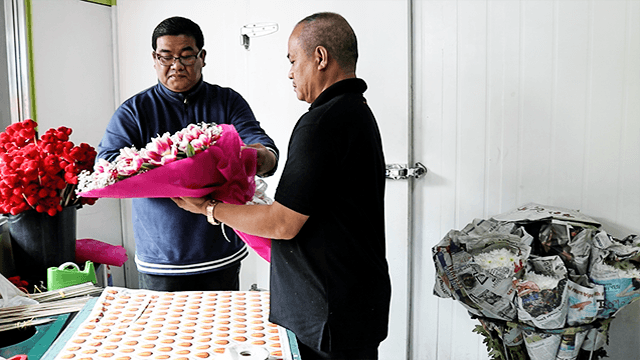 ADVERTISEMENT - CONTINUE READING BELOW
Holland Tulips General Manager Alvin Justiniani (left) oversaw the company's growth into a 16-branch strong flower shop brand, with locations all over Metro Manila
Not surprisingly, the Holland Tulips' warehouse on Dimasalang Road in Sampaloc, Manila—a location more popularly known as the Dangwa area after a nearby bus company—was a beehive of activity during Entrepreneur Philippines' visit. All hands were on deck preparing flower bouquets and decorating them with stuffed bears and chocolates.
"We make 4,000 bouquets on a normal month but for the Valentine's season, which starts on February 10 or 11, we prepare 3,000," Justiniani shares. "And that's only for four days."
Fresh deliveries come in twice a week, which easily fills up the warehouse with carton containers twice the size of a typical balikbayan box. The chiller, huge enough to be a bedroom, doesn't seem so cold because of the warm and stark colors of the flowers that fill it to the brim. Apart from tulips, the company also sells over 35 other flower varieties, from daisies to Ecuadorian roses.
ADVERTISEMENT - CONTINUE READING BELOW
Because the flowers are mostly imported, Holland Tulips' prices tend to be on the high side. The lowest-priced bouquet goes for Php800 while the pricier arrangements could fetch a high of Php12,000 depending on the flowers included. A single stem of imported tulip costs Php275 apiece.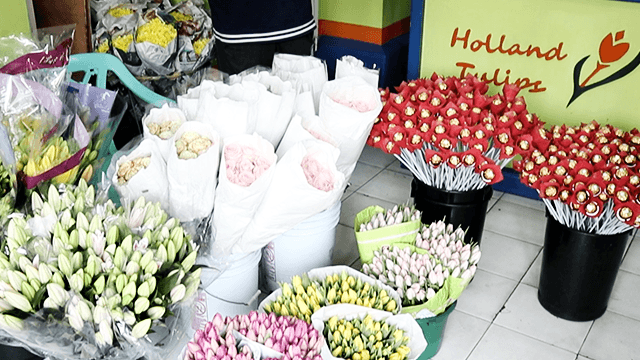 The company's warehouse in Dangwa receives two fresh deliveries of flowers every week
ADVERTISEMENT - CONTINUE READING BELOW
Still, people line up and the bouquets are eventually sold out, surprising even the flower retailing industry veteran.
"I never thought Filipinos would be this crazy about flowers," says Justiniani who joined the company in 2001. "When I came in, there were only about two players importing from Holland and Australia. But now, there are around 10 to 12 companies. They saw that it's a good business to get into."
Holland was founded by a Dutch national who came to the Philippines for a visit but stayed in the country for good after he met and married a Filipina. Justiniani, who declined to name the company's founder, said the Dutch man's first business was importing vegetables from Netherlands. When that didn't work out, he shifted to flowers.
"When he brought in tulips here in Dangwa, local flower shops were mesmerized and started ordering," Justiniani said. "Then they started to operate in malls. The rest is history."
ADVERTISEMENT - CONTINUE READING BELOW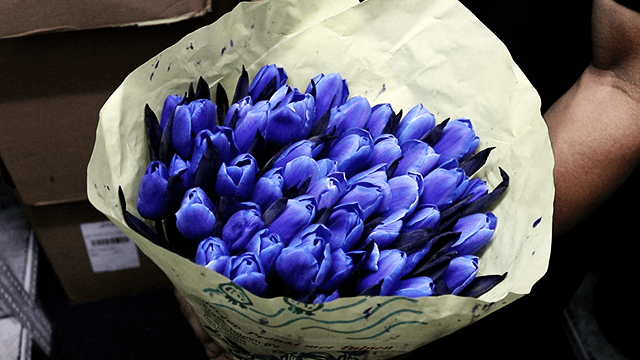 Prices of bouquets range from P800 to P12,000 depending on the combination of flowers used in an arrangement
An architect by profession, Justiniani joined the company not knowing anything about flowers, let alone floral arrangements. He took on the job as a challenge and liked it so much that he stayed for the next 16 years and counting.
ADVERTISEMENT - CONTINUE READING BELOW
"In two months I learned the basics," Justiniani said. "I became a walking almanac of flower arrangements. Today, my boss just checks in around twice or thrice a year. I now call the shots for the company."
Under his leadership, the company grew to 16 branches strong, most of which are located in Metro Manila. The team remains lean at 50, the result of a deliberate management policy. The former architect also oversaw the company's crucial role as a supplier for local flower shops nationwide.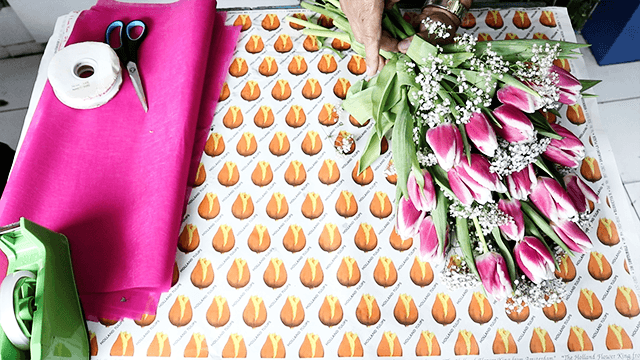 ADVERTISEMENT - CONTINUE READING BELOW
Florists prepare around 3,000 bouquets during the Valentine's season, a huge jump from the usual 4,000 arrangements they create monthly
"Even if we don't do big weddings, we're already contented because most flower shops who do such projects are our customers," Justiniani says. "Our focus for now is really retail. We'd rather be a supplier."
With more competing flower shops coming up, especially online, the company is now looking into modernizing its operations in the next two years.
"We're hoping to add three more branches until 2018, and we're renovating our website and social media accounts," Justiniani says. "Our online stores can still add around 30 to 40 percent worth of revenues. There's still a huge amount of the market that we haven't tapped."
 *****
Elyssa Christine Lopez is Entrepreneur PH's staff writer. Follow her on Twitter @elyssalopz.