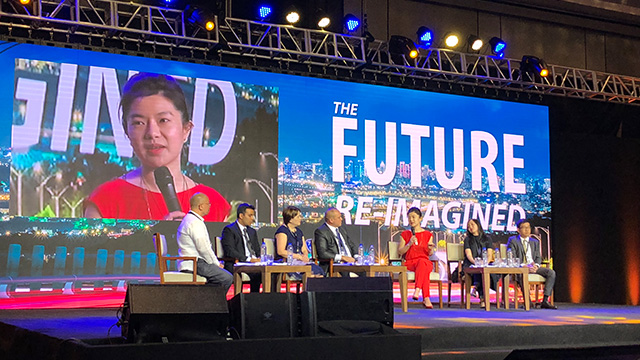 Startup founder and former chess champion Kathy gong was a guest speaker at the Asian Forum on Enterprise for Society's (AFES) The Future Re-Imagined
At the age of 10, Kathy Gong became the youngest national chess champion in China in 1996, a feat she repeated two years later.
Twenty-two years after her first national win, Gong is now the CEO and cofounder of game developer company WafaGames. It creates and develops innovative mobile games through the use of advanced technology.
"I think why I wanted to be an entrepreneur is (because) being a professional chess player is very boring. But being (an) entrepreneur, you have much wider choices," Gong told Entrepreneur Philippines at the sidelines of Asian Forum on Enterprise for Society's (AFES) The Future Re-Imagined held last April 18 at the Conrad Hotel in Manila. "I always liked to create. I think being an entrepreneur is one of the best ways to create. I want to create new things," she added.
ADVERTISEMENT - CONTINUE READING BELOW
Gong said that being a professional chess player helped her a lot in building her startup. "It definitely helps because it trains my logic, definitely helps with the planning, helps with the strategy. I would say it shaped my personality but I just need to use that personality to the best use," she said.
Gong was one of the panelists at the event's social enterprise masterclass. Together with other ASEAN leaders and industry movers, Gong talked about entrepreneurship, social enterprise building and team management, among others. The following are some of Gong's witty and insightful remarks.
Why business partnerships, like marriages, should be for the long-term
"Raising money as a pitch is problematic, fundamentally. We need to change that mentality (from dating mentality to marriage mentality.) Dating mentality is like you show your best side, you hide the complex. That's the first date. To the marriage mentality, this is someone, partner you gotta live through the lifetime of your enterprises.
"I think it's very important, if you look at marriage and at partnership, (that the) two parties need to not outgrow each other. It's for better or for worse."
On growing the business and achieving social impact
"The first job of a business entrepreneur is to grow fast and to deliver the numbers because that's the only way, only chance you can survive in the bloodbath competition. But you do need to think how to incorporate social impact together with your high growth.
"Because being social, it's not (only) charitable. Being social can also be good for business. So you need to think that way."
ADVERTISEMENT - CONTINUE READING BELOW
What to look for in building a startup team
"The best candidate to look out for is actually (those) who have failed once or twice. If you failed three times, probably (it should) raise some flags, it shows you're not very good at learning.
"The best combination is when you have three co-founders together, especially when you have a woman, so you have a gender balance.
"To me I always think the first five people are the most important because they will be the fundamental building blocks, including yourself. And the first 10 will determine the company culture."
"In the VC (venture capital) field in China, they say: 'What if you have the best team or the best cofounders?' Even if you are working on the third tier, you'll definitely make it into tier two. But if you're a tier-three player, (even if) you make tier-one ideas, you are still a tier-three company.
"I don't mean best team as MIT (Massachusetts Institute of Technology) graduates, Harvard graduates. Actually if you look at the best team or the people who made it, most of them are underdogs. And underdogs achieve miracles.
"If you look at China, the whole China story is (about an) underdog—ordinary people achieving extraordinary things. And that magic happens to startups as well. It takes commitment and perseverance, not credentials and resumes."
On the entrepreneurial life
"It's definitely not an easy path. It's very hard. You lose sleep a lot and you end up waking at night and also most of the time you're home late. Doesn't mean you don't have friends. Doesn't mean you don't trust your investors. Doesn't mean you don't trust your team. But just bad news, you can't share with them all the time—especially with the team. But the reward is unspoken.
ADVERTISEMENT - CONTINUE READING BELOW
"If someone asks me, (will) you exchange anything for that? No I will not. Because you see beauty in it. You do see the art, the poetry, the romance in entrepreneurship. Because of the creativity, because of the freedom, you are able to make that idea into reality and nothing can be exchanged for moments of joy like that."
*****
Pauline Macaraeg is Entrepreneur PH's data journalist. Follow her on Twitter @paulinemacaraeg