<>5. Set the mood
The restaurant's ambience is another crucial factor in creating interest among potential patrons. Some people look for a restaurant where they can spend longer hours to hold meetings or have long, personal conversations.
What's the secret in setting a restaurant's mood? "Lighting does the trick. It can be set through lighting and sometimes with the angles of the wall. It is important to tap into the emotions of the visitors. Don't just give them space to eat in," says Buensalido.
In building a perfect restaurant, the owner's full participation is necessary.
Buensalido says: "Owners have to really be hands-on from planning to construction. They know the value of the product and know the space. And of course, they have to be hands-on if they want to know where their money is going."
And with just the right combination of structure, layout, look and feel, your restaurant will be one that people will keep going to.
ADVERTISEMENT - CONTINUE READING BELOW
Design Trends
1. Upscale, but casual theme:
A casual but upscale environment puts the diner immediately at ease with his surroundings. This makes for a relaxed customer who may then want to spend more time in the restaurant, and thus order more from the menu.
2. Entertainment theme:
In the Philippines, restaurants that have latched on this trend are sports bars. Such restaurants typically show, via live TV, concerts and sporting events. [Learn how to score big bucks in sports businesses here]
3. Exhibition cooking area: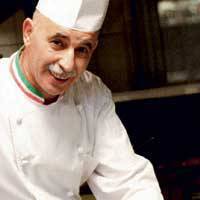 This is a new design trend that even some fast food restaurants in the metro have adopted. With an exhibition cooking area, or at least an interior window that gives a view to the kitchen area, the chef is made visible to the public, taking him, so to speak, out of the kitchen. This is an attraction for foodies, health and hygiene-conscious people who want to see how their food is prepared.
ADVERTISEMENT - CONTINUE READING BELOW
4. Market court:
This trend puts a display grill in the middle of a market-themed interior, departing from the idea of a single buffet line. A "streetscape" of sorts can be created that improves the sight lines and sets serving areas.
5. Neighborhood feel:
This design makes the patrons feel they belong. To truly create the feel, the restaurant staff should know and remember the names of regular patrons.
In the end, the most successful restaurant interior design, blended with great food and impeccable service, creates repeat guests, spirited employees and greater profitability.
Additional tips: Constructing a restaurant normally takes about three months, says Architect Patrick Buensalido.