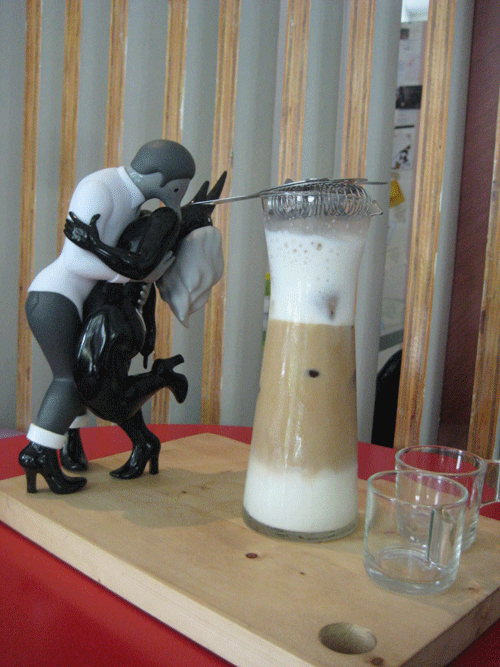 That lovely feeling you have when you're enjoying a good cup o' joe at a cozy coffee shop? It's actually built upon an intricate foundation revolving around a well-developed concept.
1. Concept
Chef Anthony Yupangco, owner of coffee bar Tutto Domani in Makati, can't reiterate this enough. "The first thing that's important is to have that concept that will guide you," he says. "I always love thinking of a concept that would make it different from the rest."
ADVERTISEMENT - CONTINUE READING BELOW
And not just a unique concept, but one that is also a reflection of its creator's personality. When the big idea is finalized, all other elements should then fall into place, such as the look and feel of the establishment. "The ambience has to do with [what you love doing] because that's you," Yupangco emphasizes. "That becomes characteristic of your café. That becomes a signature thing. It's best that you first understand the concept."
2. Culinary education and business know-how
Having a culinary background is a requirement, according to Yupangco. It also puts anyone planning to put up a coffee shop business at a great advantage. "He has to have a knowledge of what he is getting himself into. You [also] have to know the business side, understanding the totality of how things are done. It's not glamorous. You really have to put in a lot of work."
ADVERTISEMENT - CONTINUE READING BELOW
4. Pricing
Based on the concept, a price point can be determined which can help in determining where to put up the coffee shop based on the buying power of would-be clients. "For example, your pricing is about 100 to 200 pesos, then perhaps you can target the mall people," describes Yupangco.
3. Location
The location, as with all other aspects for the business, should complement the chosen concept. "Whereever [the coffee shop] is, even if it's in a remote place, if they serve really good coffee, people will still go [there]," says Yupangco.
5. Unique Menu Offerings
As with any undertaking in the food and beverage industry, outstanding and one-of-a-kind items on the menu develop the coffee shop's personality and saleable potential for clients. "Each dish [in Tutto Domani] has a story," Yupangco says. "We want people to come for something that they'll go out of their way of to try. The food is an add-on. That's the punch."
ADVERTISEMENT - CONTINUE READING BELOW