Entrepreneurship is no walk in the park. While it can be lucrative, business entails hard work and perseverance.

To help our entrepreneurs navigate their way from startup to success and expansion, compiled 14 success tips from business veterans:
 

1. "Be trustworthy"

"If you don\\\'t have a bad record with suppliers, they would give you good credit lines. Customers would also become your suki [regulars] if they know that your products are tama ang timbang [of correct weight]."

- Flory Malimban Chua, C&F Fruit Stalls
 This former housemaid who used to sleep in tiny airless room now has two houses, six cars, and two children who have gotten college degrees from good schools.
2. "Get the word out"

"I promoted Coach E by going to different  schools, talking to students and giving out fliers and brochures. Later on, we would regularly make press releases to the major dailies, but I think the most effective marketing strategy that worked for us is word of mouth."
ADVERTISEMENT - CONTINUE READING BELOW


- Eric Altamirano of Coach E Basketball School
3. "Personalized service"

"Our personalized service is what sets us apart. And as we continue to grow, we will make sure that these factors don\\\'t change. We may grow into a bigger bank with a broader base, but we would always have the small bank mentality."

- Jose Araullo, owner of The Real Bank, a thrift bank that gives out more SME loans
4."Safe and secure"

"When clients come to City Kart, we want them to have fun. We take care of the risk, and we make sure that when they enter our doors, they are in an environment of safety."

- Jean-Marc Freihuber, Managing Director, City Kart Racing
5."Keep it simple"

"Our strategy is very simple and consists of only three things: great products, great services, and great people. We have stuck to this strategy since day one, and it has been working well for us."

- Jimmy Go, president and founder of MSI-ECS, which sells hardware and software products
ADVERTISEMENT - CONTINUE READING BELOW

6. "Be in a strategic place"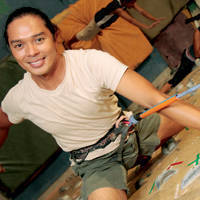 "It\\\'s best to situate it in a thickly populated area. The more people coming in, the merrier will the cash register be ringing."

- Joey Cuerpo of Power Up Gym
7. "Gain respect of your employees"

"I made my managers co-shareholders in the company and because of that, they make sure the stores perform very well. I encourage my employees to finish their studies to the point that we help do their school homework."

- Anthony Brendan Yu of Jollibee Franchisees Association




ADVERTISEMENT - CONTINUE READING BELOW