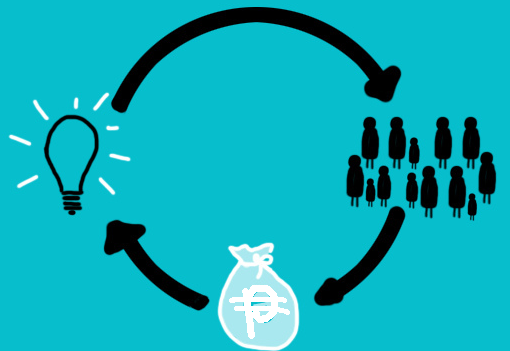 <>
All businesses come from great ideas at the onset. Once developed, funded, and implemented, these ideas will turn into something productive. However, not all great ideas are carried out, (and they may just vanish) because it lacks funds. This is where crowdfunding takes place. It is a platform where it pools small amounts of money from a large number of individuals to fund a certain project.
In the Philippines, The Spark Project is one of the crowdfunding pioneers in the country that "aims to showcase Filipino talent and ingenuity through an online crowdfunding platform where they can campaign to fund their creative, innovative, and passion-driven projects." It is basically connecting great ideas to the people.  
With crowdfunding, entrepreneurs who lack funds will have an opportunity to start their business concepts through the support of 'backers' who will believe in the potential of their product/service. However, it isn't for everyone. As Patch Dulay, founder of The Spark Project, would always say, "it would still all go down to the person's passion and commitment."
ADVERTISEMENT - CONTINUE READING BELOW
Here are the three factors you can use to determine if you're into crowdfunding as discussed by Dulay during the recently held 1st Philippine Crowdfunding Conference.
Mindset
 "You can't just raise funds and earn personal gains. You have to deliver the products," explains Epi Ludvik Nekaj, founder of Crowdsourcing Week. You don't do it for money alone. Start with the right mindset by being transparent. This way, you'll be able to build a community of individuals who will believe in your product and in your potential as entrepreneur.
ADVERTISEMENT - CONTINUE READING BELOW
Platform
There are four types of crowdfunding---rewards-based, wherein entrepreneurs give incentives to people who will back their products; donation-based, mostly for charity causes; equity-based, where investors receive equity in the new business; and lending-based, where investors' money are paid back within a specified time-frame.  The most common in the country is rewards-based.
Understand each platform well and find the best that suits you. You may prefer a crowdfunding type based on ease of setting up, its reach, its geographic restrictions, or other factors. Determining these would give you the idea if crowdfunding would work for your business.
Planning and execution
It is important to know where your business is heading. Know the ins and outs of it (target community, how much funds you need, time frame) and plan how you'll execute it. This way, you'll be able to mobilize the important things you need and be able to map out the right direction for your business.
ADVERTISEMENT - CONTINUE READING BELOW