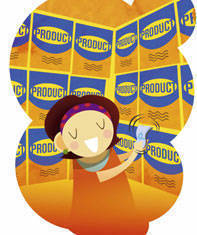 Small business owner Elmer Santiago runs a factory that manufactures bagoong (anchovy sauce) in the sleepy town of Lingayen, Pangasinan. He does brisk business, especially since his Emars brand is popular with the community as well as tourists from Manila and nearby cities. In fact, he supplies some of his produce to retail stores scattered around the country, and has been doing brisk business since he set it up in 1987.


[related|post]But in late 2008, at the request of some of his customers, he introduced a new, less salty variant to bagoong products that also took away some of the fishy odors commonly associated with the product. He spent a good sum of money refining the process he had used to create his original product, and also spent to redesign the packaging. Santiago had high expectations for his new, more modern variant, and launched it with great eagerness in early 2009.


ADVERTISEMENT - CONTINUE READING BELOW
His new product bombed, and he is now left with a large amount of non moving inventory.
 IT PAYS TO HAVE A PLAN

"I was really expecting it to boost my sales, and counting on it to help me grow my business into the future. Unfortunately, the market response for my new variant was lukewarm, and I found that people looked for the fishy smell and saltiness of the original product. Also, the fancy new packaging turned off some people, who thought that it wasn't the same brand anymore," he said.


According to marketing executive Camille Dolosa of BrandLink, a sales and marketing consultancy, Santiago's predicament may have been avoided if he did his homework before plunging headlong into the fray.


"What some business owners fail to realize is a brand's 'goodwill' is one of most important aspects to protect. Every day, countless new product and service ideas are conceived, but never get off the drawing board because they're not properly brought to market. At the end of the day, introducing a new product, or variant should never be rushed, and the proper precautions taken to ensure success," she said.


ADVERTISEMENT - CONTINUE READING BELOW
To help small business owners handle the integration of new products to their business, Entrepreneur.com.ph asked Dolosa to help identify the proper steps in introducing a new product.