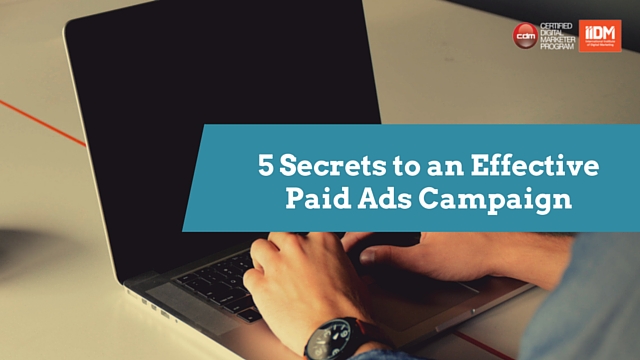 Every industry has its own trade secrets and digital marketing is no exception. You might be wondering: how hard can it be to advertise on Facebook? It's just post and share. – Well, not quite. If it were easy, then businesses everywhere would be earning millions by the second! But not every 'liker' is a quality lead and not every 'follower' converts.
ADVERTISEMENT - CONTINUE READING BELOW
Now, if it's not that easy; what are my options? Guess! One of them has 3 letters and starts with a P. Yup! That's PPC or Pay-per-Click advertising. In a nutshell, Pay-per-Click or Cost-per-Click is a digital strategy wherein advertisers pay Website owners each time their ads are clicked.
An example would be advertisements you see on the right-hand column of Facebook or News Feed posts tagged as 'sponsored.' If you want to try your hand at Facebook Pay-per-Click advertising, here are five tips to get you started.
1. Target or customize your audience.
When asked, what's the difference between traditional media and digital? The traditional approach assumes that every consumer is a target. In reality, though, they're not.

In Facebook, marketers can laser-target their consumers based on purchasing power, interest, demographics, and other criterion to serve only relevant ads. Instead of talking to multitudes, you're speaking to people who are willing to listen.


2. Always have a call-to-action. 
ADVERTISEMENT - CONTINUE READING BELOW
Ads without CTAs are ads without purpose. CTAs help your consumers make a decision. (Ultimately, what is it exactly you'd like to achieve?) Whether it's to learn more about your products, book your services, or download an app, whatever it is, always have a call-to-action.

Facebook also have call-to-action buttons that you may use.


3. Have a seamless conversion process.
Getting consumers to click on your ad is one thing but having them convert to sales is another. Your ad and landing page should harmoniously fit together. Your ads must show a prospective client a preview of what content they'll be arriving at.


4. Always A/B test your ads.
Testing multiple copies and designs help you be more versatile with your target market. Knowing what works and what doesn't will also help you save up on costs, time, and effort.


5. Monitor your Cost-per-Lead (CPL).
Your cost-per-lead is an excellent metric to measure how the ad resonates with your audience. Ideally, you shouldn't be spending more than P225.00 or $5 on one lead. If it hits P300 pesos or more, you may want to consider changing things up.
ADVERTISEMENT - CONTINUE READING BELOW
For more digital marketing tips, visit the Certified Digital Marketer Program Blog.