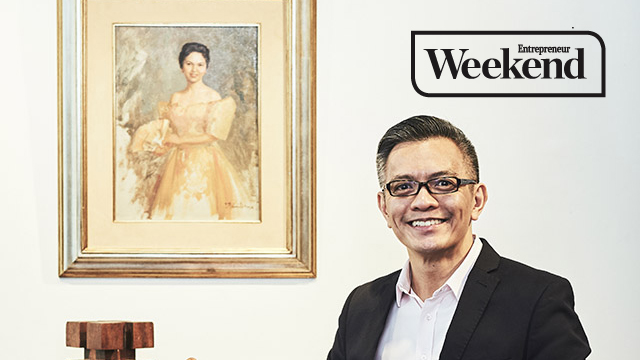 Richie Lerma is the co-founder and director of Salcedo Auctions, the country's first full-fledged auction house, which regularly auctions off not just art but timepieces such as these (left)
Do you keep cash beneath your mattress? You might have a few misplaced notes and loose change here and there, but chances are, you keep most of your money in the bank or in some sort of investment. But if you have just come to realize that the spare cash you have is enough to put to good use, where do you begin? Where should you invest? The choices are seemingly endless­—bonds, stocks, funds, small businesses, and even insurance are all jockeying for your hard-earned money.
ADVERTISEMENT - CONTINUE READING BELOW
While you flip through the colorful and rather convincing brochures of various financial institutions with the TV humming along in the background, you might have heard about how Leonardo Da Vinci's Salvator Mundi painting sold for over $450 million at auction. You're probably wondering who sold the piece and exactly how much he or she earned from the transaction. Assessing the viability of art as an investment would lead you to wonder whether this sort of thing is even possible here in the Philippines.
Entrepreneur Philippines sat down with Richie Lerma, art connoisseur and director of Salcedo Auctions, who was quick to share anecdotes from the many local art investment success stories he'd heard and witnessed over the years. One that stands out is of a 3x3 oil on canvas painting by Ang Kiukok bought for Php26,000 in the 1980s and then sold for Php16 million in 2016. So yes, art can be a viable investment. For those aspiring to benefit from such steep appreciations, here's a head start:
ADVERTISEMENT - CONTINUE READING BELOW
1. First step: Do I like this?
Lerma explains that art is an investment in and of itself and that in acquiring pieces, you should focus on those that actually mean something to you.
"They are an extension of your personality," he says. "They give you joy. If you don't connect first with that piece, from an investment point of view, if you try to resell it, chances are other people might not be able to connect with it either."
2. I like it. Now what?
There is an unofficial rule that Lerma advises for those investing in pieces of art: "Anything below Php50,000, just go with your passion. However, anything selling for above Php50,000,  you better do your homework because you could be throwing your money away. "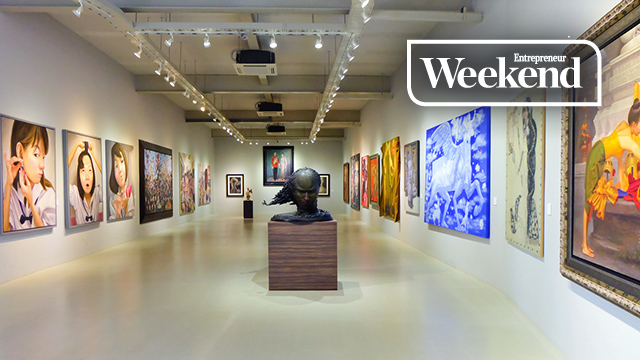 ADVERTISEMENT - CONTINUE READING BELOW
According to Lerma, you should only invest in art that means something to you
3. What questions should I be asking?
And so you're there, confronted by something you think is beautiful bearing a price tag of significant value. But how do you start your research?
"Who is the artist?" Lerma advises. "Where did he or she study? What other exhibitions has he done? What's his or her reputation? Where else did they exhibit? Who else collects their work? Have the prices of their pieces been going up? What sort of awards has this person been given? Are they winning more prestigious awards?"
The perceived value of a piece of art is shaped by many factors, more than just how appealing the piece of art is, and so Lerma says that asking the right questions is of paramount importance.
4. You don't need to work alone 
Once you know the questions, the next step is to find out who to ask.
ADVERTISEMENT - CONTINUE READING BELOW
"Seek advice," Lerma says. You need to ask around, read up and pose your questions to those who have even a tad bit more art purchasing experience than you do.
"It also helps to speak to several people," he says. "Don't just speak with one person. Don't just take it from me. See what the consensus is, and then, ultimately make a decision."
5. Construct a diversified portfolio
"The beautiful thing about [investing in art] is, unlike stocks or bonds, you can have paintings and enjoy them," Lerma says. Rather than just parking your money somewhere and checking in every now and again, you can wake up to, walk past, and feel an emotional connection with a beautiful object, while, in fact, it appreciates in value.
At the same time, Lerma advises would-be art investors to diversify their portfolio. "You can't put everything in one basket," he says. "It can't just all be in property, in the same way it can't just all be in jewelry."
ADVERTISEMENT - CONTINUE READING BELOW
In Sum
Another story Lerma shares is how an H.R. Ocampo painting appreciated from Php700,000 to Php4.3 million in two years. Stories like this only serve to highlight how lucrative art can be as an investment.
"Art is another non-traditional form of investment for people to really investigate," Lerma says. But as with any form of investment, it pays to be extra diligent and discerning. More than looking over an art piece and wondering, "Is this nice?" you may want to productively assess its value by asking the right people the right questions, visiting galleries and auction houses and making an effort to know the artists behind the works and the individuals dedicated to collecting them.
*****
Jaymes Shrimski is a 21-year old freelance writer from Cebu who likes to run, hang out with friends, travel, write, and read. He's on the constant lookout for new things to do and see while helping out with his college thesis turned business, Whitecaps Sock Co.—that is, after his dose of coffee
ADVERTISEMENT - CONTINUE READING BELOW