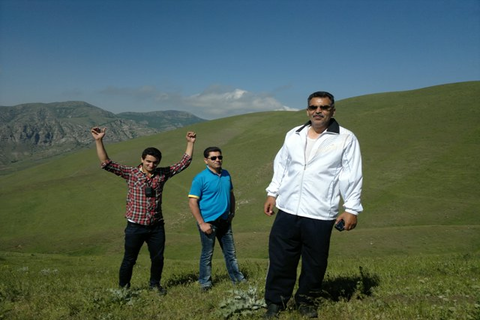 For even the most industrious of people, office burnout or stress in the workplace can be common place. Stress, being overworked, and personal problems are bound to take a toll on anybody.
However, instead of taking stress as it is, learn from these professionals and entrepreneurs on how they handle a busy schedule yet keep stress at bay.

1. Get some exercise before the grind

Exercise helps to prevent the release of stress hormones such as cortisol in the body. In response to exercise, the body releases endorphins, adrenaline, and dopamine hormones which are known to make a person feel good about themselves. No matter how busy you are, it's good to squeeze in some exercise.
Anna Ria Vallesteros, 34, is an IT consultant for the Wallem Group and a Food columnist. She's also a triathlete, who's currently taking a sabbatical from triathlons, but still maintains an active lifestyle.
"I still keep a triathlete's hours - get to bed at 10 and up by 5. There's a lot you can accomplish by sleeping and waking up early." She explains that she squeezes in her workout before going to work. "By working out in the morning, I start the work day feeling energetic and already accomplished," she said.

2. Good food = good mood

Your diet can also play a big role in your mood. Eric Patricio, 32, Service Leader for Edsa Shangri-La Hotel's Health Club explains, "If your diet consists of big amounts of carbohydrates and saturated fat, you become slow and easily exhausted. It can affect your judgment and most of the time, you get grouchy, sleepy and always irritated," he said.

Meanwhile, Vallesteros says "I think the physical is the way to the divine - feed your body junk and your mind will be filled with junk. So, I try to eat food that will give me the cleanest form of energy. I have been slowly shifting my diet to more and more plant based food, avoiding meats, refined sugar, over-processed or packaged food," she said.

3. Find out what activity works for you - and stick to it

There's no such thing as being "un-sporty," it's a matter of finding the right sport or activity to purge yourself of stress. For Vallesteros, running and swimming are two of her stress busters
ADVERTISEMENT - CONTINUE READING BELOW
"Runner's high is real - it's exhilarating! When I have a complicated problem I need to solve, I jump in the pool. I think the sensory deprivation and rhythmic motion of swimming is like meditation. For sure I will have a solution by the time I swim 1500m!," she said.

4. Take a break

The daily grind can survive a week or two without you. There's nothing like a vacation to help you get back on your feet. Patricio says "To de-stress, I travel with my wife and friends to see different places and cultures, and of course taste good food or the specialty of a particular place! I love to eat and that makes me forget the pressures of work, but I still watch what I eat," he said.

5. Lighten Up

Try to maintain a positive outlook, and don't ever fail to see the humor in any situation to help sustain your morale at work. Take a cue from Vallesteros: "The challenge [with work] lies in keeping all the balls in the air. Luckily, my work also allows me some travel which allows me to discover new things and see the things at home in a new way. I sometimes still do get stressed but when all else fails, I'm a true Pinoy at heart and laugh at things," she said.

Still stressed? Then stretch! She says, "I'm convinced that everyone can benefit from yoga. Yoga teaches discipline, patience and introspection. The particular kind of yoga I do, Astanga, is a great aerobic workout that builds strength and flexibility. One of the basic tenets of yoga is yoga chitta vritti nirodha - yoga is the cessation of the fluctuations of the mind. How can you be stressed with that? More than a workout, it's a way of life. Once armed with a few basic yoga poses, you can easily work out any kink your body may feel while sitting 8 hours at a desk," Vallesteros said.

Meanwhile, Patricio offers this advice "Stretch 10 to 20 minutes a day, drink a lot of water, avoid food high in cholesterol food, and stay in love and smile."





ADVERTISEMENT - CONTINUE READING BELOW