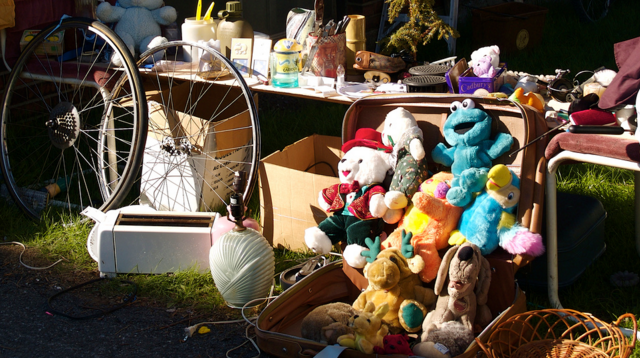 It's the holidays and whether you're moving, are in need of cash, or just want to clear the clutter out of your house, you can make a decent amount of money by selling all of that excess crap.
Last Christmas I was struggling to make ends meet. Payroll became very hard and there was a two-week period where we were waiting on checks that never seemed to come. I ended up liquidating a lot of my assets and selling things quickly to both make payroll and enjoy a nice holiday with my family. Checks eventually came and, a year later, we're doing great.
ADVERTISEMENT - CONTINUE READING BELOW
I learned a lot during this time. I learned how to get top money for all the crap that I don't need as well as a way to get paid to unclutter my house. Here are a places I sold things that I kept my startup alive, got some extra cash, and uncluttered my life at the same time.
1. Pawn shops
If you're in a pinch and need money ASAP, there's probably no better option than visiting your local pawn shop. While you probably don't have a hidden gem that will get you featured on Pawn Stars, you can pretty much sell any of your unwanted items that have some sort of value, such as jewelry, electronics, or collectibles like coins. Make sure that you bring in some sort of proof of purchase though.
The biggest drawback with pawn shops is that you're going to pay for selling your items in a hurry. You can definitely fetch more money through online sites, but if you need the money fast, the process may take too long.
ADVERTISEMENT - CONTINUE READING BELOW
Related: How this entrepreneur went from dead broke to mega influencer in one year
2. Consignment shops
Another option would be selling your items to a local consignment shop. The main advantage of these second-hand shops is that most of them focus on one type of product. For example, there are consignment shops dedicated solely to clothes, books, musical instruments, furniture, electronics, antiques, and even automobiles. Because of this, you may be able to get a better price at a consignment than you would at a pawn shop.
Before committing to a consignment shop, visit the shop beforehand to see if your items will match the clientele and how picky the store is about accepting used items.
3. Social media
If you are concerned with safety or you find packing your items as tedious, you could just sell your extra stuff to people that you know, at least somewhat. You can list your stuff on Facebook for free and, hopefully, have a response in a just a couple of hours. Since your network includes people in your neck of the woods, the transaction can go down quickly. If you have something perfect for a specific group, you could post the item a relevant group's page.
ADVERTISEMENT - CONTINUE READING BELOW
Besides Facebook, you can also sell stuff on Instagram. Just snap a picture and add a brief description. You can even collect payment through PayPal, so you sell your items to a wider customer base.
If social media isn't looking promising, you can download several different apps where you can sell your used items to local buyers.
Related: What it takes to go from dead broke to 6 figures in 6 months
4. Host a "raid my closet'' party
This will take a little planning, but you could host a "raid my closet" party. Simply invite your friends, family, or coworkers to your house and let them pick out the stuff that they want to buy from you. Hopefully, they'll take all of that extra crap off your hands by the end of the party. Best of all? It's a party, so you'll have fun at the same time.
ADVERTISEMENT - CONTINUE READING BELOW
5. Local colleges and flea markets
If you live near a college or university, you can place flyers on campus or post the items on college forums. It's best to do this right before a semester starts when students are looking for the stuff they need for the upcoming school year.
If there isn't a college nearby, you could set-up a table at a local flea market. You'll have to rent a space, but flea markets are a good place to sell everything from used goods to collectibles. If the price is right, you can definitely unload everything you want to sell. Furthermore, thanks to technology, you can accept credit cards and get paid online.
6. Buyback programs
If you have unwanted gadgets, like smartphones or tablets, you can make some extra cash through buyback programs. The price that you'll receive for your used electronics will vary from program-to-program, so do a little homework beforehand to scope out how much you can get. Additionally, timing and quality of the gadget will also determine the final price. For example, a broken first-gen iPhone is almost worthless, but a newer iPhone 5 or 6 should sell quickly at a fair price.
ADVERTISEMENT - CONTINUE READING BELOW
Here's to uncluttering our lives and having a little extra spending cash this holiday season!
Related: What growing up broke in a rich neighborhood taught me about business
*****
Copyright © 2015 Entrepreneur Media, Inc. All rights reserved.

This article originally appeared on Entrepreneur.com. Minor edits have been done by the Entrepreneur.com.ph editor.
Photo from Flickr (Sandra Cohen-Rose)