<>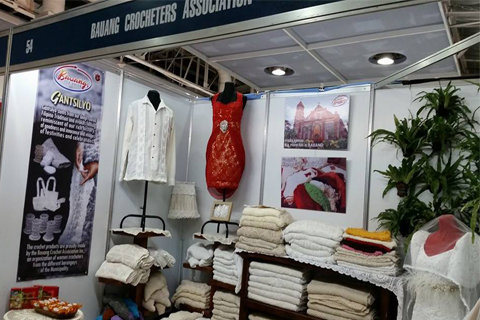 Gone are the days when women were labeled weak, less important individuals, and just subordinates of men. Over the years, they have proven their worth and have become leaders of various industries. A growing number of empowered women are slowly taking the center stage for their achievements and success. One example is Dra. Menchie De Guzman, a doctor by profession, a wife, a mother, and an entrepreneur.
ADVERTISEMENT - CONTINUE READING BELOW
Birth of 'Gantsilyo'
Like many other empowered women, Dra. De Guzman, a native of Bauang, La Union and wife of Bauang Mayor Martin De Guzman III, wanted to create programs that will not only help improve the lives of women in their community, but will also have an impact to the society. "My desire stems from innate love for local handiwork/crafts. I want to help my fellow 'kailians' ('kababayan' in Tagalog)," shares De Guzman. With this, she then thought of reviving a Filipino livelihood tradition that also has a potential in creating a big market-crocheting.
"Crocheting in the Philippines is now mostly confined to homes as hobbies. Culturally, we are notably losing an important part of our history. By re-instating crochet products into the market, we are reviving a Filipino tradition," she explains. With this, she gathered the unemployed women in their municipality (mostly housewives and senior citizens) and formed the Bauang Crochet Association, Inc. which will helps them earn extra income. This is where the brand name Gantsilyo was created. "By providing them with an alternative means of livelihood, we don't only provide them with material benefit but more importantly, we are able to empower and integrate them back to society.  We are optimistic that Filipinos and foreigners alike will have a renewed interest in the craft and industry as a whole," she adds.
ADVERTISEMENT - CONTINUE READING BELOW
Product development and expansion plans
Dra. De Guzman along with the crocheters of Bauang started small. From home-based store locations, they extended their effort in promoting their handicrafts by joining trade fairs and other events. Through this, the Gantsilyo products have gained popularity in the local and even international industry. "We are already selling our products overseas through individuals who take these with them but we don't have a permanent sales channel for overseas market yet. Although we are looking at selling the products online by creating a website," explains De Guzman.  
Through Dra. De Guzman's leadership and motivation, Gantsilyo is now considered as one of the leading manufacturers of souvenir items in La Union.
Keys to success
Although Gantsilyo had grown bigger, De Guzman would not want to think that they have already reached the pinnacle of success.  "The road that we traversed was not an easy one. There is still much to do. But with persistence, patience, and prayer, we will be able to continue this journey for the women of Bauang," she explained.
ADVERTISEMENT - CONTINUE READING BELOW
She also highlighted this advice to her fellow women entrepreneurs: "Do something you love and you are passionate about. Never give up. Pray for strength of character, for wisdom, and for courage to face adversities and to be the best that you can be with what talents and skills God has bestowed upon you."
Dra. Menchie De Guzman was also one of the inspiring Filipina entrepreneurs recognized in the recently held 7th Go Negosyo Filipina Entrepreneurship Summit.