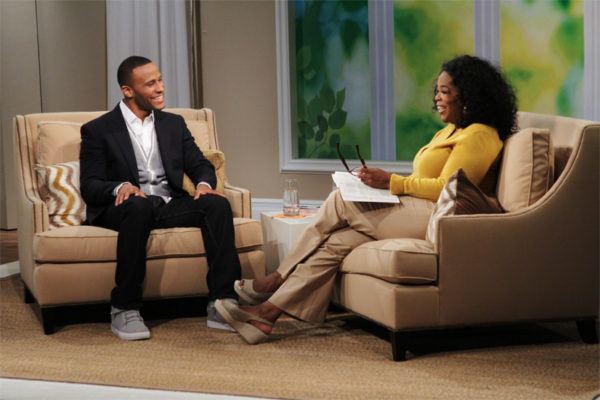 DeVon Franklin -- best known for producing the films Miracles from Heaven and Heaven Is for Real, and co-authoring the New York Times bestselling book The Wait -- is a bit of a unicorn. He's not only a top Hollywood producer, he's a renowned preacher. He's a recognized authority on faith and the entertainment business, not necessarily two subjects that you'd expect to see together. He discusses the blending of the two in his first book, Produced By Faith and his recently released title, The Hollywood Commandments.
ADVERTISEMENT - CONTINUE READING BELOW
Franklin seems to be winning everywhere: He's the successful CEO of Franklin Entertainment, a production company in conjunction with 20th Century Fox, a bestselling author, a TV personality, a producer and a sought-after speaker. Beliefnet called him one of the "Most Influential Christians Under 40,"Variety magazine named him one of the "Top 10 Producers to Watch," and Ebony magazine has named him one of the "Top 100 Influential African-Americans in America."
Since so many beginner entrepreneurs, authors and speakers I work with struggle to combine multiple passions and messages into one brand, I could not wait to ask him how he does it all. Here are my top seven commandments on how the rest of us can follow his lead and weave together multiple passions into one successful business.
Thou shalt pay your dues
Some may be tempted to say that Franklin is successful thanks to his proximity to Will Smith, because he started his career within the company that manages Smith. However, Franklin started there as an intern, waiting on the firm's assistants. In other words, he was at the very bottom of the bottom. It took years before he actually had a relationship with Smith himself.
ADVERTISEMENT - CONTINUE READING BELOW
When I asked Franklin about his start, I love how he explained the phrase we've heard before about "taking the stairs" to success: "I pray that people don't have overnight success, because if you get it overnight, you'll lose it overnight. Taking the elevator to the 20th floor takes no energy, takes no effort. However, if you need to manage life on the 20th floor and you haven't taken the steps, you might get here; but you're not going to know how to manage it."
He went on to explain that the process it takes to work your way up builds not only your character, but your actual capacity for managing life on that top level. Plus, getting there is not the goal, is it? It's staying there.
"Your ability to maintain what you obtain is critically dependent on the process you went through to get it," Franklin said. "I would never be able to do and manage what I have now if I had tried to shortcut the process."
ADVERTISEMENT - CONTINUE READING BELOW
Thou shalt learn to be patient -- very patient
"It took over 150,000 hours, over 6,500 days from the day I set foot in Hollywood to finally getting my production company. That is 150,000 hours of showing up, serving," Franklin shared.
He understands the frustration of feeling stuck, and he offers a great solution for those moments. Realize that the frustration is wasted energy and wasted time. Shift your attention immediately onto what you can do right then and there to be productive and create results.
"If you really want to maximize your time, fix your focus. Think about this. Every time I'm frustrated, 'Okay, what can I focus on that can actually be productive?' If I can focus on something productive, what's going to happen? I'm going to feel better. Because what I focus on creates how I feel."
Thou shalt learn to let go
In the last few years, within the entrepreneurship and personal development space, there has been a growing focus on letting go: "Let go and let God," "the universe has your back," etc. I don't' know about you, but this can be a frustrating idea because I love to hustle. I love to solve problems and produce results -- when do we push and when do we release?
ADVERTISEMENT - CONTINUE READING BELOW
"Your prayers alone aren't enough. I talk about the concept of praying and preparing," Franklin said, explaining his mindset. "I don't work to make things happen. I work because I believe things are already happening."
He explained if you start to think, If I don't land this sale, if I don't make this deal, everything will fall apart, you have a lack of belief, and belief is necessary for success. He reminded that desperation is like bad cologne. The moment you walk in the room everyone smells it and no one wants to go near it.
"[Think], What can I actually do today and am I maximizing where I am? Once I actually look at where I am and I say, 'Yeah, I'm maximizing where I am,' great. Then I've got to relax, to pray, to have faith and to trust. Am I doing the work? Yes, but am I doing the work to the point of losing my mind? No, because when I actually sit back and I rest in the confidence of who I am and what I'm doing, more opportunities come."
ADVERTISEMENT - CONTINUE READING BELOW
Thou shalt be your authentic self
Franklin doesn't deny any part of himself in order to succeed and he says you shouldn't either because "your difference is your destiny."
"Too often we try to become a version of what other people want us to be. As a result, we diminish the destiny we were created to achieve. For me, [it's] owning my authenticity, owning the fact that I am a Christian. I'm a person of faith. Owning the fact that I love Hollywood."
He went on to quote a phrase he'd once heard from another preacher. "'When you are rare, you are rewarded.' It's important to hone that rarity, hone that difference -- it will lead you to your destiny."
But, thou shalt focus on one passion first
Herein lies the rub, multi-passionate reader. Be authentic, yes, but build a foundation first. What do you want to be known for first that will set you up to explore all of your other passions? That is your tree trunk. 
ADVERTISEMENT - CONTINUE READING BELOW
"We all have different gifts ... we're really broad and unfocused," Franklin explained. "If you're unfocused, you're not going to be able to hone your energy, your time, and then zone in on what are the opportunities that are going to help you build who you are and become who you need to be. It's like the tree. If the tree does not have a trunk, there can be no branches."
Franklin's trunk was entertainment. He knew at an early age that he wanted to be in the entertainment industry -- even though he also felt called to preach, write, etc. -- so he moved to Hollywood, started his film degree and got an internship in the industry. Later, an established influence in the industry, he began writing about his faith and making faith in entertainment part of his platform.
Thou shalt prepare for conflict
Even though it seems like all Franklin does is win, win, win, no matter what, he said that is untrue. For example, a popular Bible app wouldn't work with him on a devotional series to go along with The Hollywood Commandments. His upcoming animated Christmas film, The Star, isn't supported in some Christian film festivals because of its celebrity cast members. Franklin asks, when have we ever seen someone operating in their destiny who did notreceive conflict along the way?
ADVERTISEMENT - CONTINUE READING BELOW
"If I'm getting conflict, then that means I'm doing exactly what I'm supposed to do. It keeps me hungry. Oh, okay. Y'all don't get it yet. I'm going to keep going."
Franklin understands the temptation to obsess over likes and shares and follows, but believes using our gifts as a way to receive praise sets us up for "massive disappointment."
"People are fickle. They are. Some days they love you, some days they don't. I have found that if you just stay consistent and you embrace the conflict, and you keep moving forward, the right things happen at the right time .... Too often, we get discouraged by a 'no.' A 'no' only sets you up for the right 'yes,' but you've got to remain persistent and consistent in order to get it."
Consistent, he added, not for weeks or months but years.
ADVERTISEMENT - CONTINUE READING BELOW
Thou shalt focus on your intentions and your audience
It's not about followers, but at the same time, we need ears and eyeballs to pay attention to us in order to gain new clients, share our message, etc. I asked him, how do we focus on growth and success but keep our ego at bay?
"You've got to look at intention," he answered. "Ask yourself, Why am I doing this? Why am I fighting for this piece of publicity? Why am I fighting for this notoriety? What is it actually here to do?
"If the answer is just, 'Hey, I want to be known,' that might be just ego. Everything I do is geared toward whoever is receiving what I'm doing, to help produce a moment, an urge, a desire to do something different and positive in their life that they otherwise may not have done had that they not had that moment. Everything I do is knit by that."
ADVERTISEMENT - CONTINUE READING BELOW
He broke down a lesson he'd heard in a sermon that explains this brilliantly.
"What do we do with the fruit tree? The tree produces a fruit. We go to the tree for the fruit. Now, does the tree say, 'Look at me. I'm the tree.' No. Nobody cares about the tree!
"Your [work, the gift you produce out of your talents] is really precious. The more that I just honor myself, the less the gift gets a chance to put front and center. The more I'm saying,Yes, this is the gift I've been given, and I want to give it, the better I feel; and the more I believe I can actually help people.
"It's not about me, the giver, it's about the gift."
*****
Copyright © 2017 Entrepreneur Media, Inc. All rights reserved.
This article originally appeared on Entrepreneur.com. Minor edits have been done by the Entrepreneur.com.ph editors
ADVERTISEMENT - CONTINUE READING BELOW