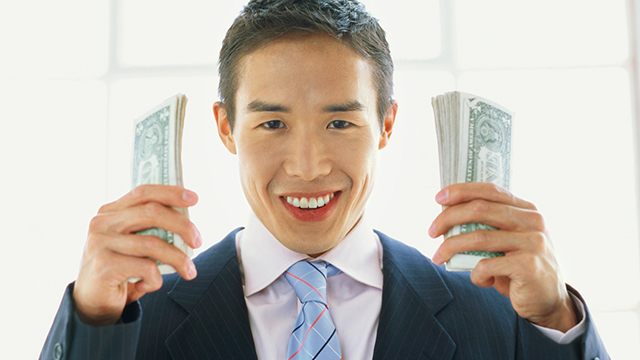 There are infinite ways you can spend a sudden surge of reasonably large capital. Of course, you can put it in a savings account. But why would you?
Armand Bengco, a financial advisor and executive director at the Colayco Foundation for Education Inc., says parking your money in a savings account is not enough. Saving is just part of financial wellness, but you also have to invest your money.
ADVERTISEMENT - CONTINUE READING BELOW
In an article for Entrepreneur.com, Garrett Gunderson, CEO of Wealth Factory, a group that helps business owners manage their finances better, says there are four different kinds of expenses: productive, protective, lifestyle and destructive.
He says productive expenses ensure you make more money; protective expenses are about safeguarding your money; lifestyle expenses are things that help you and your family enjoy life; and destructive expenses are wasteful expenses that don't add to your life. At this point, we'll focus on productive expenses.
Here's to hoping that after the purchase, buyer's remorse won't set in. Read on our first 10 suggestions for productive spending.
Productive spending 
1. Enroll in a management course
What can be more productive than learning new stuff? Management courses can give you a solid framework for running a business. "Anything that will lead to your self-improvement, especially improvements that will further help you run your business more effectively, is a worthy investment," says Arturo Ilano, professor at the Cesar E.A. Virata School of Business at the University of the Philippines-Diliman.
ADVERTISEMENT - CONTINUE READING BELOW
The Asian Institute of Management offers a range of certificate courses that run for a week for less than US$ 1,000. Other organizations and schools also offer an array of training courses that run for a week or longer.
Depending on where you look, online courses could cost you nothing. Coursera, an online education platform, partners with universities worldwide to offer a wide array of courses for free.
2. Take speech lessons
Speech courses at John Robert Powers could cost as low as Php 5,000 for one-day classes. Another school, SpeechPower, offers a full program on Persuasive Presentation for Php 6,500, inclusive of 12 meetings running for two hours each.
Henry Ong, a certified management consultant, however, thinks that it would be better to hire someone with good communication skills rather than spend money and time training. "Why not hire someone who can speak well rather than train? Maybe it's cheaper," he says.
3. Buy productivity or business books
ADVERTISEMENT - CONTINUE READING BELOW
"Buy into additional learning and it will never be a bad investment," Ilano advises. Start with books deemed by book review sharing site Goodreads.com to be among the best business books of 2015: Anticipate: The Art of Leading by Looking Ahead by Rob-Jan De Jong; Stacking the Deck: How to Lead Breakthrough Change Against Any Odds by David S. Pottruck; Give and Take: A Revolutionary Approach to Success by Adam M. Grant, among others.
4. Learn a new language
Sure, you can always hire an interpreter, but you'd be able to build relationships better if you show your potential business partners that you made an effort to learn their language.
Rosetta Stone, a provider of language learning software solutions, offers courses in more than 30 languages. Beginner modules start from US$ 229, available as a CD-ROM or via instant download.
5. Hire a design company to improve your logo, collaterals and packaging
A new logo could cost as little as Php 800, and with a lot of leeway to trade up, you could have your pick of the best design companies in the country.
ADVERTISEMENT - CONTINUE READING BELOW
Packaging design costs more, but there are options within the Php 50,000 budget. On its web site, advertising agency Webrandd offers a package for brand architecture, inclusive of three to five studies, three to five revisions, and final artwork using Adobe Illustrator CS5 PC format, for US$ 1,000.
6. Shore up your working capital
This is particularly important if the business is growing. "If you have a small store, then use the windfall to purchase more inventory. And if you're offering a service, then buy technology or assets that can further improve or speed up customer service, such as investing in customer relations management software or services," Ilano says.
7. Spruce up your office
It won't be much, but it could help. "If you are in fact receiving clients and you need to make a good impression, then sprucing up your office becomes a worthwhile investment because first impressions last," Ilano concedes.
ADVERTISEMENT - CONTINUE READING BELOW
8. Add it to your research and development fund
Be warned, though—Php 50,000 might feel like a drop in the bucket. Ilano says you probably won't even feel it, not when venture capitalists are funding you in the millions if you're working on a really good idea.
9. Eat healthy
You can't be at the top of your game if you're not eating properly. A growing number of companies can deliver healthy meals to anywhere in Metro Manila. Healthy food delivery service Sexy Chef, for one, delivers two full meals—lunch and dinner—five or seven days a week, with packages that start at P1,500, depending on your dietary needs.
10. Get a gym membership or undergo an executive medical checkup
A gym or fitness club membership offers you access to expensive facilities and the chance to meet like-minded people who will encourage you to follow through with your health goals. Membership at Anytime Fitness, a 24-hour fitness club, ranges from Php 2,300 to Php 2,500 a month depending on the package.
ADVERTISEMENT - CONTINUE READING BELOW
Meanwhile, an executive check-up helps you spot illnesses you didn't know you had, and allows you to make lifestyle changes to improve your health. Screening packages at St. Luke's Medical Center in Quezon City start at Php 10,712.
Set money goals
While a good thing, a windfall is more of a one-shot deal than a regular occurrence. Financial advisers stress the importance of having money goals for meeting your business' financial goals.
"There will be rough patches as the business moves forward. With clear money goals, it acts as a lighthouse that steadies your entrepreneurial hand when difficulties come," says financial advisor Joe Ferreria. "Creating a business should have a financial objective that is set beyond the horizon. It must be exciting, challenging and rewarding. It must be a little bit beyond your reach that it requires you to stretch out to get it."
Profesor Ilano says that financial targets ensure that the business continues to be growing. "If financial targets are not met, then chances are your business will grind to a halt as soon as you run out of cash. This is a scenario that happens quite often to micro and small enterprises," he says.
ADVERTISEMENT - CONTINUE READING BELOW
*****
This article appeared in the June 2015 issue of Entrepreneur Philippines magazine. Minor edits have been made by Entrepreneur.com.ph.