Since the Spanish Colonial period, Divisoria has remained the Philippine mecca for bargain-hunting consumers, buy-and-sell entrepreneurs, and small-and medium industry producers looking for finished goods or raw materials at rock-bottom prices.


So many business fortunes have been made in this sprawling trading center that straddles several streets in Manila's bustling Binondo and Tondo districts, with its epicenter to be found toward the north end of the thoroughfares of Claro M. Recto Avenue before it meets Asuncion Street.


Here, hundreds of stores and stalls and hawkers move tons of every imaginable product or craft into the hands of buyers everyday—from fresh produce and processed foods to seasonings and flavors and kitchen and baking equipment, from the latest in textiles and fashion apparel to the whole range of body care products, from school and office supplies to cellular phone accessories, and from the most popular toys and trinkets to such mundane things as hardware and home furnishings, dyes and chemicals, fishing equipment, and sewing needs.
ADVERTISEMENT - CONTINUE READING BELOW
And now we give you a detailed map where to get your needed materials or ingredients for your products:

1. Food products

A. Seasonal and perennial tropical fruits
Asuncion St.,  New Asuncion Market, El Cano St. and Lakandula St.

B. Imported fruits
Carmen Planas St.

C. Vegetables
On the Tondo side, starting from Sto. Cristo St., Carmen Planas St., Bilbao St., and Padre Rada St.

D. Meat and Fish
El Cano St. and basement of the New Divisoria Market

E. Poultry
El Cano St., and the Sta. Elena side of the New Divisoria Market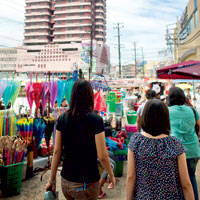 F. Seasonings
El Cano St., New Divisoria Market and M. de Santos

G. Candies and kropeck
Basement of the New Divisoria Market (M. de Santos entrance), and along Sto Cristo St.

H. Other food items
Binondo side of Asuncion St., El Cano St., Recto, Jollibee-Sto. Cristo and Carmen Planas St.
ADVERTISEMENT - CONTINUE READING BELOW