<>2. Baking Equipment and Supplies
Sto. Cristo
3. Kitchen Equipment, Pot and Pans, Plates
Sto. Cristo and Tabora streets along C.M. Recto Ave.

4.Cellular Phone Accessories, Hair Accessories
New Divisoria Market and along Planas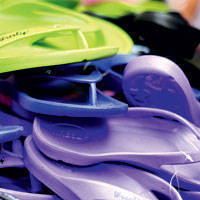 5. Party Favors
Basement of the New Divisoria market
6. Toys
Basement of New Divisoria Market, New Divisoria Shopping Center, which is located at the corner of Tabora St. and Sta. Elena St.
7. Chemicals/Candles and Candle-Making Supplies
Gody's Wax Center, one at Sto. Cristo St. and other at Juan Luna St. Everlight Store along M. de Santos St. and Liwanag's Candle Store, also at Sto. Cristo.
8. Corporate and Party Giveaways
New Divisoria Market, 168 Mall, and Juan Luna St. and Tabora St.
ADVERTISEMENT - CONTINUE READING BELOW
9. Hardware
Stalls at Sto. Cristo side of the New Divisoria Market and Planas St.

10. Fishing Equipment
Juan Luna St.

11. Textiles and Sewing Needs
Tabora, Ylaya and Carmen Planas streets and Azcaraga Textile Market along C. M. Recto Ave.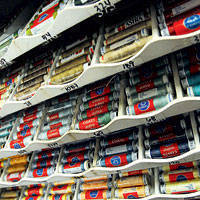 12. Canvass, foams and stuffing for pillows or teddy bears Juan Luna St.

13. Clothes, Socks, Underwear, and Handkerchiefs
Shops along New Divisoria Market, 168 Mall, Tabora St. and Juan Luna St.

14. Office and School Supplies
Sto. Cristo and Juan Luna streets
ADVERTISEMENT - CONTINUE READING BELOW