Don Roberto\\\'s Fruit Wine made out of mango stirred up the international wine industry and opened the door for more entrepreneurs to venture into tropical fruit wine making. Now you can find wines made out of coffee, duhat and bignay. The international market is the target of most wine makers in the Philippines.

This project will show how to make wine using tamarind.
INGREDIENTS
48 kg Tamarind Stock, P20/kg
150 kg water
36.8 white sugar, P39/kg

 
EQUIPMENT AND TOOLS
Fermentor, P12,000
Refractometer, P9,000
Cooking thermometer, P300
pH meter, P3,000
Alcohol tester (ebullio meter), P16,000
20 Bottles, P22/pc
20pcs Cork, P6
Corker, P5,000
20 pcs Label, P4.50/pc
Hot air gun, P2,500
20pcs Shrink cap, P5/pc
Basins
Casserole
Fermenting containers
Heavy duty stove, P5,000

 
PROCEDURE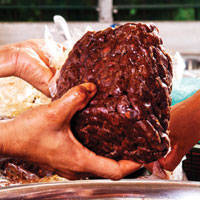 ADVERTISEMENT - CONTINUE READING BELOW
STEP 1. Prepare the Tamarind Stock. Because the tamarind bears fruit only once a year, it is best to make batches of Tamarind Stock that is good for a whole year of wine production.
To make the stock, peel off the shell of the fruit. Mix each kilo of pulp with 5kg of rock salt. Pack and put in a cold dry storage.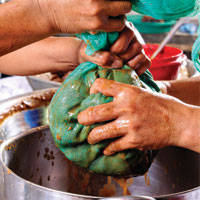 ADVERTISEMENT - CONTINUE READING BELOW
STEP 2. Prepare the Wine Starter. Make it two to three days prior to wine production. The starter is where the yeasts are being cultivated.
a. Mix 3kg tamarind stock with 5kg water.
b. Extract tamarind juice thrice using a net and cheesecloth to remove the seeds and the pulp, respectively, until the extract becomes clear.
c. Add 5kg water to the extract.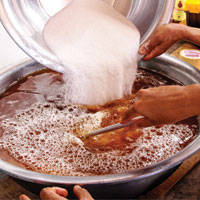 ADVERTISEMENT - CONTINUE READING BELOW
d. Pasteurize and add 2.2kg of white sugar.
e. Add yeast that\\\'s 0.02 percent of the total weight.
f. Cover and set aside for two to four days to cultivate enough yeast.
This would yield 10kg starter, which is enough to ferment 200L of wine.