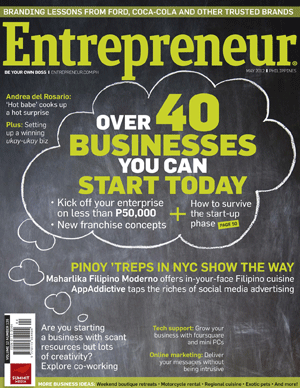 Sometimes it\\\'s all a matter of knowing how to start. The latest issue of Entrepreneur Philippines is jam-packed with more than 40 businesses ideas that are doable and don\\\'t require huge capital to open from chairs and table rentals to singing telegrams.
We also teach you the basics of branding and how to communicate your company\\\'s story.  In business, a brand is both an identity and a promise. The brand establishes your company\\\'s persona and allows people to choose your products over other goods.
ADVERTISEMENT - CONTINUE READING BELOW
Check out our feature on the auction business and how JMJ Auction Services finds the right buyers for consigned goods.
Read the inspiring story of how microfinance helped a seamstress with an initial capital of P5,000 to build a garments business now earning millions a year. Corazon Bautista\\\'s story is an example of the power of microlending to spur entrepreneurship in the country.
So you want to break into the beauty business? We give you eight tips for success from celebrity cosmetic surgeon Dr. Manny Calayan and high-end styling boutique Vivere Salon.
Don\\\'t forget to grab a copy of our May issue out in bookstores and newsstands this week.