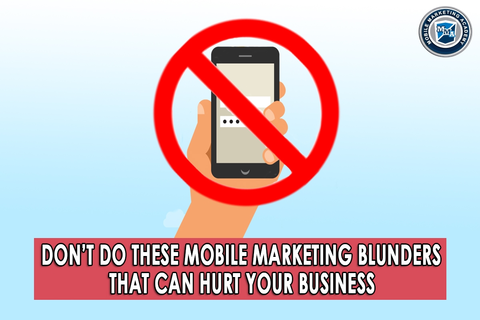 <>In a study, Strategy Analytics, a Boston-based research company, found that global smartphone usage is expected to reach 2 billion by 2015. With more people using smartphones to connect with the world, mobile marketing is no longer an option but a necessity.
Icebreaker Consulting discovered that users who search using their mobile phones are more likely to follow through with an action than those who search with their laptop or PC. In fact, 70% of mobile users act upon their searches within an hour after doing so.
With technological innovations, the smartphone has become a big part of a consumer's lifestyle---the go-to-gadget before any purchasing is done. Consumers go through reviews, feedback, comparisons, or product reviews just to ensure every purchase is worth it.
If the decision to do business with you relies on what they find in mobile searches, wouldn't you want to make sure that what they see gives them every reason to do so?
Here are a few mobile marketing no-no's that could be hurting your business:
1.    Not segmenting your target list

Like any marketing strategy, mobile marketing needs to be targeted to be effective. Just because everyone's on mobile doesn't mean you won't put too much thought on your target market. Every user is captivated by a different form of messaging. Use it well.
2.    Your website isn't mobile friendly

Compuware found, in one of their studies, that 57% of online users won't recommend a business if their website isn't mobile friendly. When mobile was starting to be the go-to-gadget, businesses were unprepared for the demand. Generate more leads and conversions by making sure your website is mobile ready.
3.    Failing to utilize location-based marketing
Did you know that 74% of smartphone owners use their devices for location-related searches and approximately 33% of users share their location with retailers? Learning to utilize location-based marketing can do wonders for your brand. Stay connected and relevant to consumers who matter. Good examples of location-based marketing are discount offers and points for check-ins. What you can do is just limitless!
4.    Not having a user-friendly opt-in process
Have you ever experienced a pop-up that won't go away and its close menu can't seem to be found? It disrupts the process especially if the consumer is in the middle of signing up to stay connected with you. Make sure that when they do sign up, there's no long scrolling or minimizing that needs to be done.
These are only a few mobile marketing no-no's, when you're planning your marketing strategy. Don't forget the crucial importance of mobile marketing. Be ready for on-the-go mobile searches with the CDM Program's Mobile Marketing Academy!
Classes start on July 30, 2014. Register online at mobilemarketingacademy.org or call 9270096 / 09178967952 today!
ADVERTISEMENT - CONTINUE READING BELOW