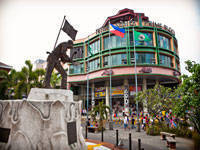 For August, Entrepreneur.com.ph is featuring Divisoria, one of the city of Manila's most popular destinations and recognizable landmarks. For many, "Divi" is the marketplace for everything from food to electronics, all at bargain prices. For resourceful and money-savvy entrepreneurs, it's a suppliers' haven.
Ask anyone who owns a business and they'll tell you: "Everything is in Divisoria." Whatever you need, Divisoria—often called "Divi" for short—can supply it, and the best deals can be yours, if you know how to haggle.

But just because the goods are inexpensive doesn't mean they're a wise purchase. Ask any Divi regular and they'll warn you: "Buyer beware." If it's too cheap to be true, then it probably is. To avoid a case of buyer's remorse, here's a quick rundown of what to get and what to avoid:

 GO!
ADVERTISEMENT - CONTINUE READING BELOW
1. Vegetables, fruit, and meats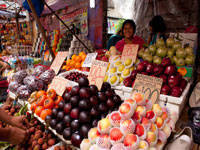 If you want them fresh, head straight for Divi. It's the bagsakan or main distribution center of fresh produce and meats from farms and other across the country.   
Find them in: C.M. Recto; M. de Santos St.; Fulgeras St.; Sto. Cristo (fruits—wholesale); Divisoria Mall wet market basement (meats, and seafood)


ADVERTISEMENT - CONTINUE READING BELOW
2. Raw materials and ingredients
Flour, sugar, shortening, lard… these basic ingredients are necessary to all food businesses. Buy what you need in bulk, and you'll get bigger discounts. If you're from the province, you can have your purchases delivered for a small fee.
Find them in: Asuncion St., and Elcano St.
3. Cookware and bakeware
Whether you have a grand restaurant or a neighborhood panaderia, you need the right equipment to prepare your offerings. If you're stocking up on serving bowls and drinking glasses, get them wholesale—the prices are much lower.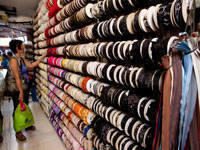 ADVERTISEMENT - CONTINUE READING BELOW
Find them in: Sto. Cristo St.


4. Clothing goods

These are available at mall-based fabric stores for an arm and a leg. Be sensible and go to Divi's Tabora area, which offers bolts of cloth in every imaginable color, pattern and texture, plus buttons, zippers, laces, ribbons, and threads. Become a trusted suki or regular, and you'll get better payment terms and even freebies in the long run.
Find them in: Tabora St. and Ilaya St.

NO!

1. Imported food

You can never be sure of what the ingredients are, especially if the labels aren't in English. Save yourself from possible health problems—buy at recognized food stores or suppliers.

2. Cosmetics/Beauty supplies

Makeup can be fun, but you can never be too careful about what you apply on your skin. Even if the packaging says "Maybelline" or "Clinique", it's more likely that they're not. Instead of looking glam, you might end up breaking out in zits or worse, allergies.
ADVERTISEMENT - CONTINUE READING BELOW

3. Electronics and gadgets

The iPod and iPhone look-alikes are tempting, but you'll regret it once they break down or conk out after a few uses. Spend more to get durability; it's more cost-effective in the long run.

4. Counterfeit "designer" goods

Those Longchamp bags are everywhere, but most of them are probably fakes. Cheap knockoffs may make you feel trendy, but you won't be smiling once the zipper gets stuck or the straps start to unravel.
ADVERTISEMENT - CONTINUE READING BELOW
 Click here for other articles on Divisoria
Photos by Dairy Darilag