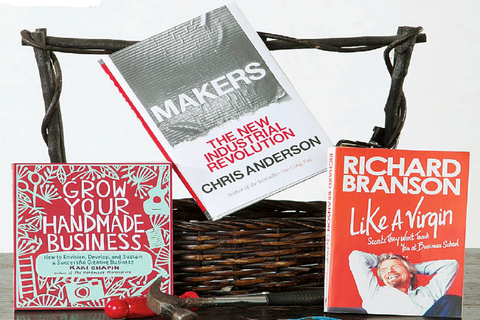 <>
Grow Your Handmade Business: How to Envision, Develop, and Sustain a Successful Creative Business

by Kari Chapin (Storey, Available at Fully Booked, P763)

Do-it-yourself business lessons for the do-it-yourself business—one might expect this from Kari Chapin's Grow You Handmade Business, which does specify "creative business" on the cover. But don't all businesses require creativity anyway? Chapin, whose bestselling book The Handmade Marketplace: How To Sell Your Crafts Locally, Globally and Online topped Amazon's Best Books of 2010 Crafts list, offers in this book her own story of how she came about doing business, as well as other personal accounts from successful creatives. Grow Your Handmade Business also offers valuable advice that can be applied to any business. It also comes with exercises to help entrepreneurs decide what kind of business is right for them and how they can grow it.



Makers: The New Industrial Revolution

by Chris Anderson (Crown Business, Available at Fully Booked, P1,040)

ADVERTISEMENT - CONTINUE READING BELOW
Chris Anderson, Wired editor and bestselling author, carries his theory of the Long Tail further, discussing its implications on production, manufacturing and even global trade. In Anderson's own words from thelongtail.com, "The theory of the Long Tail is that our culture and economy is increasingly shifting away from a focus on a relatively small number of 'hits' (mainstream products and markets) at the head of the demand curve and toward a huge number of niches in the tail." Makers takes on that basic premise, puts the use of technology—specifically what Anderson calls "desktop manufacturing technology"—front and center of that shift, and explains how technology is no longer the domain of inventors and old-economy manufacturers.



Like A Virgin: Secrets They Won't Teach You at Business School

by Richard Branson (Portfolio/Penguin, Available at Fully Booked, P640)

"It's business school, the Branson way." And who better to teach about unconventional business than Virgin founder Richard Branson? "Business schools are wonderful places," writes Branson, "and yet, in hindsight, I am thankful I never went to one." Instead, Branson writes about the lessons he learned by jumping into business. Like a Virgin also has excerpts from media interviews Branson has given throughout the years. He also shares advice given to him throughout his career and how they've affected the way he runs his company and his life. Branson's book is a handy guide for those who want to take an unorthodox approach to business or add a new spin to the lessons they got from business school.


Photo: Vincent Coscolluela


ADVERTISEMENT - CONTINUE READING BELOW