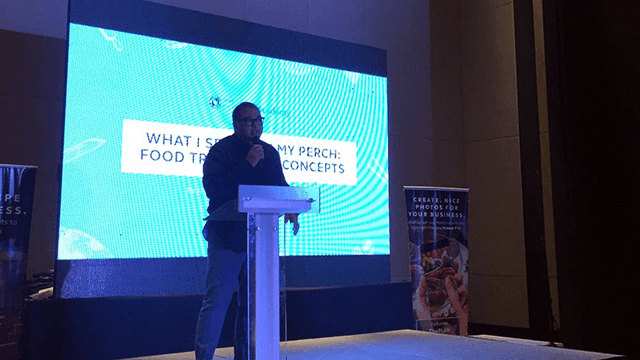 Food consultant JJ Yulo speaks during the World Street Food Congress
Almost every week, a new restaurant opens in various dining hubs of Metro Manila, promising to bring to the market a new and special kind of cuisine. And this rapid growth shows no sign of slowing down.
ADVERTISEMENT - CONTINUE READING BELOW
"I know someone who's looking into opening ten more new food concepts before the year ends. It's crazy," chef and food consultant JJ Yulo said during a talk sponsored by Globe MyBusiness at the Conrad Hotel in Pasay City, on Friday, June 2. The event was part of the World Street Food Congress, which was held from May 31 to June 4.
Yulo trained at the world-acclaimed Institute of Culinary Education in New York. He's been an active food critic and writer of the local restaurant scene in recent years, and has been actively staging various events under Pinoy Eats World.
The crowded space for food businesses has been both exciting and daunting for any food entrepreneur. With so many new and good players around, how does one stand out? Yulo suggests the obvious but often forgotten value of the restaurant biz in the age of Instagram: quality service.
"Trends tend to overcome the customer experience. I think people need to stop treating the food business like fast fashion," Yulo said. "Wouldn't you rather have 15 years instead of just 15 minutes of fame?"
ADVERTISEMENT - CONTINUE READING BELOW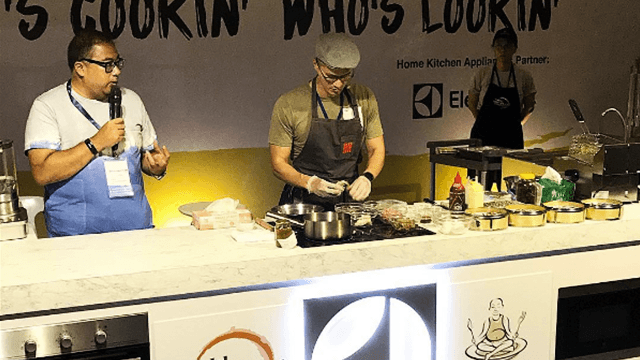 "People need to stop treating the food business like fast fashion," says JJ Yulo
Yulo refers to the grand and usually noisy opening of restaurants and other dining places in Manila. Long lines of customers wanting to try the new concept could be seen in the first few weeks of operations. But come back after a few months, and there are hardly any patrons.
ADVERTISEMENT - CONTINUE READING BELOW
The allure of being a "rockstar" of the moment seems to be the trend now. But Yulo argues against it.
"When we think of restaurants before, like Café Ysabel in Greenhills, these are restaurants that make us feel at home. We feel comfortable in these places and they have recurring customers until today," Yulo said.
For the food consultant, customer service and engagement are still the key to ensure diners come back again and again. While trends come and go, the culture built upon these food spaces is usually the one that lures people back.
"I think restaurants have to realize that we [the market] are probably not as affluent as we think. People want value for their money," Yulo said. "Once a meal goes over Php700, it gets dicey. And your market gets smaller once your prices go higher."
The editor of Yummy.ph, an online food web site published by Summit Media (which also publishes the Entrepreneur Philippines website) who also spoke at the event, reminded food business owners to be mindful of the power of social media in today's restaurant business.
ADVERTISEMENT - CONTINUE READING BELOW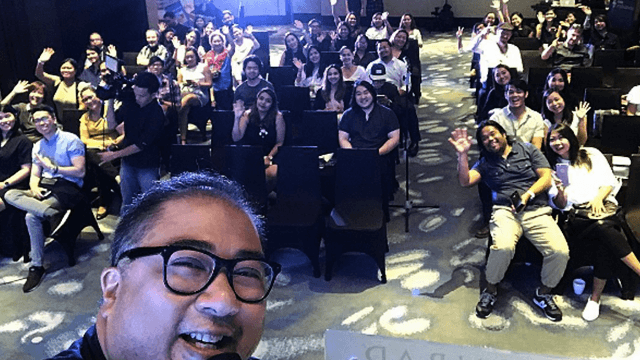 JJ Yulo believes customer service and engagement are still key to ensure diners come back
Since almost everything online can now be measured, Yummy.ph Trixie Zabal-Mendoza suggests food entrepreneurs should learn to analyze how the market is engaging with their brands on various social media platforms.
ADVERTISEMENT - CONTINUE READING BELOW
"You can definitely see if the customer or audience is responding to what you post. You'll see if the article is not being read, maybe the photo is wrong. Or if the video is not being watched, you have to analyze what can you do next time," Mendoza said.
One trend that the market and audiences seem to be getting into is healthy but delectable food. The fitness trend in the country has given rise to food concepts catering to health-conscious consumers, whose numbers are on the rise. Yulo thinks the trend has become more than just a fad.
"More restaurants want to have at least one tasty vegetable or vegetarian dish. I think everyone wants to eat healthier these days, which is good," Yulo said.
Higher awareness about the process of how food is made and served is also prompting more chefs and restaurateurs to reach out to farmers and producers to ensure quality across the supply chain. And while healthy food does not come cheap, Yulo believes that these will become more affordable as more people get into the trend.
ADVERTISEMENT - CONTINUE READING BELOW
*****
Elyssa Christine Lopez is a staff writer of Entrepreneur PH. Follow her on Twitter @elyssalopz