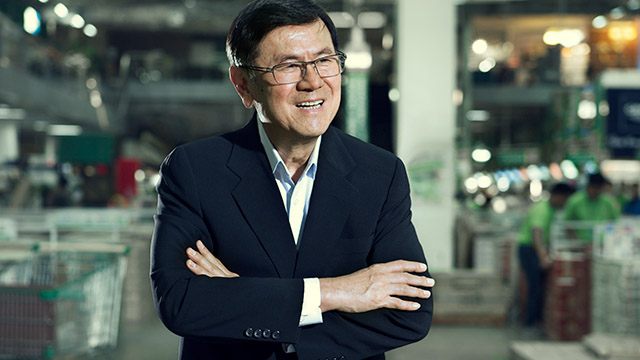 William Belo was no ordinary student when he was about to enter college. Instead of following the traditional route of getting a good job after finishing college, he told his father that he would like to start up a business as soon as he completes his studies.
Although he had no idea on what kind of business he would like to venture into in the future, Belo just wanted to do something on his own. He wanted to start up something that will enable him to become financially independent.
ADVERTISEMENT - CONTINUE READING BELOW
Many people aspire to have financial freedom but never achieve it because they are not prepared for the task. When Belo was offered the opportunity to help out at the hardware store in Santa Cruz, Manila that his father partly owns, he chose to work full-time and study part-time.
Soon after completing his college degree in Electrical Engineering from University of Santo Tomas, Belo also graduated from learning how to manage and run a hardware store. The rest that followed, as they say, is history.
Today, Belo is the king of home improvement industry. His company, Wilcon Depot, which recently went public, is the largest retail chain of hardware stores in the country with current market capitalization of Php28 billion.
What lessons can we learn from William Belo who succeeded in putting up his own business at age of 27? How did Belo manage to grow his business to be the largest player in the home improvement market? Here are the five startup skills every aspiring entrepreneur must learn from William Belo, founder of Wilcon Depot:  
ADVERTISEMENT - CONTINUE READING BELOW
1. Learn how to manage the ins and outs of the business before launching your startup
Belo was willing to learn the nuts and bolts of managing a hardware store. Over the years, he has learned how to deal with suppliers, talk to customers and manage finances. The skills that he acquired from experience have prepared him to launch his own hardware store. 
"That was my idea when I accepted the job. I wanted to start something after graduating. Usually after college we want to find a job, then after that we want to settle down. I thought that if I will follow that, there will be less chance for me to start a business. So while in college, I wanted to start working and gain experience right away," Belo recalls.
"After working there for five years, I was already running the business by myself. Actually, at that time, my employers did not allow me to resign. They wanted me to continue managing the business so I stayed for two more years." Belo explained how his seven years of experience prepared him to startup his own hardware store.
ADVERTISEMENT - CONTINUE READING BELOW
2. Learn how to manage and finance the business creatively
Belo put up his own hardware store in Quezon Avenue with total size only of 60 square meters. To help finance his startup, Belo's father decided to withdraw his investment share in the hardware store in the form of inventories. The inventories would serve as initial capital of the new store.
"The total amount was about a hundred thousand pesos, so the agreement was when I get out totally of the company, my father who used to be a passive investor needs to sell his shares back to his partners. He would be paid by withdrawing the stocks from the store against his equity," Belo recalls. 
3. Learn how to differentiate and innovate  
Belo thought of differentiating his product offering to set his company apart from competition. His strategy was to focus on providing quality at affordable pricing.
"During that time people are not very particular about house improvement. It is enough that you have a functional toilet bowl. Each house has one or two toilet bowls. So I thought, how can I sell more if I will just sell toilet bowls?" Belo recalls how he thought of differentiating his products.
ADVERTISEMENT - CONTINUE READING BELOW
"During the 70s up until the 80s, the product choices were limited because there were only a few manufacturing companies of ceramic tiles and sanitary wares. When the government allowed importation, we gradually expanded our products to imported items. We started importing high-end items to complement our local items. Somehow, I was able to revolutionize the bathroom industry," Belo explains.
Related story: Wilcon: From a 60-sqm Store to PH's Biggest Home Improvement Chain
4. Learn how to train the right people
When Belo started the business, he had only three people to support him—his two cousins and a helper. Eventually, when his business was growing, he hired a driver and a messenger.
"The beauty of managing our business is we started very small so our payables were limited. Our collection was also limited. Everything goes through you, every single collection and payable. As the business grows, you get somebody who will help prepare mechanical tasks such as recording payment, sales and reporting to the BIR, " Belo recalls.
ADVERTISEMENT - CONTINUE READING BELOW
"After sometime, as the business grows, our people who have been doing a particular function can move for promotion and pass on the tasks to new hires. This is why we pride ourselves that majority about 99 percent of our managers come from the ranks."
5. Learn how to connect with customers
Branding is not only about positioning your product in the minds of the consumers but about your company as a total solutions provider of their needs. This is how Belo positioned Wilcon Depot as a preferred brand of home improvement stores by providing good customer experience.
"We provide personalized service. We train our people to be really well-versed. You can come to our store and try to ask something to experience our service. In the US, if you go to their warehouse stores, you won't see so much staff to assist you because you will find the store selling mostly Do-It-Yourself items," Belo explains.
ADVERTISEMENT - CONTINUE READING BELOW
"In our case, we treat our customers with personalized service. You will see in our stores that we have a lot of staff waiting to assist you." 
*****
Henry Ong, RFP, is president of Business Sense Financial Advisors. Email Henry for business advice hong@businesssense.com.ph or follow him on Twitter @henryong888