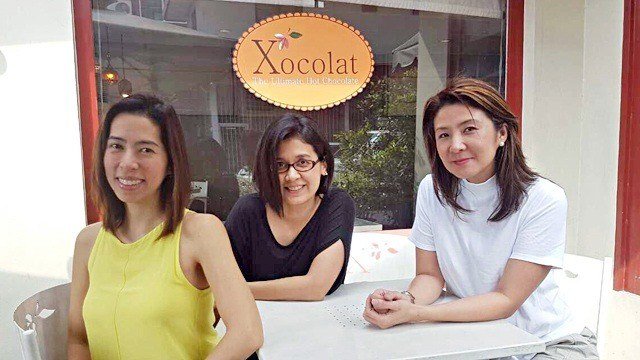 Cafe Xocolat founders (from left to right) Pinky Ortiz, Rina Avecilla and Valerie Lopez
Starting a food business, let alone a chocolate café, can be financially challenging. Finding the right location and offering menu ideas at affordable prices can be notoriously competitive.
Chocolate products are often a labor of love. The food and beverages are typically inspired by a passion for culinary delight and not easily designed for mass production. For a chocolatier to succeed and survive the competition, one needs to devote personal attention to every detail of the production to ensure quality and customer satisfaction.
ADVERTISEMENT - CONTINUE READING BELOW
This is how the founders of Café Xocolat started the business when they put up their chocolate café startup 12 years ago in 2004. College friends Valerie Lopez and Pinky Ortiz got the business idea of having their own chocolate café after visiting several milk bars and chocolatier shops during a leisure tour of Barcelona, Spain.
The partners were so excited about the concept that six months after they arrived from their tour, they invited another friend, Rina Avecilla, to partner with them and immediately opened their first outlet in Promenade Greenhills. The startup was so successful that the partners decided to expand in the following years. 
Today, Xocolat is more than the ultimate hot chocolate café that it became famous for. It is also known for its pasta and other dishes. With rising competition in the café market, how is it really like for Xocolat founders to manage and grow the business? Here are the five lessons every entrepreneur can learn from Xocolat:
ADVERTISEMENT - CONTINUE READING BELOW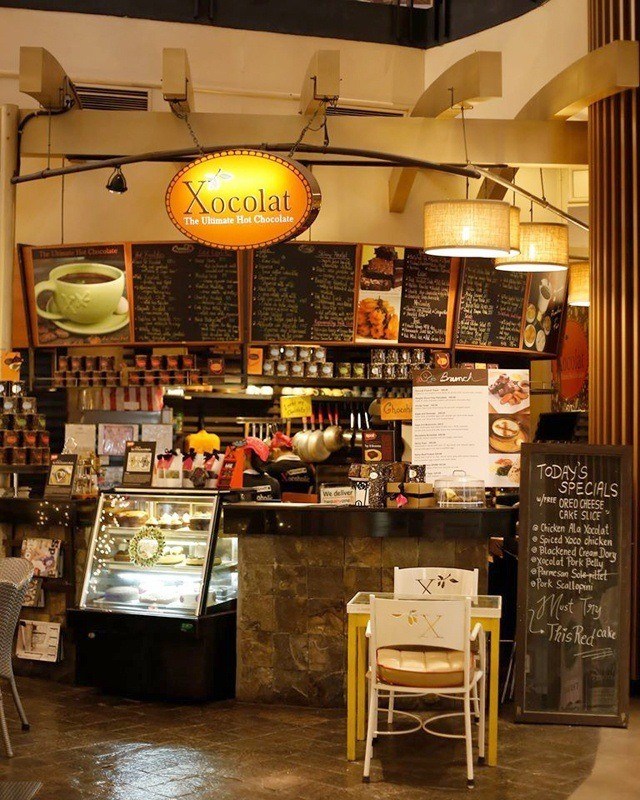 Cafe Xocolat's founders were inspired to put up the business after a leisure trip to Barcelona, Spain
1. Being passionate about the business
Starting up a business, especially when you don't have the knowledge to execute it, is a struggle but without passion, it is even harder. To succeed in business, you must have a passion that will drive you to move forward even in difficult times.
ADVERTISEMENT - CONTINUE READING BELOW
When Xocolat founders first thought of starting up a chocolate café, they never had any training or experience in chocolate making. Being chocolate lovers themselves, they simply wanted to create a world-class chocolate product that will succeed in the market.
Instead of hiring expensive consultants, because of their passion to learn the business, the founders spent time researching and studying the chocolate-making process themselves.
"We learned on our own from books and the internet. We did trial and error. You have to trust your taste. When you visit a place and taste something that you like, you try to do reverse engineering," says Lopez.
2. Finding the right location for your niche market
Locating your shop in the busiest shopping mall in the city may not always be worth the cost. While it is true that it can help promote your business faster, the premium that you pay for the rent may not justify your return on investments.
ADVERTISEMENT - CONTINUE READING BELOW
Xocolat tried to expand by locating in high-end shopping malls during the early years only to close down a few years later because of rising rental costs and disappointing foot traffic. They later realized that they are better off serving the university market when they converted their commissary in Katipunan into another branch.
An ideal location for your shop may not necessarily be the most visible location. If you have a product that is unique to your target market, your customer will always come to find you.
3. Defining your market position and branding
One way to set your business apart from the competition is by identifying your most unique product. By establishing the attributes of that uniqueness, you can easily position your product in the mind of your target market.
"When we entered the market, we understood that the general market is a coffee-drinking population. We wanted to offer an alternative and target a portion of the market who may want to try hot chocolate." Ortiz explains.
ADVERTISEMENT - CONTINUE READING BELOW
The partners developed the Taza de Xocolat, a Barcelona-inspired hot chocolate drink which became their core product. "Surprisingly, we have found out that men love to drink chocolate more than women." says Lopez.
Branding helps strengthen market positioning. The packaging and design of Xocolat as part of its branding strategy helped raise the perceived value of their products which allowed them to price their products higher. "When we started, people would ask if this was a franchise from Spain or a foreign brand," Lopez adds.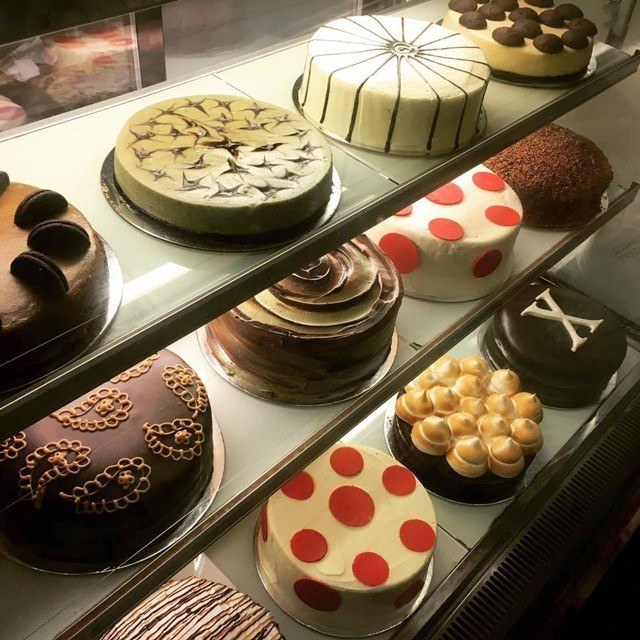 ADVERTISEMENT - CONTINUE READING BELOW
Cafe Xocolat has expanded its offerings to include various cakes and pastries
4. Innovating to stay competitive and relevant
Being able to understand what customers want is one way to stay relevant and competitive. Fostering a culture of innovation helps spur creativity in coming up with new products to increase more customers and retain loyal followers.
Over the years, Xocolat has developed more exciting products. One example is the baked hot chocolate, which is a big-sized brownie that comes in six flavors. Officially named "The Original Sin," the big-sized brownie was a hit and rated highly by food bloggers.
Not all new products will always work in the market, however. Mistakes are essential to innovation. There will always be lessons to learn in order to create something new in the future.
5. Setting standards for operations to ensure safety and quality
Managing a chocolate café can be very complicated especially if it involves various tasks and processes from meeting and greeting customers to preparing and delivering the food and beverages.
ADVERTISEMENT - CONTINUE READING BELOW
In order to ensure the same quality of service and food in all branches, Xocolat designed their own standard operating manual as basis for training their employees and managers. Having an operating manual helps in removing employee guesswork about how tasks are to be performed. It also helps in improving productivity and teamwork as well as providing basis for evaluating performance.
"When we started, we tried to come up with a manual. We have a training area where we would time employees on how to prepare the beverages. We make sure they memorize the procedures. We try to make our process comply with best practice standards," says Avecilla. 
*****
Henry Ong, RFP, is president of Business Sense Financial Advisors. Email Henry for business advice hong@businesssense.com.ph or follow him on Twitter @henryong888