<>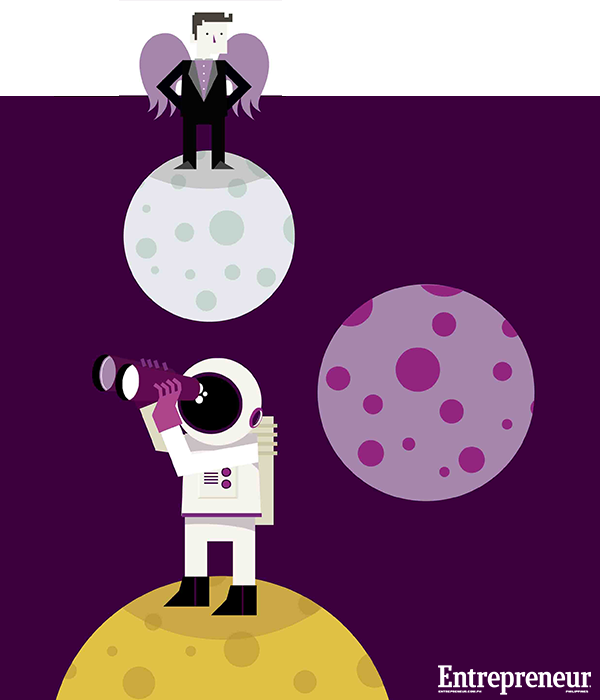 They're called "angel investors" for a reason. They're the ones who are interested in seeing the business prosper, and can be a source of funding—at favorable terms—when other sources shy away.
When John Dang quit his job as head of business development at a gaming firm to co-found online property marketplace ZipMatch in 2012, he found that he still needed to do part-time work to cover their startup expenses. "As our team outgrew our profits, I picked up a few part-time consulting jobs from my last industry. Although it would take two to three days per week from me, it allowed me to earn enough to pay our payroll when revenues didn't come through," shares Dang. It wasn't the best way to run a startup, especially since it took precious time away from the company.
ADVERTISEMENT - CONTINUE READING BELOW
ZipMatch won the award for "most promising startup" at pitching competition Startup Weekend in 2013, yet did not attract funding from the angels present. Undaunted, co-founder Chow Paredes attended tech conference Geeks on a Beach later that year, and scored a sit-down dinner with Khailee Ng, venture partner and resident startup mentor at accelerator 500 Startups, and Koichi Saito, general manager of venture capital firm IMJ Fenox. It took another month of briefings before the ZipMatch team won over their investors.
"Since we were the first investment in the Philippines for Khailee Ng and IMJ Fenox, the prerequisite was to get a reputable local investor to lead the round. This helped them feel comfortable in their investment, as they don't know the local landscape," says Dang, intimating that clinching the deal took longer because local investors weren't as quick on the draw. "Finally, IMJ decided to lead the first round of investments, and 500 followed. Once that was established, other local investors [such as PLDT Co.- and Smart Communications-backed Ideaspace, and Hatchd Digital] followed," he says.
ADVERTISEMENT - CONTINUE READING BELOW
It's getting the first investor that's the hardest, says Dang; everything that follows is easier by comparison. To get that first investor interested, Dang says they opted to give up 10 percent of equity. "We were able to prove that we have a sustainable business model that was scaling. As a result, we've raised a second round of funding at a larger amount and higher in valuation," he explains. As of August, ZipMatch has raised nearly US$ 1 million, which also includes the money invested by the partners.
The local startup scene currently seems to be dominated by tech companies, and investors do gravitate towards them. AVA.ph and ZAP may have started with bootstrapped funds, but they were also among the first batch of startups that won mentorship from Globe Telecom-backed accelerator Kickstart Ventures. In addition, tech incubator Hatchd Digital is also backing AVA.ph, whereas a slew of venture capitalists led by Siemer Ventures recently invested in ZAP.
ADVERTISEMENT - CONTINUE READING BELOW
Cheng says that while they were building the ZAP platform, and prior to pitching to Kickstart, they had already signed up several merchants to their universal loyalty card service. In so doing, they were at an "advanced stage" when they started fundraising. "When we raised our first round from Kickstart, that's when we started thinking that okay, we can become more aggressive and raise more cash, scale up faster," he says. Initial funding went to overhead, salaries and capital expenditures such as the ZAP digital tablets for partner merchants.
As of this writing, ZAP has 350 participating merchants offering 5 to 20 percent cashback points—and they're still growing their network. The company activated a second round of funding last June, garnering US$ 850,000 from the likes of Siemer Ventures and Seawood Resources Inc. (along with angels who declined to be named). It was Kickstart Ventures who referred them to these investors, primarily to fund ZAP's expansion to the provinces, starting with Cebu and Davao.
ADVERTISEMENT - CONTINUE READING BELOW
Cheng says that beyond the ready cash, they were also interested in gaining access to the investors' networks. "We talked to them. We liked them. And they had connections that we did not have yet with Kickstart. So with every new investor, we're always thinking: What doors can they open for us that we don't have right now?"
Similarly, when Segovia approached Kickstart, AVA.ph was "already making seven-digit revenues," featuring items from 40 premium brands, and had five or six people working in the company—all good growth indications to attract investors. "For us, it's being able to say we're a Globe-funded company, and that really helped us create credibility with merchants. It was also being able to tap the expertise of Globe and the Kickstart team," says Segovia.
How convincing are you?
Your job is to prove to your angel investor that betting on your business is a profitable move. Take these pointers to heart for that angel investor meeting:
ADVERTISEMENT - CONTINUE READING BELOW
Research, then select
Research on the potential investor—their fund size, whether they focus on early-stage startups, and any "synergies with their portfolio companies" that would ensure they grow with you, says Dustin Cheng of ZAP Group Inc. "Don't talk to a [latter-stage] investor when you're just angel or seed [level], because that wouldn't make any sense," he points out.
Personalize
Asking for a referral is best, but on occasions when you'll need to cold-email an investor, lead with something they care about. "You can't come across na you're sending the same message to multiple investors," says Cheng, "You have to connect with him right away, and you have to give him a reason to continue reading. But keep it short."
Get to the point
Limit your pitch to "10 to 15 minutes," says Cheng. "Tailor-fit the pitch to every single investor," adds Oliver Segovia of AVA.ph. "Be clear on what the future is, and that usually takes the form of a business plan, or marketing plan, and a financial model," says Segovia, adding, "You may or may not raise revenues yet, but demonstrate there's a solid indication that you'll have revenues by x-day."
ADVERTISEMENT - CONTINUE READING BELOW
Watch your equity
Both Cheng and Segovia warn against giving up too much equity. Says Cheng, "An investor comes in asking for 30 to 40 percent, we can't do that... in future rounds we won't be majority." Segovia advises, "If there's an angel that asks for 50 percent of your company at the start, that's a red flag. Politely walk away."
*****
This article originally appeared in the September 2014 issue of Entrepreneur Philippines magazine. Minor edits have been done by Entrepeneur.com.ph.