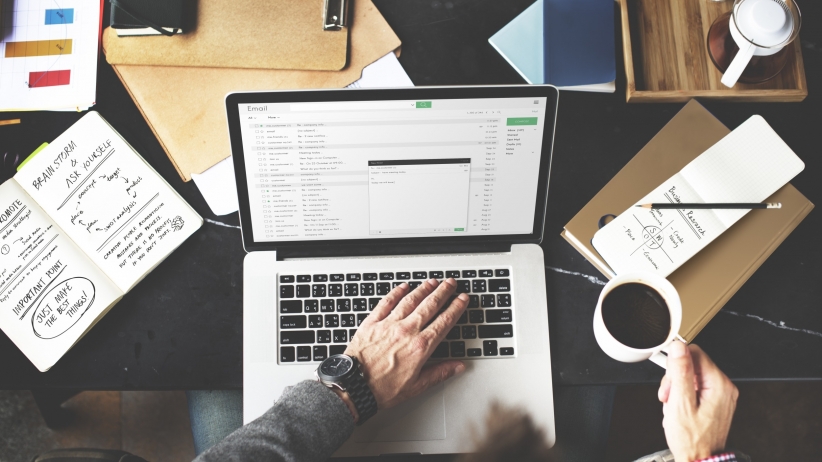 Whether you own a business or you are climbing up the corporate ladder, being productive is a universal concern. Are you maximizing your time and therefore increasing profit?
Since most of us are glued on our screens and a lot of business transactions are already happening on the web, here are some free online tools that you can use to eliminate online clutter, manage time, and increase productivity.
ADVERTISEMENT - CONTINUE READING BELOW
1. Mixmax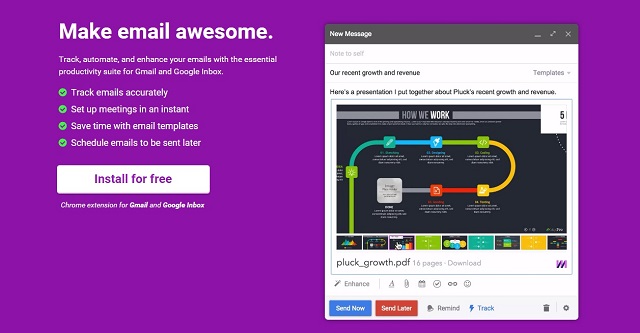 Mixmax's reason for existence is to make email awesome. With Mixmax, you can track emails accurately by seeing who already opened them and when they opened it. You can also set up meetings in an instant, save time with templates, and schedule emails to be sent later.
Mixmax can be installed for free as a Chrome extension for Gmail or Google Inbox, but you can also buy their premium version which comes with a dedicated account manager. If you cannot spend on premium, their free version also has snazzy features like polling and attaching Dropbox folders in the email.
ADVERTISEMENT - CONTINUE READING BELOW
2. Rescue Time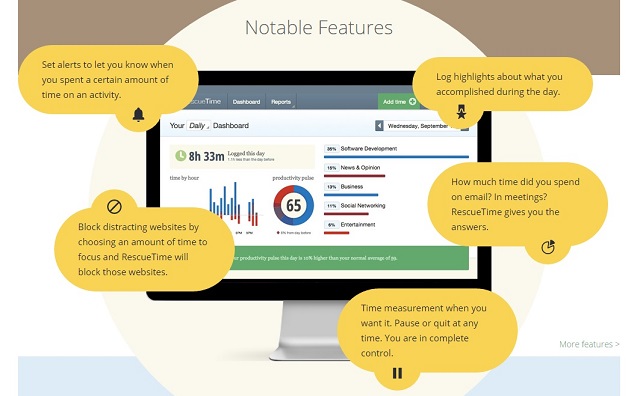 Finding the ideal work-life balance starts with knowing how you spend your time. With Rescue Time, you can track the time you spend on applications and websites, giving you an accurate picture of your day.
You can also create goals using Rescue Time, such as spending less than one hour per day on emails. To be more disciplined with your time, you can also set an alarm to tell you if you are spending too much time on distracting websites.
ADVERTISEMENT - CONTINUE READING BELOW
3. SaneBox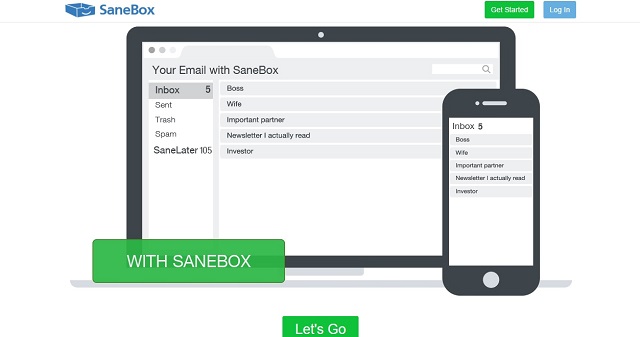 Going insane with all the emails flooding your inbox? That is what Sane Box is here to fix. Upon installation, Sane Box runs inconspicuously in the background, tracking your priority emails and which ones you usually ignore and from whom. After it gets a hang of your email habits, it then filters out unimportant emails.
ADVERTISEMENT - CONTINUE READING BELOW
It keeps your inbox nice and clean by moving unimportant emails into a new folder called SaneLater. Do not worry, they will not be erased and you can check the SaneLater folder any time. To top it all off, SaneBox sends a daily digest summarizing your SaneLater email.
4. StayFocusd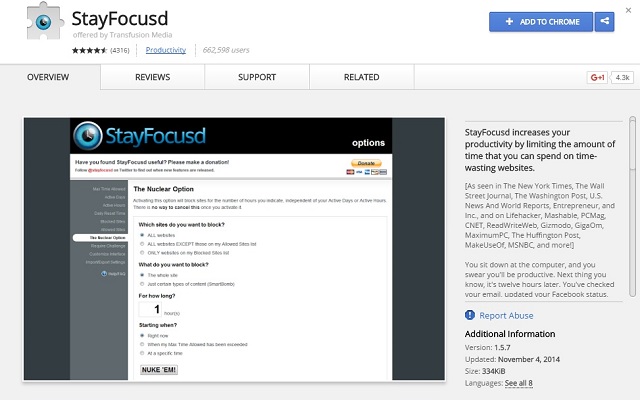 Cut down on your Facebook time. With StayFocusd, you can limit your time on distracting activities like watching videos on YouTube or browsing your Facebook feed.
ADVERTISEMENT - CONTINUE READING BELOW
Using the StayFocusd Google Chrome extension, you can set a certain amount of time on these websites and it automatically blocks you once your time is up. You can customize which websites or pages to block, the amount of time you can still browse them before time is up, and how long they can stay blocked.
5. Pocket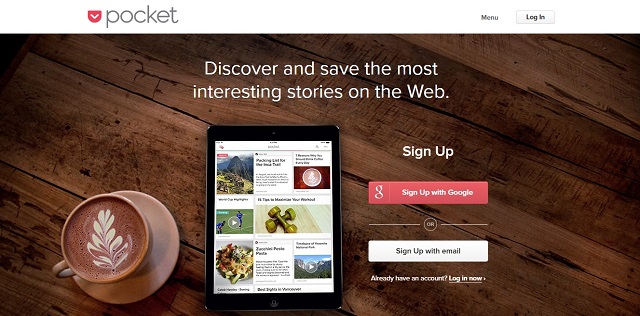 ADVERTISEMENT - CONTINUE READING BELOW
Most people get distracted because they find informative articles or cool websites to browse during work hours. So imagine having a virtual pocket where you can store all these things, so you can read it for later and move on with your work. It is like the bookmark button, but cooler.
With Pocket, you can save directly from your browser or from apps like Twitter, Flipboard, Pulse, and Zite. The best part is that, if the pages are already stored in Pocket, it gets saved on your phone, tablet, or computer. You will not need an Internet connection once you want to read them, thus saving you time and mobile data.
6. Unroll Me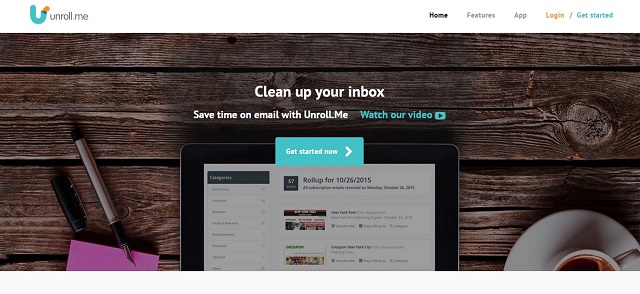 ADVERTISEMENT - CONTINUE READING BELOW
Do not waste time opening all those newsletters or discount subscriptions in your email. Unroll Me compiles all your promotional emails into one neat layout, for your reading consumption in your designated time.
After the free installation, Unroll Me asks you to clean up your subscriptions by letting go of the ones you no longer want. After your inbox is junk free, you can combine your favorite subscriptions into a daily digest called the Rollup. You can also dictate the time you will get your Rollup. Want to read your newsletters with your morning coffee and breakfast? Then set your social notifications for mornings.
7. Last Pass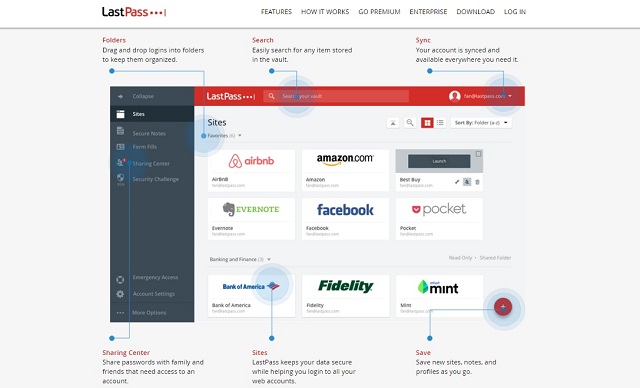 ADVERTISEMENT - CONTINUE READING BELOW
Always forgetting your passwords? Save time by not forgetting them or by not typing them every single time. Last Pass saves and auto-fills passwords for your accounts, be it social media or emails. After your account information gets saved in the Last Pass vault, it keeps your details safe and secure. The vault is easy to use, searchable, and you can organize it any way you like. The Last Pass vault also gives you the option to share your password and other information to family or close friends.
The next time you want to log into a website whose details are kept in the vault, Last Pass will auto-fill the fields required for a more hassle-free, log-in experience.
8. Zapier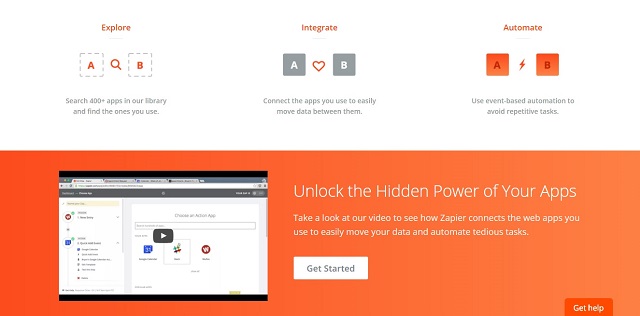 ADVERTISEMENT - CONTINUE READING BELOW
Most of our daily online tasks become repetitive and grueling because it takes time to switch between apps. Zapier intends to make your tasks more seamless by integrating apps and automating commands so they can work together.
For example, you can use Zapier to encode the responses you get from SurveyMonkey to Google Sheets. How about save new MailChimp or Instagram subscribers to Google Sheets? Or how about save Favorited Tweets to Evernote? Or save Gmail attachments to Dropbox? The possibilities are endless with over 500 apps that are linked in their system. These automated commands or integration called Zaps saves time and effort.
*****
Nicai is the marketing head of Rising Tide, a technology solutions company, specializing in advertising, business solutions, and connectivity. She is also the Manila Bureau Manager of Probe Media Foundation's Mulat Pinoy-Kabataan News Network and a regular contributor for SPOT.ph. Follow her on Twitter, @nicaideguzman, and LinkedIn, https://www.linkedin.com/in/nicaideguzman.
ADVERTISEMENT - CONTINUE READING BELOW
Main photo from Shutterstock