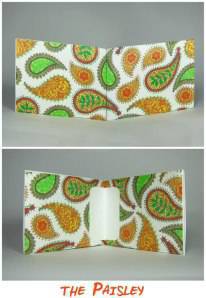 Timothy Ahyong, Marvin Limjuco, David Tan, Matthew Par, Royce Leong and Butch Campos—college buddies from various universities—always wanted to start a business together. In May 2011, they started The Weekend Project, creating customized, environment-friendly paper wallets made of Tyvek, a DuPont-trademarked brand of flashspun polyethylene fibers that is lightweight, tear-resistant and waterproof. Their wallets sell for around P400 each, half of what others cost in the market.
ADVERTISEMENT - CONTINUE READING BELOW
The group's name best describes how its members work. "We meet once a week, on Sundays, to work on the wallets, that's why it's called The Weekend Project," says Par. Each member—all are 20 years old except Ahyong, who's 19—handles a specific facet of the business, from designing and printing to selling the wallets, without needing outside help. "We are a very diverse group, so somebody is bound to know how to do anything we need done," Tan shares.
The undertaking gained momentum as the six successfully captured their market of high school and college students. Within two months, the group managed to recover their initial investment. Here's how else the group is doing so far:
Product type: Paper wallets. "That same day (we brainstormed about the product), I made a prototype. We figured we had to work on our idea immediately, so it doesn't die down," says Ahyong, who's in charge of business development.
ADVERTISEMENT - CONTINUE READING BELOW
Initial investment: P25,000. "We broke even early, after one month. We saw our likes on Facebook go up by 100 every day. A lot of people didn't even know this product even existed," says Ahyong.
Workplace: An unoccupied room in Campos's house.
Production: "The design takes the chunk of our time, since we send back the completed design to our customers to see if they like the design," says Par. "We also follow a template for the paper wallet. Basically, some people do the cutting, some put together the paper wallet by folding, and then one does the packaging. Our paper wallets are handmade."
Purpose: "The whole purpose of the project was so that we learn how to start something on our own. It was a learning experience," says Par, the group's accountant.