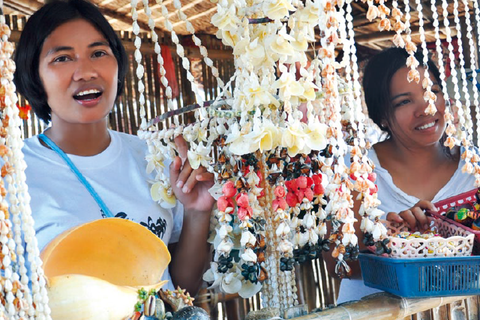 <>
Marginalized families often have a hard time trying to start their own businesses, but a program from the Department of Social Welfare and Development can get them off on the right foot. The Sustainable Livelihood Program is a community-based program that serves entrepreneurial poor households already served through the DSWD's conditional cash grants.
Cash grant participants are introduced to the Sustainable Livelihood Program so that they can have income sources after the grant ends. They get financial literacy training to help them manage money and project their potential cash flows. After training, the program provides capital assistance of P10,000 per household.
Who can participate

The program has helped 50,000 poor families since 1993, with a focus on mothers. "Generally mothers are the ones who stay home, so while the fathers go out to work, we provide the mothers with additional income opportunities through home-based livelihood," says Georgina Hernandez, director of the Sustainable Livelihood Program.
Most beneficiaries of the program are involved in agricultural production in the rural areas—"many of them grow vegetables and different types of livestock," says Hernandez—and microbusiness, such as running
sari-sari
stores and the making of handicraft, which they sell to local communities in more urban areas.
How it works
To assist these fledgling microentrepreneurs, the program links them up with bigger businesses such as restaurants or hotels. Hernandez points to the example of Malay Federation of Aklan. "We grouped together individual producers of soap. The municipal government in Malay was very supportive and gave incentives to hotels in Boracay, which is part of Malay, that used the soap produced by our beneficiaries," Hernandez says. Today, 50 hotel chains in Boracay use Malay Federation's products. DSWD has also partnered with BOTE Central Inc., a Las Piñas City-based fair trade coffee company, to patronize the products of a group of coffee farmers participating in the program.
Also for non-entrepreneurs
The Sustainable Livelihood Program is not without its challenges. "Not all target beneficiaries are entrepreneurial, so our challenge is to help them maximize their income opportunities by linking them up with companies that could employ them," Hernandez shares.
Another major challenge for these microentrepreneurs is scale, or how they can produce enough of their products for their enterprises to survive. "Our program looks at how they can address the market demand," says Hernandez.
As the Sustainable Livelihood Program looks forward to helping more marginalized households, it has big plans for the years ahead, such as expanding its partnership with the private sector and SMEs. The program hopes to have helped 320,000 families nationwide by mid-2013.
From her observations working with microentrepreneurs, Hernandez has a few insights to share with those looking to start their own businesses. "The key to good enterprise is having a clear goal—why you want to earn money, and for whom or what you want to earn. The moment that becomes clear, no matter how difficult the business is, you will keep trying hard and looking for ways to sustain your business."
Photo: David Pagulayan, courtesy of DSWD

This story was originally published in the February 2013 issue of Entrepreneur magazine.

ADVERTISEMENT - CONTINUE READING BELOW