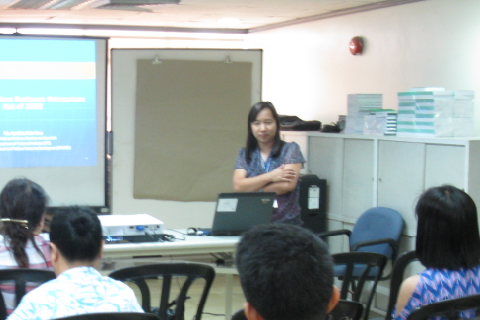 <>Not known to many, there is a law that provides necessary assistance to small businesses at the
barangay
level. R.A. 9178, also known as the Barangay Micro Business Enterprises (BMBE) Act of 2002, was implemented in 2003. "This is a national law which is implemented in all municipalities," Cynthia Dela Cruz, micro-entrepreneurship expert at the Bureau of Micro, Small, and Medium Enterprise Development (BMSMED) of the Department of Trade and Industry (DTI) said during a recent briefing session held in Makati City.
The purpose of the law is to promote economic development through providing
barangay
micro businesses the means to develop their entrepreneurial capabilities and skills. Also, it targets the informal sectors and underground economy in the local level to venture into the mainstream economy. Through providing incentives, BMBE law can attract potential local entrepreneurs to go into business and integrate those.  
The government sees this as an opportunity to achieve economic harmony. Further, this will potentially generate more employment and possibly help lower poverty incidences in the country.
The BMBE Law is enforced through collaboration with other government agencies like the Department of Interior and Local Government (DILG), Department of Labor and Employment (DOLE), Philippine Information Agency (PIA), and Department of Finance (DoF). These handle the law's funding and financial aid.
For technical support and advocacy, BMBE coordinates with the Department of Trade and Industry (DTI), Department of Science and Technology (DOST), University of the Philippines Institute for Small-Scale Industries (UPISSI), Technical Education and Skills Development Authority (TESDA), Technology Resource Center (TRC), and Cooperative Development Authority (CDA).
Becoming a BMB enterprise
"Ang lahat ng negosyo ay pwedeng matawag na
BMB
(barangay
micro business
) sa batas na to basta
eligible
kayo
(Every small business can be considered as an eligible
barangay
micro business)
,"
said  Dela Cruz. The BMBE Law is applicable to single proprietorship, partnership, cooperative, association, or business enterprise that involves production, processing, product manufacturing, trading, and other services guaranteed that they have a Certificate of Authority.
To become a
barangay
micro-enterprise, a business should have a total asset of P3,000,000 or below. It must also comply with the terms and requirements as listed here:
1.    Duly filled up and signed application form (three copies)
2.    Three passport size photos of owner
3.    DTI registration for sole proprietorship; Security and Exchange Commission (SEC) registration for cooperation, partnerships or association; CDA registration for cooperatives
4.    Mayor's permit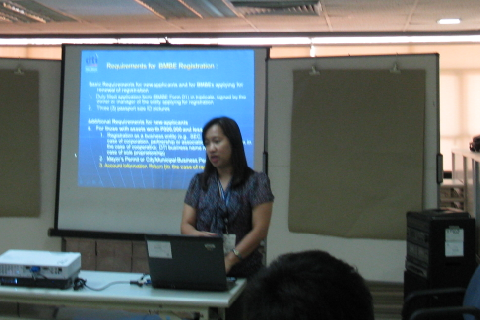 After accomplishing all the requirements, submit the documents to the Treasurer's Office of the designated city or municipality. It takes 15 working days upon submission of all the files to complete the registration process. The Office will then issue the applicant a Certificate of Authority. The Certificate of Authority is effective for two years and renewable for another two years for every renewal.
Incentives are provided to approved micro-enterprises as provided for in the BMBE Act: 1) Income tax exemption from income arising from the operations of the enterprise; 2) Exemption from the coverage of the Minimum Wage Law; 3) Priority to a special credit window set up specifically for the financing requirements of BMBEs; and 4) technology transfer, production, management training, and eligibility to various marketing assistance programs for BMBE beneficiaries.
Moreover, micro-enterprises with asset size below P300,000 are required a simplified documentation requirement in accordance with Department Order No. 3105. To proceed with the application process, those interested shall submit the following requirements: 1) Filled-up application form together with registration as business concern (e.g. DTI, SEC, CDA Certificate; and 2) Mayor's Permit.
Possible exclusions
According to Dela Cruz, many informal sectors stay underground because they cannot blend in with the mainstream economy.
"Naiisip nila na kapag
underground
mas madaling kumita ng pera pero hindi nila nakikita yung
potential
nung being
registered
kaya binibigyan natin sila ng
incentive
---
tax incentive
---para lumabas sila and,
eventually
, mas lumaki sila
(Most small entrepreneurs think that underground operations will spare them from many fees and costs but what they don't know is that remaining unregistered also spares them from many incentives for growth like tax exemptions),"she said.
Moreover, there are businesses that can't be declared as BMB enterprises such as dental care centers, bus companies, travel agencies, law firms, and even well-established franchises. Land properties are also excluded especially those businesses that rely on agriculture.
ADVERTISEMENT - CONTINUE READING BELOW